SN Exports is a reputed export house, mainly dealing in Chainmail. We have been involved endlessly in research work, through a period of thousands of years of bloody wars fought all over the world. Our efforts have been successfully rewarded in recreating, developing and refining the most historically authentic, WEDGE SHAPED FLAT RING RIVETED MAILLE. It is something that all Medieval Enthusiasts, SCA (The Society for Creative Anachronism) and Renaissance combatants, living history participants and serious collectors will love to possess.

We offer you authentic maille of the typical medieval, 4 in 1, Western-European wedge rivet type. This implies that the iron rivet is shaped like a small triangle of metal and not a round pin and every link in the pattern goes through 4 other links.
Like authentic maille, we use thinner wire (18 gauge) and because of this our garments are light in weight as compared to others, however maintaining their strength. We can even produce garments in 17 gauge wire on request.
This maille is durable, as each ring has been meticulously riveted unlike butted maille (where coils of wire are made to pass through one another and are just closely bent)
The riveting is done in such a specialized manner that all the rivet- points face in the same direction. This makes the wedge riveted maille garments irreversible i.e. they have a definite inside and outside. This in turn makes the garment smooth & comfortable for the wearer.
Our authentic maille is being exported worldwide in bulk quantities. We are offering it in the following varieties:
»
STEEL OIL FINISH

»
BLACK FINISH

»
GALVANISED FINISH
We presently produce the following range of items in wedge shaped flat ring riveted pattern.
» HAUBERGEON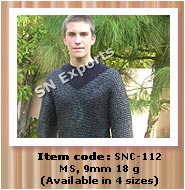 Haubergeon is a shirt of mid thigh length with elbow length sleeves (i.e. 3/4 sleeves). These were apparently worn underneath some form of plate armour to prevent the body from being bruised when struck. Each of these incredible shirts is painstakingly and skillfully created by hand, using flat rings and wedge shaped rivets to form a continuous blanket of metal ring protection. Our craftsmen use the most authentic medieval 4 in 1 pattern.
» HAUBERK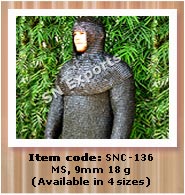 Hauberk is a knee length shirt with full sleeves. These are hand made, authentic replicas of actual armour worn by knights. This awesome high quality chainmail Hauberk is made of thousands of 18 gauge steel rings of 9mm inner diameter in the medieval 4 in 1 pattern. This pattern has a slit at the hem and the sleeve's circumference tapers down from 20" to 14" from the shoulder to the wrist.
SIZE CHART:-

SIZE
CHEST
MEASUREMENT
HAUBERGEON
(¾ SLEEVES)
length & sleeves
HAUBERGEON
(FULL SLEEVES)
length & sleeves

HAUBERK
length & sleeves
SMALL
42"
32" / 10"
32" / 18"
38" / 18"
MEDIUM
48"
34" / 10"
34" / 20"
40" / 20"
LARGE

54"
34" / 12"
36" / 21"
42" / 21"
EXTRA
LARGE

60"
36" / 12"
36" / 22"
44" /22"
PLEASE NOTE:-
All measurements mentioned above are when fully stretched .The chest measurements given are that of the shirt itself. So you should choose a size that is a little bigger than your actual chest size. Generally we recommend the shirt to be 7-8" bigger than the chest size for a comfortable fit.For a loose fit the shirt should be 8-10"bigger than the chest size.
» COIF (HOOD)
Coif is made of hundreds of rings in the medieval 4 in 1 pattern and has a forehead circumference of 26 inches. The coif has an open front section to give you great visibility and drapes over the entire neck onto the shoulders. It includes the aventail (neck cover) and thus covers the sides, back and front of the wearers' head. We also offer a larger size coif, which extends till the forearms and in turn increases the protection level.
» AVENTAIL / CAMAIL
Aventail or Camail is a curtain of chainmail that protects the neck and shoulders. This aventail is in the medieval 4 in 1 pattern made with Mild Steel rings. We also have a larger size aventail that extends till the forearms and in turn increases the protection level. Our standard size Aventail has an inner circumference of 22"and a length of 10".
» GLOVES / GAUNTLETS
Gloves are protective covering for the hands. They are woven vertically or horizontally using medieval 4 in 1 weave. Vertical weave is more flexible while horizontal weave makes the glove tight. You need to specify the hand size when ordering for gloves. The measurement required is the length from the wrist to the middle finger.
» SKIRT
Chainmaille Skirt is a protective garment for the torso to be worn below the breastplate, around the waist with the help of a leather belt or string. Made of flat Mild Steel rings with wedge rivets woven in the medieval 4 in 1 pattern, our standard size skirt is 15" in length and can fit a maximum waist size of 40"
» LEGGINGS (CHAUSSES)
Leggings are a kind of form-fitted stockings of steel rings. These stockings are to be worn over a thick pair of socks and sweatpants. They extend from the toes to upper-thigh but cover only the upper portion of the feet and not underneath. The leggings are worn suspended by straps from a belt and have to be attached to a sole or a shoe at the bottom. This chainmail clothing is made to completely safeguard the wearer against all kinds of leg injuries. Our leggings are extremely effective in this application and yet can also be used to create a fashion statement. They are extremely comfortable and allow free movement of the ankle and foot.
» LOOSE RINGS / SHEETS / STRIPS
We can even provide you with loose rings along with wedge shaped rivets, sheets or strips of woven rings to customize your designs, to do a little bit of mending or just to create anything that comes to your mind. These loose rings and woven sheets / strips are being sold as per their weight.
A NEW STYLE MANTRA!!!

Our chainmail extends a number of benefits to those who wear it. In addition to providing a high degree of protection, its just great for SCA or LARP events; for going out to Rennaisance Fairs or costume parties or just wear it to the club or an evening destination to create your own style statement. It looks amazing on just anyone.



OUR STRENGTHS
We continually research to develop " New and Offbeat" items in chainmail to ensure the maximum variety.
Our prices are the most competitive.
Being from Army background, we are a disciplined force committed to deliver quality products.
We value time and hence deliver on time, every time.
We have the wherewithal, expertise and infrastructure to recreate the most historically authentic medieval chainmaille and thus ...excel the buyers' expectations in terms of our products.
We honor and value the suggestions of our worthy clients and remain in constant touch by phone/ e-mail.
All our maille garments are carefully hand woven to utmost precision.

Each of the products manufactured by us is thoroughly inspected by our qualified inspectors at all stages of production. Right from the procurement of the best quality raw material till the end products, nothing but the very best is allowed to go to the next stage. We offer flawless products at very reasonable rates. Remember quality is our passion.


SHIPPING YOUR CONSIGNMENT


We offer Air, Sea and Courier as options for delivering your consignments.. However our preferred carrier for international shipments is FedEx. Transport by Sea is certainly the cheapest option but FedEx offers special rates for consignments above 100 kgs. The final choice is yours. You would pay actual shipping costs based on the final dimensions and weight of the consignment. We always provide an estimate of these costs for you, prior to confirming your order, but please be aware that the shipping costs may vary from time to time.

If the consignment is desired by air then the goods can be custom packed in corrugated cardboard boxes that are supported with thermocol sheets to reduce the weight of the consignment. If delivery is desired by Sea, we do the packing in wooden boxes. For dispatch by courier, we use excellent quality light packaging boxes to reduce cost on the freight. Any other special packing instructions are always complied with.
Payments can be sent either through a Bank Transfer, Demand Draft, an irrevocable letter of credit or Western Union Money Transfer. We expect a min of 50% payment in advance for the confirmation of the order.
Our clients appreciate our products and our services. From theatres to museums and from individuals to big fashion houses, our products are in great demand all over the world. We deal with our worthy clients with zeal, enthusiasm and commitment. They return to us with fresh orders because they know we have the expertise and the determination to develop the best chainmaille items. In fact majority of our business comes from repeat business and referrals.
Testimonials / appreciation letters from our worthy clients are a morale booster and are our pride possessions.
"satisfied customers wearing our wedge riveted maille"
"IT IS EVERYTHING I HAD HOPED FOR AND MORE. THANK YOU"

If for any reason you are not completely satisfied with your order, simply return it in its original condition within 20 days and we will immediately issue a refund for the purchase amount. (Shipping costs are of course not refundable)
This profile is not a catalog; rather it is just a sampler of the kind of work that we've done in the past. If you have your own designs or specifications please let us know. It will be our pleasure to help you get what you want and personalize your maille garments.
We are also manufacturing garments in the following varieties of chainmail:-
| | | |
| --- | --- | --- |
| | | |
| » Butted | » ROUND RING ROUND RIVETED | » FLAT RING ROUND RIVETED |
RIVETED ALUMINIUM MAILLE
ss
At one-third the weight of steel, aluminium riveted chainmail is a very good choice. This range has received great feedback and is really in demand nowadays. It is ideal for film & television productions, horsemen who wish to reduce the weight of their outfit and also for those of you who dream of wearing a chainmail costume to the next bash. It looks fantastic and can be worn all day long without getting tired.
| | | |
| --- | --- | --- |
| | | |
| » Aluminium Riveted Coif | » Aluminium Riveted Hauberk | » Riveted Aluminium Sample |


SN EXPORTS
161/7, Rajpur Road
Dehradun - 248 009, Uttarakhand,
Tel : +(91)-(0135)-6544404 / 6544400
Fax : +(91)-(0135)-6544400
Mob:
+(91)-9897255442 / 9897024442
Email:
snexports@gmail.com
,
info@snexports.com
Website: www.snexports.com