Profile
We are one of the most recognized name in the manufacture and export of sports goods & Equipments. We are the leading manufacturers and suppliers of Starting Block, Track Hurdles, Discus,Hammer,Track & Field Accessories.
We have consequently been the winner of Export Excellence Award for last 15 years. Moreover, we have also been facilitated by the Prime Minister of India, for our excellence in providing quality products.
Word for the company but something that initiates a string of inspection covering every minute step of the production.
Starting Block
- Amazer
- Excalibur
- Olympic Pro-100
- Olympic Eco
- Champion
- manufacturers of Starting Blocks
- suppliers of Starting Blocks
- exporters of Starting Blocks


Track Hurdles
- Ultra-1000
- Alfa
- Elite
- Olympic
- Scissor Hurdls
-manufacturers of Track Hurdles
-suppliers of Track Hurdles
-exporters of Track Hurdles




Discus
- Victory II
- Victory
- Speedy
- UFO Discus
- Rubber Discus
-manufacturers of Discus
-suppliers of Discus
-exporters of Discus


Shot Put / Hammer
- Alloy Iron
- Indoor Rubber Shot
- Brass Hammer
- Mild Steel Hammer






Track & Field Accessories
- Plastic Relay Batton
- Aluminium Javelin
Physical Education
Basket ball / Net ball
Sports Accessories
manufacturers of Track and Field Equipment
suppliers of Track and Field Equipment
exporters of Track and Field Equipment



Speed and Agility
Quickness & Rehabilitation
Agility Hurdles
Agility Ladder
Soccer Accessories
Nets
manufacturers of Speed and Agility
suppliers of Speed and Agility
exporters of Speed and Agility




Products Description In French:

Commencer le bloc
Obstacles de voie
Disque
Projectile mis/marteau
Accessoires de voie et de champ
Écoulement physique
Boule de filet de boule de panier
Accessoires de sports
Vitesse et agilité
Rapidité et réadaptation
Obstacles d'agilité
Échelle d'agilité
Accessoires du football
Filets




Products Description In Spanish:

Comenzar el bloque
Cañizos de la pista
Disco
Lanzamiento de peso/martillo
- Accesorios de la pista y del campo
- Relay Batton plástico
Alluminium Javellin
Salida física
Bola de la red de la bola de la cesta
Accesorios de los deportes
Velocidad y agilidad
Quickness y rehabilitación
Cañizos de la agilidad
Escala de la agilidad
Accesorios del fútbol
Redes


Why Us ?
Each & every product manufactured by us undergoes complete testing and rigorous quality checks. We enjoy a respectable position in the market owing to high quality of merchandise and timely delivery schedules. We are capable of meeting clients specifications. We adhere to cost effective methods of production and has achieved economies of scale.

Infrastructure
We boast of world class infrastructural set-up, which also includes our committed workforce. Our operation personnels are professionally trained and qualified. This virtual infrastructure, backed by stae-of-the-art technology, are appropriate for the production of superior quality products. Our development mangers and engineers evolve with pro-vogue concepts to stay a step ahead of the changing market demands.
Moreover, our technological facility is fully geared to manufacture various distinct goods and equipments. Our manufacturing unit is installed with the following machines: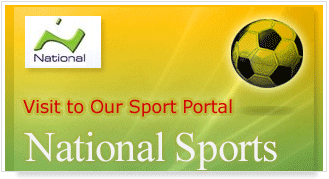 - Spinning Lathes
- Mig Welding
- Spot Welding
- Power Press
- Hydraulic Machine
- Plastic Extruding Machine
- Injection Molding Machine
- Blow Molding Machine
- Net Interlocking Machine
- Pad Printing Machine
Track & Field Accessories
Shot Put / Hammer
Speed and Agility

-Aluminium Javelin
-High Jump Stand
-Knocken Ball
-Aluminium Baton
-Plastic Relay Baton






-Alloy Iron
-Brass Olympic
-Unturnd Shot
-Turned Shot
-Indoor Rubber Shot
-Brass Hammer
-Mild Steel Hammer




-Passing Arc
-Speed Rings
-Flat Speed Rings
-Free kick Man
-Slalom Poles
-Indoor Coaching Kit
-Pro Target Shooter
-Spring Base Pole



Clients
National Sports is an India based organization. We are manufacturers, suppliers and exporters of sports goods and sports equipment like Starting Block, Track Hurdles, Discus Throw, Soccer Accessories, and other Sports Accessories. we are the exporters ,supplliers of Starting Blocks ,Track Hurdles,Discus ,Speed and Agility ,Track and Field Equipment in New Zealand,Australia ,canada, engaland and germany.
- Starting Block ,Track and Field Equipment,Track Hurdles supplier in New Zealand,
- Starting Block ,Track and Field Equipment,Track Hurdles supplier in germany
- Starting Block ,Track and Field Equipment,Track Hurdles supplier in engaland
- Starting Block ,Track and Field Equipment,Track Hurdles supplierr in singapur
- Starting Block ,Track and Field Equipment,Track Hurdles supplier in canada
- Starting Block ,Track and Field Equipment,Track Hurdles supplier in Australia
We can process orders with min. order value of US$ 2500

Contact Us or Send Online Query
Track & Field Equipment
Mr. Kunal Mahajan
National Sports
Address :
B- 1 Sports Complex, Delhi Road
Meerut - 250 001, Uttar Pradesh (India)
Phone. :
+(91)-(121)-2512148 / 2400574
Fax :
+(91)-(121)-2512275
E-mail :
kunal@national-sport.com

Send Your Requirements at Track And Field Equipment