Wooden Statues, Curious Eyes of the Night

With big, bright eyes and nocturnal vision, the owl sees everything that surrounds it. The craftsman, sculpts the inquisitive birds in exquisite detail. Carved from a single block of kadam wood, the bird family is crafted in classic jali, or "openwork," with a tiny owl inside the latticed body of each owl.
'Elephant Secret' This polished work of skillful craftsmanship, shows the mighty elephant made of sandalwood holding a branch of flowers showing the sensitive and delicate side of this strong mammal. The designer carves by hand in classic jali, or "open work" style, adding a smaller elephant inside.
» Click Here For Query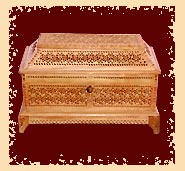 Wood Jewelry Box, 'Mughal Cenotaph'

A stately presence perched on four legs; this box is a dignified monument to the glory of medieval Mughal royalty. Their ornate memory is honored in intricate design, dazzling the vision with its incredible detail. Sculpting each piece of this exquisite box made of pure sandalwood, the designer and his woodcarvers sketch out the dimensions of the figures with electric tools before painstakingly sculpting the features with a sharp needle. Emanating majestic grace, this piece offers an enthralling accent to the home interior.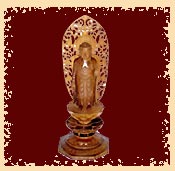 Hindu Deities

Krishna, Lakshmi and Saraswati
The mystical land of India exudes an aura of the many gods and goddesses worshipped by the people of India.The statues of the Hindu Deities Krishna, Lakshmi and Saraswati each signifying a power over the masses have been crafted by a single piece of kadam wood with elaborate and delicate designs.
» Click Here For Query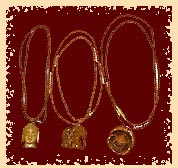 Assorted Neckwears

Presenting the ornamental fashion of India. Made of pure sandalwood, these necklaces come with assorted pendants and beads all delicately designed. A delight for special occasions. Necklaces used for the purposes of prayer in exquisite designs and the auspicious 108 beads would also be provided.
» Click Here For Query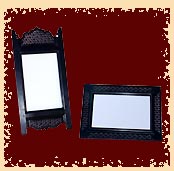 Wood Photo Frames

AA parade of stars frames a glistening mirror in an exclusive design by Suresh Garg. Carved by hand of ebony, the frame adorns with the graceful allure of jali art.
» Click Here For Query

Corporate Gifts

The paper cutting knives made of sandalwood in assorted designs would adorn the beauty of any home. A collectors delight, these mementos also make up for gifts for special occasions. The dancing women of Rajasthan These traditional Indian women who spent their lives entertaining the royal durbars of princes and kings with their magical and breathtaking dance is brought to life in these statues. Clad in ghaghra choli these women represent the music and culture of the land of Rajasthan.
» Click Here For Query
WOOD STATUETTE, 'GRACIOUS LORD GANESHA'
Ganesha, the son of Shiva and Durga, two of the most powerful deities in Hindu belief, embodies his kind benevolence and strength in this captivating sculpture. Eloquently hand-carved from sandalwood, two of his hands hold his spiritual weapons, while his third hand holds a laddoo (a sweet dessert). Ganesha holds out his fourth hand to bless all those who believe in him. Two tiny mice stand at his feet, as the deity's transportation for traveling through the different worlds Wood statuette, 'Jungle Fantasy 'Regally decked in imperial gear, an elephant struts down jungle paths. The majestic creature carries a howdah, elaborately adorned, for royalty to ride in comfort. The creator of this exquisite piece sculpts from warm kadam wood, adding minute details by hand. An unforgettable memento of ancient Mughal splendor, this statuette is a superb example of contemporary Indian handicrafts. Ebony Frame, 'Twinkling Stars on a dark night'

We are among the premium Manufacturers &Suppliers/Exporter of Indian Handcrafted designer Sandalwood Products & other Handicrafts for over 5decades. We have been highly acclaimed in the domestic market and now we hope to bring the art and culture of mystical India to all corners of the globe. We specialize in sculpting statues of Gods, animals, jewellery boxes, ornament and designs depicting the scenes of the bygone Indian era. Each item is carefully hand crafted with skill passed on from generations of artisans of ancient India. Our niche is in sandalwood, kadam, ebony, rosewood and walnut wood crafts. We also cater to customized designing, itemized products and providing with specially developed products as per your requirements. We take pride in our culture and work and hope to>bring to you the essence of India.