PROFILE

Printcon Engineers is a professionally managed leading printing machines manufacturer exporter and supplier in North India. Since itsinception in the year 1997, the company has achieved a remarkable progress in the market of its kind. Our products of and international standards in view accuracy and quality. We manufacture Sheet fed & Web Offset Printing Machines in different sizes along with allied equipments with registered brand PRINTCON. These machines are being manufactured untder the high quality control and supervision by qualified technicians and engineers as per requirments. The base of our machines are made of high grade cast iron properly seasoned for maximum strength and quality to avoid vibration at varying speeds.



PRODUCT RANGE

SINGLE COLOUR SHEETFED OFFSET PRESS

Printcon 200 (15"X20")
Printcon 210 (16"X21")
Printcon 250 (18"X25")
Printcon 280 (18"X28")
Printcon 300 (20"X30")
Printcon 320 (22"X32")
Printcon 370 (23"X36")

DOUBLE COLOUR SHEETFED OFFSET PRESS

Printcon 250 (18"X25")

Printcon 280 (18"X28")
FOUR COLOUR SHEETFED OFFSET PRESS

Printcon 450 (18"X25")

Printcon 480 (18"X28")


FEATURES

D.C.Drive and Easy Control Panel
Quick & Easy Make Ready
Finished & Hard Chrome Plated Balanced Cylinders
Stream Type Feeding System
Double Sheet Detector & No sheet Detector to Prevent Wastage
Fine Adjustment Control System and Easy Adjustment of
Grippers for Various Thicknesses of Paper/Board
Hardened and Ground Gears
Centralized Lubrication System with Electronic Timer
An Electronically Digital Counter
A Uniform Supply of Ink & Fine Setting by Fine Thread Screws
Pull Type Side Lay
High Quality of Multi colour Printing in Perfect Register
Automatic Roller Washup
Hard Chrome Plated Rollers
Auto Stop Feeder
Bearer to Bearer Contact
Motorized feeder Table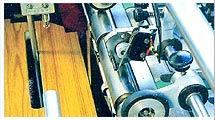 Double Sheet Daetector to Prevent Wastage
Double sheet detector is set before start the printing to avoid doublesheets while run with thickness of required paper/board in case twoor more sheets enter together, it trips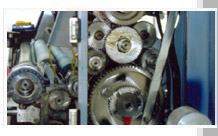 Specilally Designed Vacuum System with Stream Feeder
The sheet is separated from the back of the pile by air pressure andlifted by two suckers and forwarded through forwarding runners andballs. An unique stream feeder specially designed and inbuilt toensure safe control and proper feeding of paper/board.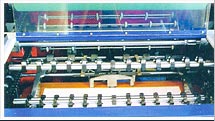 Auto Adjustable Delivery Grippers
Easy adjustment of grippers is provided for various thickness ofpaper/board adjustment to ensure gripping during the printing onpaper to board and board to paper. The delivery pile lowers automatically down and printed sheets are property stacked at varyingspeeds.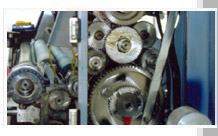 Hardened and Ground Gears
The Gears of our machines are made of hardened steel ally for strength and durability. Hardened & ground gears control noiselessperfect motion of all three balanced cylinders, to ensure reliableprinting.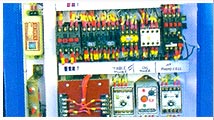 Speed
6000 IPH for Single Colour printing, 3500-4500 IPH for multi-colourprinting depending upon kind Condition and thickness of paper/board and quality of printing and operating etc.
No. of Rollers
Ink rollers-20 Damping rollers-5
Gripper Margin
Minimum 9 mm
TECHNICAL SPECIFICATIONS
PRINTCON SHEETFED OFFSET PRINTING MACHINE (Single Colour)
Printcon 250
MM
Printcon 280
MM
Printcon 300
MM
Printcon 320
MM
Printcon 370
MM
Sheet Size
max
460 x 640
460 x 715
520 x 780
570 x 820
610 x 940
min
210 x 250
210 x 250
260 x 320
250 x 300
275 x 425
Plate Size
510 x 645
510 x 720
580 x 785
610 x 828
673 x 935
Blanket Size
570 x 650
570 x 720
630 x 790
668 x 828
711 x 940
Printing Area
max
445 x 635
570 x 711
495 x 775
538 x 790
584 x 927
Plate Thickness
0.42
0.42
0.42
0.42
0.42
Blanket Thickness
four ply
1.9
1.9
1.9
1.9
1.9
Pile Height
feeder
800
800
850
875
900
delivery
410
410
450
490
500
Weight
paper
30-500 GSM
30-500 GSM
30-500 GSM
30-500 GSM
50-500 GSM
Power
415V-3 PHASE
main drive+
vaccum pump(approx))
5.8HP
5.8HP
9.3HP
9.3HP
9.3HP
Machine Size
(W x L x H) (approx)
1300 x 1960 x 1655
1400 x 1960 x 1655
1460 x 2150 x 1850
1550 x 2250 x 2050
1702 x 2641 x 1829
Machine Weight
(approx.)
1850 KG
2050 KG
2400 KG
2800 KG
3200 KG

Note:

All specification are subject to change without any notice
TECHNICAL SPECIFICATIONS
PRINTCON SHEETFED OFFSET PRINTING MACHINE (Double Colour)
Printcon 250
MM
Printcon 280
MM
Sheet Size
max
min
460 x 640
210 x 250
460 x 715
210 x 250
Plate Size
510 x 645
510 x 720
Blanket Size
570 x 650
570 x 720
Printing Area Plate
max
445 x 635
570 x 711
Plate Thickness
0.42
0.42
Blanket Thickness
four ply
1.7
1.7
Pile Height
feeder
delivery
890
500
890
500
Weight
paper
30-500 GSM
30-500 GSM
Power
415V-3 PHASE
415v-3phase
+vaccum pump
8.8HP
8.8HP
Machine Size
(W x L x H)
1400x2900x1800
1400x2975x1850
Machine Weight
4250 Kg
4650Kg

Note:

All specification are subject to change without any notice
TECHNICAL SPECIFICATIONS
PRINTCON SHEET FED OFFSET PRINTING MACHINE (Four colour)
PRINTCON 450
Size in MM
PRINTCON 480
Size in MM
Sheet Size
max
min
460x640
210x250
460x715
210x250
Plate Size
510x645
510x720
Blanket Size
570x650
570x720
Printing Area
max
445x635
445x711
Plate Thickness
0.42
0.42
Blanket Thickness
Three ply 
1.7
1.7
Pill Height
Feeder 
Delivery 
890
500
890
500
Weight
Paper
30-500gsm
30-500 gsm
Power
415V-3 PHASE (Approx)
415v-3phase
vaccum pump
14 HP
14 HP
Machine Size (Approx)
(W x L x H)
4.25' x 19.5' x 6'
4.50' x 19.75' x6'
Machine Weight (Approx)
Approx
8200Kg Approx
9000 Kg

Note:

All specification are subject to change without any notice