Shuchi Marketing Services established in 1997 promoted by Mrs. Shuchi Malik CEO of Company. The proverb a sound mind in a sound body can aptly be termed in conjunction with making of society healthy with idea of providing complete hygiene and health to mankind, is the aim behind establishing a Pressure Cooker Manufacturing unit. Shuchi Marketing Services is sister concern of Mis Libraw Pharma an 150-9001:2000 certified company catering to next generation pharmaceutical industry needs.
About STELLAR® Pressure Cooker
RUBBER GASKET
Rubber Gasket is a vital part for quality of the pressure cooker. The Gasket shall be conforming to hardness. Tensil and elongating as per I.S.-7466
Click Here For Query
SAFETY VALVE
Safety Valve is an important part of the pressure cooker.The Alloy Composition of safety valve shall be Such that it melts before gauge pressure is reached greater than half of the bursting pressure i.e. 3 kgs. per sq. cm. The weight of safety valve is 15/16 gms.as per I.S.-2347.
Click Here For Query
PRESSURE REGULATING DEVICE
Pressure Regulating Device (vent wt),is made of brass and stainless steel conforming with I.S.I standard. Thickness of chrome plate is I.S.-1068.
Click Here For Query

VENT TUBE
Vent Tube the material used is nickel chrome plated brass conforming I.S.I. Standards with S.S. Bush Inserted.
Click Here For Query
VENT SEAL
Vent seal pin for pressure regulating device is made of stainless steel conforming with I.S.-6527.
Click Here For Query
VENT TUBE NUT
Vent Tube nut is made of aluminium
Click Here For Query
LOCKING LOOP
Locking Loop is made out of pure stainless steel conforming to SAIL Standard.
Click Here For Query
LID HANDLE BARS
Lid Handle Bars are purchased from leading manufacturers conforming with I.S.I.
Click Here For Query
COVER HEAD
Cover Head is made of aluminium extrusion of leading extrusion manufactures.
Click Here For Query
STUD & SCREW
Stud & Screw is made of brass rod.
Click Here For Query
ALUMINIUM BODY
Aluminium body made of wrought Aluminium conforming with IS-21.
Click Here For Query
ALUMINIUM LID
Aluminuim Lid made of 2 mm /3.25 mm thick ,1/2 hard 35 alloy conforming I.S. -20 or I.S. -21
Click Here For Query
BAKELITE MAIN HANDLE
Bakelite Main Handle, Bakelite Lid Handle,Auxiliary Handle are made from impact resistant and non-inflammable plastic as per I.S.-13395.
Click Here For Query
ALIMINIUM MAIN HANDLE
Aluminium Main Handle is made from aluminium alloy checked lotwise in our laboratory and as well as independent laboratory.
Click Here For Query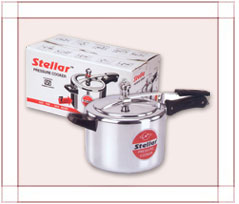 Future
Shuchi Marketing Services future vision is to offer quality Pressure Cooker by the Brand name "Stellar~" being fast moving consumer good, globally meeting all national and international standards. We have started Exporting Pressure Cooker to neighbouring countries and also exported to Europe, Middle East, South America and South Africa.
Quality
Shuchi Marketing Services observes strict quality control and good manufacturing practices norms to produce top quality "Stellar@1I brand of pressure cooker with aim of achieving the final product. v The happy customer. Strict quality controls are observed at each stage of anufacturing and in process check also done.

Production
We have an installed capacity to manufacture BOO Pes. of Pressure Cooker daily through an upgraded automatic plant with a team of skilled trained staff. We manufacture both inner lid & outer lid type of pressure cooker ranging from 2ltr. to 10 ltr. capacity
Advantage Benefits
· Save fuel.
· Excellent product without compromising on quality with low cost.
· Has life long non fusible safety pressure release device.
Packing Department

Stellar@ Pressure Cooker is transferred from production department to quarantine room with utmost care. These Pressure Cooker are then transferred to assembly line and there after sent to the packing room for final packing of finished product in export worthy corrugated' boxes, and are finally Bar Coded and carton packing in six pes. each carton
Specification

SteIlar@ Pressure Cooker comes in two specifications in inner lid i.e. BG Body, 14G Lid and lOG Body, 14G Lid and in outer lid BG Body, lOG Lid with 55 screws / locking loop, brass / 55 pressure weight, 151 marked gasket and bakeIite handles. We can make as per in house specification of customer also.
Available Sizes
INNER LID/OUTER LID
SIZES
(in Liters)
IL / HB
IL / HB
IL / HB
IL / HB
IL / HB
IL / HB
IL / HB New Model Wide Body
IL / HB
IL / HB
IL / HB
2
3
4
5
6.5
8
8
10
12
14
Other Products


:: LPG Gas Stoves

:: Juicer, Mixer, Grinder

:: Electric Chimneys

:: Ovens

:: Other Kitchen Appliances and Accessories

:: Stainless Steel Kitchen Utensils

:: Stainless Steel Cutlery
Quality and Infrastructure

The company has a robust infrastructure to innovate and create top quality Pressure Cookers and Pressure Cooker . The work force of the company is well experienced and technically sound. Keeping in mind the nature of our product, top quality is always given priority.
Our Pressure Cooker and Pressure Cooker Parts are manufactured as per ISI Specifications. There is a separate quality control department that follows a comprehensive quality control schedule, which results in negligible batch to batch variation. Further the pressure cookers are tested under rigorous conditions to make your safety, a surety. Our plant has a capacity to manufacture approximately 10,000 pressure cookers a month.
We look forward to having a fruitful long term business relationship with you. If you are interested in installing pressure cooker plants, we can provide you the technical know-how on turnkey projects. You can also contact us for Distributorship of our Products.
Specifications

Stellar
®
Pressure Cooker comes in two specification in Inner Lid i.e., SG Body 14G. Lid and 10G Body 14G Lid and in Outer Lid 8G Body 10G Lid,
Contact Us

Shuchi Marketing Services
Mr. Inderpal Malik
14, Rani Jhansi Road, New Delhi - 110 055 (India)
Tel : +(91)-(11)-23543487/23610379/23556663
Mobile: +(91)-(11)-9312254551
Fax : +(91)-(11)-23543487
Email :
libraw@bol.net.in