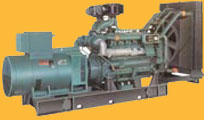 Surya Power Hiring Company is a proprietary company constituted for the purpose of providing Diesel Generator Sets on hire. We have an efficient technical team comprising of skilled workers. We have an experience of more than two decades in the line of hiring Diesel Generator Sets & have mastered the profession by establishing marketing links. Today the company's growth and reputation has been a result of outstanding experience, our continuity of purpose, serviceability driven, empowering growth to the clients in diversified locations of Bangalore, Mysore, Chennai, Coimbatore and spanning the entire major cities of South India from karnataka to Tamil Nadu territory. Keeping the customer in mind at all times is the business philosophy that keeps Surya Power Hiring Company successful.
As a mature technology, Surya Power Hiring Company - modern diesel powered generators offers these
key benefits:
* Rapid product availability
* Proven reliability and low life–cycle costs
* High efficiency and operational flexibility
* High quality electrical performance
* Well–established service and fuel supply infrastructure
* Optional factory–integrated exhaust aftertreatments reduce emissions for high–hour use in environmentally sensitive locations.
We have fully redesigned its high-range generator sets to deliver the reliability, efficiency and versatility that our customers want.