Profile
A well established name in the ribbon industry, Nilesh Ribbon commands a commendable presence in the ribbon market. The position can be credited to its forty years of presence in the ribbons industries in India. The experience has ensured expertise. And the expertise guarantee superior quality of the products like fancy ribbon, printed ribbons, cotton laces, velvet tape, satin tape, velvet laces and ribbons, fancy trimmings, jacard and knitting laces, embroidery taping material, embroidery threads, gross grain tape at each and every time. We are wholesale suppliers manufacturers exporters of designer trimmings, velvet laces, velvet ribbons, frails, cords etc. Our ribbons are available in a wide range of colors and designer styles.
Products
We are quality manufacturer exporter & supplier of following products. Our products have been appreciated by the patrons due to their variety and quality.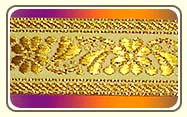 • Cotton Laces
• Velvet Tape
• Designer Satin tape
• Velvet Laces
• Frails
• Cords
• Designer and Fancy Velvet Ribbons
• Designer and Fancy Trimmings


• Jacard Laces
• Knitting Laces
• Embroidery Taping Material
• Cording
• Designer and Fancy Ribbon
• Printed Designer and Fancy Ribbons
• Embroidery Threads
• Gross Grain Tape
Our Specialty
Our specialty is synonymous with the quality we offer. Quality of our designer products has been of utmost importance since the very start of operations. We follow a stringent quality program in our manufacturing unit. The program comprises of quality tests at several levels. The entire manufacturing process unfolds under the supervision of the senior experts. Lastly, a quality test is conducted after the completion of the manufacturing. The products found to be flawed are rejected by the senior experts.
Infrastructure
Our infrastructure is punctuated by: high tech machinery, a superb work environment & of course a dedicated, specialized & experienced work force. Our machinery is worth a special mention due to the attention we accord to them. Each of our machines is constantly kept under the observation of the experts for their constant performance appraisal.
Clients
The quality of our designer ribbons laces and tapes products has constantly expanded our client base. We export to UAE, Srilanka, Saudi Arabia, USA, Canada, Malaysia and Australia.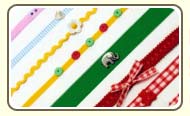 Nilesh Ribbon Industries
Mr. Manoj Jariwala
2/1046, Bhaidas Mehta's Street, Sagrampura
Surat- 395 002, Gujarat, (India)
Tel :
+(91)-(261)-2332622/2350642
Fax :
+(91)-(261)-2343998
Mobile :
+(91)-9825148109/9227926643/ 9374724644 / 9227926653
Email :
nris@rediffmail.com
Website :
http://www.nritrims.com