We would like to introduce ourselves as one of the leading firm on the movement horizon of household goods and commercial goods. We have firms that can boost of accumulating years of service and experience. We have built advantage of offering a highly personalized service. Which many firms, would find it difficult to match, to as each client is a V.I.P. whom we would like to serve again and again at LEGEND PACKERS & MOVERS. We take immense are to train our packers familiarize them with safety standards as adopted in advanced countries. By specializing in house goods removals, we have built up a unique knowledge of this highly complex and continuously.
Changing field there by guaranteeing our customers the most reliable service which has won the trust and respect of an ever increasing number of multinational companies, diplomatic missions, government agencies and defense personnel.
SCOPE OF OPERATION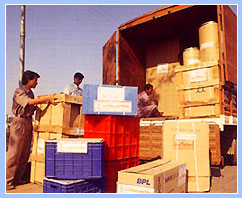 » Packing moving of house hold and commercial goods.
» Local shifting of residence & office.
» Transportation door to door nation
» Ware housing & storage.
» Car transportation
PACKAGING
We have professional packers on our roll who take utmost care of your each & every items.
MOVING
Safe and timely moving is the second process of relocation. With our wide network of associates in India. Whether it's moving within Bangalore or across the breadth of the India we are always sure that our customers will get the best service levels. Such is the faith we repose in all our associates.
WARE HOSING & STORAGE
Once your reach your new destination & your new house is not also ready you could also ask the company for a ware housing services and could get the goods shifted after your house is ready.
CAR TRANSPORTATION
We can arrange for car transport to and from any location within India
Through our car carriers we can offer a nationwide service, and your car will be transported safely and securely throughout India by a recognized carrier.
We are offering you complete DOOR TO DOOR service, be it from one city other, or even from one street to other. We at LEGEND PACKERS & MOVERS take care of your movement in commercial and house hold effects with precision care.
TRY OUR SERVICE TO FEEL THE DIFFERENCE
We look forward to hear from you and hive our best service.
Contact Person :
Faruq.M
Address :
No.3, 1st Cross, 2nd Main, BTM Layout 1st Stage,
Bangalore-560029
Phone :
32509725,
Mobile :
9845269411, 9341890346
Residence :
25727794
Email :
legendpackers@gmail.com