- HEPA Paper Pleating Machine
- AL. Foil Folding, Corrugation &
Cutting Machine
- Adhesive Edge Drying
- Adhesive Dispenser for End
Caps
- Expanded Mesh making Machine
- Aramco Reverse Pulse Test Rig
- Hot Plates for End Cap Sealing
- Hot Melt Applicator Machine Ring On Spiral Mode To Element
- Knife or Blade Pleating Machine
- High Speed Rotary Pleating
Machine
- Perforation Press
- Embossed Pleating with Hot Melt
Edge Sealing
- Mini Pleating with Hot Melt
- Paper Edge Clipping Machine
- Centrifugal Casting


Kanwal Enterprises
All our experience and expertise are aimed at the constant improvement of quality. We are one of the manufacturer and supplier of machines for HEPA, Gas Turbine elements, automotive manufacturing.
A leader in manufacturing machines for HEPA, Gas Turbine elements, Automotive and Industrial filters manufacturing. We also manufacture machines for Artificial Jewellery manufacturing. We adhere to strict quality standards and efficient service standards maintained by the group. At Kanwal Enterprises, we aim at building long lasting bonds with customers, vendors and employees inculcating a strong sense of partnership leading to consistent growth at both sides. Within a short span of time since our inception in 1995, we have shown tremendous growth potential and has emerged as one of the most reliable and reputed manufacturers and exporters. Guided with the vision to 'Provide a product of superior quality with durable service at a reasonable price', the company has made considerable investment in R & D and technology and has also adopted the most stringent quality checks for its products. Through this the company aims to provide ts clients quality products that are reliable, durable, high in performance and affordable.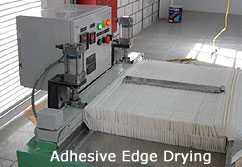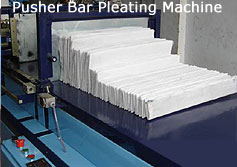 - Latest technology in tune with International standards.
- Statistical Quality control techniques for effective process control

We have diversified product range with specialized qualities for specific industries. These include :

- HEPA paper pleating machine
- AL. Foil folding, corrugation & cutting machine
- DOP smoke Generator
- Mini Paper Pleating Machine with Hot melt separation
- Test Rig for HEPA filters
- Pack tightness checking table

- Rotary pleating machine(Dimple & Plain)
- Adhesive applicator pleat edge sealing (with water base adhesive)
- Adhesive applicator for plant edge sealing (With Hot melt adhesive)
- Adhesive edge drying
- Adhesive dispenser for end caps
- Hot plates for end cap sealing
- Hot melt applicator machine Ring on Spiral mode to element
- Multi nozzle hot dispensing for Panel Pack elements
- Expended Mesh making machine
- Expanded metal flattening machine
- Circle cutting machine
- Tube rolling machine
- Sheet Perforation Press
- Roll formers
- Aramco test ring for Gas turbine elements
- Reverse Pulse test rig
- Dust feeder as per standard
- Vibration test rig
- High Speed Rotary Pleating machine
- Knife or Blade pleating machine
- Folded paper cutting machine
- Automatic paper edge with hot melt adhesives
- Paper edge clipping with Hot melt adhesive
- Pre cure oven
- Hot Plate for end cap adhesive curing
- CAV coil type filter machine
- Rotary pleating with hot melt sealing at the edges
- Bubble test Rig
- Impulse test rig
- Leak testing machine for different type of Spin on filters
and castings
- Life and efficiency test rig oil Filters
- Relief value opening test Rig
- Drum Rolling machine
- Air flitter test rig
- Component feeding conveyor
- Hydraulic vulcanizing press
- Centrifugal casting machine
- Gas fired Furnace
- Vibrator for deburring
Striving for Quality and Realizing it are two different things. We, Kanwal Enterprises observe total quality management (TQM) in the most scientific manner, so as nothing goes amiss. It is a way of life an integral part of our operations. Our top notch QC team lay emphasis in men, machines, materials and processes.
At Kanwal Enterprises, man & machine have evolved greatly to show excellence in production. Riding on the latest machiney our skilled operators work seamlessly to achieve that extra edge in product quality. A highly competent team are always on their toes to meet any challenges in production in the in house facility for complete mechanization and fabrication of machine frames and components.
Many have landed at our products in search of true quality and remained our patrons ever since. Our products are getting increased market share day by day in the country and abroad. We have been exporting machines to Abu Dhabi, Sultanate of Oman, USA and Canada.
or Send Query
Kanwal Enterprises
Contact Person : Mr. Tajinder Pal Singh
Address : Gali No - 3-4 Sheetla Colony, Sector - 5 Road
Gurgaon - 122 001, Haryana (India)
Phone : +(91)-(124)- 22222090
Tele fax : +(91)-(124)- 22222090, Residence: 4076496
Mobile : : +(91)-9810271423
Fax : +(91)-(124)-22222090
E-mail : kanwalenterprises2003@yahoo.com
: kanwalenterprises2003@gmail.com