The Dynamic of Pioneering


For J.M.T. Pvt. Ltd. it began with the right attitude, initiative foresight and sensitivity to a changing environment. Hence the company gave India its first quality PVC Sheet. The success of these product encouraged the company to introduce a host of others: pvc strip curtain, pvc strip doors manufacturers, pp corrugated sheets exporters, polypropylene corrugated sheets, pvc sheet suppliers india, pvc curtain doors dealers india, pvc door curtain distributors, industrial strip doors wholesalers delhi, pvc door strip exporters india, pvc strip door wholesalers india.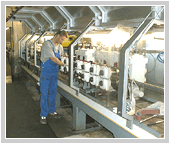 The Team


At J.M.T. Plasp, our team of well-knit engineers and other professional staff manages a fully operational plant at Bhiwadi (Rajasthan) in India. We have a dedicated team braced to meet any challenge. Our success has given us the confidence and also brought about an awareness to meet the future better.