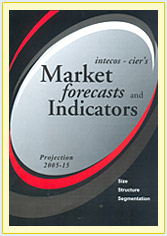 Your partner in building and sustaining successful business goals Creating Value for the Value Creators.
INTECOS
incorporated in 1973.
has served Small and Large, Corporates, MNCs, Governmental and
International Institutions.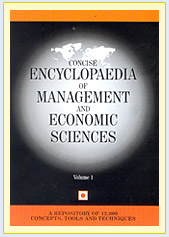 Focus Areas of Research-driven Goal-oriented Consultancy
• Management and Industrial Consultancy
• Market Research and Forecasting
• Techno-Economic Feasibility Analysis
• Corporate Strategic Planning
• Turnaround Strategies
• Knowledge Management

Some Highlights
» Operates in close association with Center for Industrial & Economic Research (CIER), an NGO engaged in research and knowledge-creation. CIER celebrated its Silver Jubilee in 2005.
» Has promoted a world-class organization, "QAI (India) Ltd", focusing on quality management in software engineering, with offices in New Delhi, Mumbai, Bangalore, Singapore, Malaysia, China and the UK.
» Has assisted CIER in the production and maintenance of the most comprehensive industrial database in India, since 1986, now disseminated on CDs, online and hard copy forms.
» Jointly with CIER, has organized international seminars, workshop, round tables, with participation of international agencies, such as the United Nations Development Programme (UNDP), World Bank, OECD, and the Commonwealth Secretariat.
» Has produced a pathbreaking research-based multi-client study - MARKET FORECASTS and INDICATORS with forecasts on industries manufactures products for succeeding decades.
» INTECOS, in association with CIER, has produced another innovative reference document CONCISE ENCYCLOPAEDIA of MANAGEMENT and ECONOMIC SCIENCES.
The Spectrum of Industrial Consultancy Services
• Market and Marketing Research
• Tecno-Economic Feasibility Studies
• Management and Financial Evaluations


INTECOS in association with CIER has carried out about 100 projects and sectoral and macro studies.
Studies conducted for organizations from Japan, UK, Norway, Sweden, Spain, Saudi Arabia, Israel, apart from those from India


THE MULTI-CLIENT STUDIES and DATABASES

• based on extensive research
• industry, product or country-based

INTECOS
has produced, in association with CIER, for the last 20 years, the most comprehensive and articulated India's Industrial Database with 700 tables covering some 100,000 data entries.
INDUSCOPE,
was first produced in hard copy as INDUSTRIAL DATABOOK released in 1984 by the then Union Minister of Industry and updated from time to time. The Statesman called it "a Goldmine of a Book".
INDUSCOPE
is updated continuously coming out every six months a new version. The latest edition, Version 13.2. is the 26th in the series over a 13 year period.
INTECOS
in association with CIER has carried out focused studies on Management of Public Enterprises. Followed a full decade of Workshops and Round Tables in collaboration with the United Nations Development Programme (UNDP) and in close association with Standing Conference of Public Enterprises (SCOPE), NewDelhi.
Assisted CIER in producing in 2003, a study titled REINVENTING THE PUBLIC SECTOR published by Rajiv Gandhi Institute for Contemporary Studies.
Assisted CIER in identifying Reliance Industries, India's First Fortune 500 private company, as the case of an Industrial Legend. That was in 1985-86. The company has now attained a Market Cap of over Rs. 200,000 crores (over one trillion) equivalent of over $ 40 billion after a historical split.
Produced Towards a New Global Order with contribution of over 30 international authorities and experts and carrying a Foreword by the President of India.
MARKET FORECASTS and INDICATORS

INTECOS-CIER'
major milestone, a pathbreaking exercise MARKET FORECASTS and INDICATORS, 2005-15. Its conceptual innovation:
It computes MMV (Manufacturing Market Value) as distinct from MVA
• First produced in 1995-1996
• Spanning India's epochal decade, 1997-2007
• The Second Updated Version for, 2002-2012
• The Third Updated Version for, 2005-2015
• covering 320 products
• across 18 industrial sectors
• Spanning 1200 Lead Players, and 2500 Lead Brands
The products span across capital goods, intermediates and consumer durables and non-durables, from machinery and equipment, electronics and appliances, automobiles (two, three and four wheelers) down to paper, rubber and polymer products and to medical equipment and accessories to entertainment electronics and cosmetics.
INTECOS
in association with CIER forayed into Sub-Sectoral Analysis with the production of a pathbreaking comprehensive study:
AUTOMOBILE INDUSTRY:
2001 and BEYOND
INTECOS'
one more milestone in intellectual forays:
» a former Industrial Economist and Team Leader with United Nations Industrial Development Organization (UNIDO),

» Executive Chairman, Centre for Industrial and Economic Research.
» Designed and directed consultancy services to over 100 public and private sector organizations in India and abroad and international institutions and organizations.

» Director of several well-known industrial and service companies.
» President Emeritus, Indian Society of Training and Development and Chairman, Graduate Diploma Programme on T & D. Honoured as Fellow. Is Member of the
Executive Board and Academic Council of the National Academy of Training and Development (NATAD).

» Vice Chairman, Consultancy Development Centre, an organization sponsored by the Department of Scientific and Industrial Research, Government of India.
» Was the Vice President, Institute of Management Consultants of India (IMCI). Honoured as Fellow.
» Authored and edited some 20 widely acclaimed publications: Concentration of Economic Power, Human Dimension of Total Quality Management, Market Forecasts
and Indicators, Reinventing the Public Sector, Empowerment and Human Resource, Concise Encyclopaedia of Management and Economic Sciences, Towards a
New Global Order, Reliance: An Industrial Legend.