Welcome to our Hotel!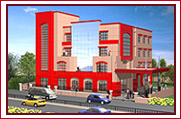 We believe that hospitality is more than just good accommodation, excellent cuisine and entertainment. It is the passion and dedication to offer cordial, generous & personalized services to our guests with a fastidious disposition to provide unparalleled facilities, so every stay leaves behind a treasured legacy of memorable moments to cherish. At the Manor Hotel, we defy the humdrum parameters of hospitality and make it exciting with a difference.
The Ambiance
Be it a pleasure stay, a holiday stop over or a business rendezvous – an exotic ambiance has a lot to offer. We believe that exotic ambiance stimulates the mind and makes your stay pleasurable. We offer a light and soothing ambiance to relax you, while livening up your day. A beautiful surrounding, setup with an artificial waterfall and beautiful colour schemes makes your time pleasant. The advantages of a location that is easily accessible have been complemented by the exhilarating ambiance that will rejuvenate your body and mind during the stay.