About Emerson Corporation
---
We Emerson Corporation introduce ourselves as one of the leading manufacturers and exporters of women's wear, men's Wear and Home Textile. We offer garments with colors, hues and textures crafted from the finest materials. Our responsiveness, flexibility, and ability to create new and innovative designs.
Each piece reflects individualistic style thats are eye catching. All the designs are in accordance with the changing trends and patterns. We will continue to deliver excellent services, strive for continuous improvement and further increase our presence in the global markets.
Products
---
OUR PRODUCT RANGE INCLUDES :-
MEN'S WEAR :-
Mens Tops with Cut work
Mens Tops with Ethnic (Small Patti)
Mens Long Kurta with pyjama ( Ethnic )
WOMEN'S WEAR :-
Ladies Synthetic Sarees
Ladies Organdi Sarees
Ladies Kurta & Dupatta with Cureshia
Ladies full Suits with Chudidar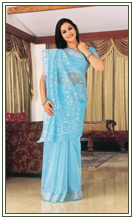 Ladies full Suits with Salwar
Ladies Plain salwar
Ladies Salwar & Dupatta
Ladies Long Skirts
Ladies Short Skirts
Ladies Short Tops
Ladies Long Kurtis
Carcosbe (Zari & Aary Work)
Embroidery
Sequence Work
LADIES SPORTS WEAR :-
Tennis Skirts
HOME TEXTILE :-
Single Bedsheet with fore gole Cushions
Double Bedsheet with Two Pillow Covers
Curtain with Cut Work
Curtain with Ethnic Work
Our Strengths
---
Our Assurance...
All our products are designed from the best quality raw material that command true appreciation and our creations evoke a unique appeal in the markets. Our team of experts maintains a strict vigil on the manufacturing process to produce flawless products.
Quality
---
We at Emerson Corporation are committed to quality & service to our customers. All our products are made from the best quality material and complemented with exclusive workmanship.From selecting the raw materials to the final production, each stage at the production undergoes strict quality checks. There is a comprehensive and sophisticated system of quality check and strict vigil is maintained at every production stage.
Infrastructure
---
With a strong infrastructure and a sound financial base we have established ourselves as the indubitable winner in the industry. We possess state-of-the-art production unit backed by sophisticated machines and latest technology to yield efficient and effective results. Our team of designers is churning out unique designs to meet our clients' expectations. Our storage, packaging and delivery facilities makes the swift and timely delivery of the bulk orders.
Clients
---
Working towards complete customer satisfaction the company assures timely deliveries at highly competitive prices. With no compromise in quality the company can fully handle volume orders within the delivery time. The company invites trade inquiries from avid buyers who are looking for superior gents Garments, Ladies garments & home furnishing items. We have clients like Vishal Mega Mart & V- Mart etc.
---
OFFICE :-
EMERSON CORPORATION
Contact Person :Mr. Sanjeev Kumar Sharma (CEO)
Address : 341, Bhoor,
Bulandshahr, U.P.
(India) 203 001
Tel No : 91-5732-281863/324627
Mobile : 91-9319254323
Fax No : 91-5732-281863
FACTORY :-
EMERSON CORPORATION
Contact Person : Ms. Daisy Kabir (Production Manager )
Address : 5, National Colony
Amir Nishan, Aligarh
U.P. (India) 202002
Tel No : 91-571-2403054
Email : daisykabir@gmail.com