Manufacturer & Exporter of
Die Casting Machines

Rapid Flow India offers a wide range of world-class hydraulic machine and systems for various applications like Die Casting Machine. They are tailor-made to meet your precise requirements. Each product is a hallmark of symbol of innovative, state-of-the-art technology promising efficient and reliable service year after year.
Since its inception in 1970, the company has led the field in innovation and technology development through its exhaustive R & D activities which has been the most integral/core part of its operation and is strongly reflected in its day to day activities.
Home About us Contact us Query Email
INTRODUCTION:
RAPID Cold Chamber Pressure Die Casting Machines are manufacturer exporter and supplier under the guidance of well qualified and highly experienced engineers. The Machines are bulit with best quality material and components. These are available in four modes i.e. 80-120-180 and 250 tones. The machine could be operated manually as well as semiautomatic operation, and ideally suited for mass production of Die Cast Components (such as Automobiles, Electricals, Toys, Measuring Instruments & Home Appliances)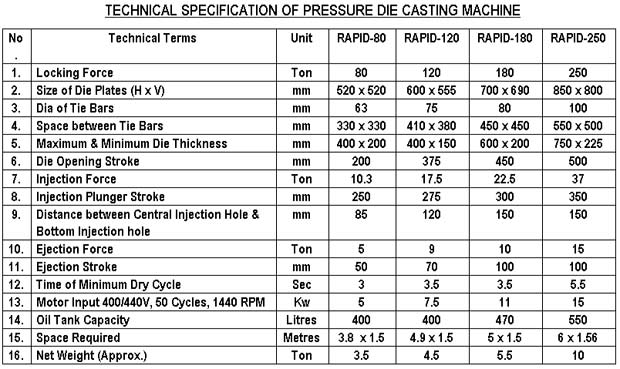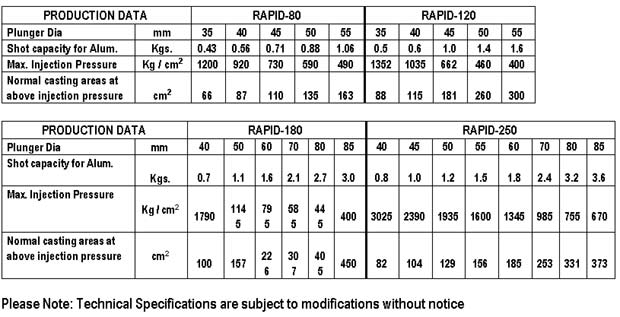 MACHINE BASE: Machine base is structural construction and supports the injection system on its extension. Part of the base is attached with oil reservoir to accommodate a good quantity of hydraulic oil, and is provided with oil gauge and digital thermometer.

DIE LOCKING MECHANISMS: die locking is effected by means of hydraulic and sturdy toggle mechanism exerting an evenly distributed force over the faces of the dies. The die space between the two die mounting plates is adjustable to suit any die thickness as mentioned in the table. The special feature of the die locking mechanism are: Four Hard Chrome plated Tie Bars running on linear bushes for smooth movement of moveable die, and water cooling arrangement for die plates.

INJECTION: Injection Plunger is hydraulically operated and powered with high pressure accumulator to give fast sequence of shots. The choice of lower injection and central injection is provided.

EJECTION: A separate Ejector Cylinder for ejecting the casting from the die cavity has been provided.

HEAT EXCHANGER: A shell and tube type condenser is provided to prevent the overheating of oil. It can be cleaned very easily after removing both the covers.

HYDRAULIC SYSTEM: Hydraulic System consist of double vane pump, relief valve, flow control valve, accumulator, unloading valve and solenoid operated direction control valves. Only Vicker or Yuken make pump and controls are used. All control are fitted on single manifold to avoid unnecessary tubing.

ELECTRICAL SYSTEM: All standard make electrical switch gears, relays, magnetic contactor etc. are housed in a central cabinet. An operating control box ( mounted on the fixed die plate) located at the operating position ensures full safety of operation.
An emergency stop provided to ensure instantaneous stopping of all motion in case of need.