Dhanush is a passion store of Mr. Rajesh belagodu in Bangalore. It is his ability to create an unequalled flair of co lour, design, pattern which evokes his different moods. He has the flair for combining the inspiration of the past with the practical realities of the present.

Practical usage and wearing is the emphasis here at Dhanush, Bangalore. The sarees and salwar suits (fabrics) are suitable yet sophisticated, refreshingly simple, has a nostalgic feminity and classical look.
Saree makes for one of the most fascinating and alluring drapes that defines the elegance and poise of a woman like nothing else. Along centuries, no ensemble has been able to match the grace and glory of sarees making them the most sought after apparels since ages. Silk and cotton, the fabrics which are the height of sophistication, delicate yet refined are used in abundance.

We are engaged in manufacturing and supplying of a wide range of designer sarees, available in different fabrics and colours, that includes : -
Georgette Sarees
Crape Sarees
Silk Sarees
Kanjeevaram Sarees
Cotton Sarees
Cotton Silk Sarees
Embroidered Cotton Sarees
Printed Silk Sarees
Another most popular and comfortable ladies apparels, designed and supplied by us are salwar suits, embroidered salwar suits, that are highly sought after.
Cotton Salwar Suits
Crepe Salwar Suits
Georgette Salwar Suits
We, Dhanush, are known as a reliable source of pure georgette sarees, crepe sarees, pure silk sarees, designer silk sarees, silk cotton sarees,fashion silk sarees, embroidered cotton saree, cotton silk sarees, pure cotton sarees, printed silk sarees, traditional sarees, fancy salwar suits, exclusive salwar suits and georgettes salwar suits.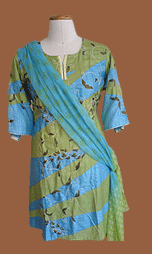 The sarees in georgettes, crape and kanjeevaram are versatile enough to suit different needs and situations which might well change over the years. It has both traditional yet modern, elegant grand designs in embroidery and prints. The sarees are perfected to the unselfconscious timelessness of its style.The colour palette at Dhanush is vast. Rich deep colours convey a traditional mood toned with softer, lighter colours. There is no limit to invaluable, inspirational imagination.
Details are important. But one of the most creative ways of putting together a saree requires no more than a good eye with good perspective ideas.
The look and personality compliment your way of life and your surrounding. You can transform the merely wearable into the truly enjoyable.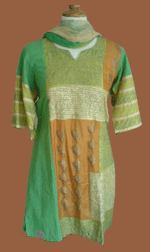 Expectations
Homely environment.
Personal attention.
Sarees in crepes, georgettes, kanjeevaram.
Salwar suits in cottons, crepes, georgettes.
Intricate embroidery work and designs.
Careful balance of colours
Perfect to suit all occasions.
Dhanush the boutique has a Scando Victorian style of décor with a french concept of minimal space.
Mr. Rajesh had made it his ambition to explore all possibilities in bordering, texture, printing techniques and fusing. It is his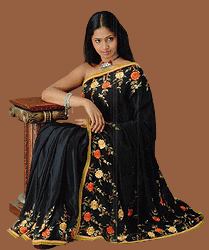 passion, drive and determination and an eye for the best that has inspired him into "Dhanush".
Contact Us or
Send Online Query
Ms.Sashikala Rajesh
Dhanush
Add :
#275/1, 9th 'A' Main,2nd Block, Jayanagar, Bangalore-560011
Phone :
91+80-26563446/26562545
Email :
sashikarajesh@yahoo.com