Our Services
Quality personalized one to one care is given to each patient according to his/her requirement.
the clinic provides following services:
1. Dental Implants - TOOTH in AN HOUR:
Walk in without teeth and walk out with teeth. Single stage implants which are bloodless, flapless, stitch-less & painless, can be given for immediate replacement of missing teeth. Some cases may need two stage implants.
Surgery on day 1, sometimes temporary crown on day 2, and permanent ceramic crown in 3-5 months.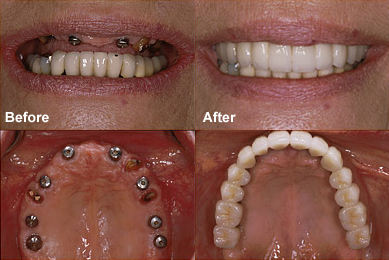 2. Crown & Bridge
- Ceramic crowns can be given for discolored or broken teeth. If some teeth are missing they can be replaced by a fixed ceramic bridge as an effective permanent substitute over conventional dentures.

3. Root Canal Treatment
- Teeth with deep cavities and severe pain can be saved by RCT. Pain relief after first visit. Single sitting RCT possible using latest rotary endodontic handpieces.
Root Canal Treatment:
Indications :
RCT is needed when a tooth's nerve and blood vessels are badly infected and damaged eg. Tooth damaged by trauma a fractured tooth Deep decay which has infected the nerve
Tooth damaged by trauma
a fractured tooth
Deep decay which has infected the nerve
Signs and symptoms:
Throbbing pain in the tooth especially while lying down at night.
Swelling in the jaw
Pain on chewing and taking hot or cold food
Teeth severely worn out
Teeth with deep cavities can be saved.endodontic hand pieces.
ers.

4. Dental Bleaching (Teeth Whitening) -
Single visit or two visit office laser bleaching is done.

5. Veneers
: Veneers are thin shells of porcelain(ceramic) or composite which are bonded over front side of teeth and can be an excellent cosmetic solution.
Indications for vene
Spaces between teeth.
Odd shaped , cracked or chipped teeth.
Discoloured teeth.
Malpositioned or slightly crooked teeth.
Fractured teeth with good amount of tooth structure left.
To provide a WHITE SMILE in people with naturally dark teeth.
6. Smile Designing (Cosmetic Dentistry)
- Proclined back teeth can be given crowns or veneers and an improved profile in 4-5 days treatment. Gone are the days when you have to settle for chippe d, stained and crooked teeth. a Revolution in the newer technology and materials ensure that cosmetically enhanced teeth now look more natural and last longer than they did in the past.
Skillfully blending science and art we as dentists can "sculpt" a more attractive smile for you. Spaces between teeth can be closed with laser built up or ceramic crowns.
a smile is a powerful way for you to communicate.
a new smile will help you to make a great impression – both personally and professionally.
a smile is a curve that sets everything straight.
7. Orthodontics -
Children and adults. Now braces are possible even in patients as old as 45 - 50 years provided the gum condition is good. Various transparent invisible fibre braces can be given to achieve excellent results. Treatment time can vary from 3 months to 2 years. Tooth coloured brackets can be given which are very less visible, very comfortable for the patient, and cause very little ulceration.
(i) Lingual Orthodontics
- Usualy, brackets and archwires are placed on the outer surfaces of the teeth

(fig-1). As they are visible when taking or smiling, patients often feel insecure.
Now there is an alternative - the so-called lingual technique. This allows the whole apparatus to be secured to the inner surface of the teeth which conceals it from the outside (fig-2).
As lingual brackets are bonded onto the inner surfaces of the teeth the apparatus is inside the mouth (fig-3). the effect is virrually the same as when using the normal bracket technique, the only difference being that the force is applied from the opposite side.
8. Dentures
- Soft flexible partial or full dentures can be given which are much more comfortable over conventional hard dentures. Implants retained dentures can be given with very good fitting.
9. Dental Jewellery
- Crystal jewels can be bonded to teeth to give a sparkling smile.
10. Gum Surgery & Splinting
- Mobile or loose teeth can be fixed in one visit using advanced fibre glass ribbon splint.
Gum Surgery and splinting :
a thorough gum cleaning and splinting is the simplest procedure which can prevent - swollen.
Red and puffy gums
Bad breath
Loose teeth
Sensitive teeth
Tender and bleeding gums
Whitish pus discharge from gums
Sudden appearance of spaces between teeth
Surgical Option :
Gingivectomy, flap surgery can be done to sculpt hypertrophied or swollen gums to get a beautiful and healthy gum line. Bone augmentation surgery can be done to correct mobile or loose teeth.
11. Laser Therapy
- For quick healing, leukoplakia or white patches in oral mucosa, chronic ulcers, to improve gum conditions and to make teeth firm.
12. Metal Free Dentistry
- Metal free full ceramic crowns and tooth colored fillings replaced in place of ugly silver amalgam fillings.

13. Child Dentistry
-
(i) Sealants:
To fight cavities away by prophylactic sealants.
(ii) Cleft Lip and Palate:
Such cases can be given feeding appliances at very young age so that the milk doesn't come out of the nose. Later expansion appliances and fixed braces can be given for widening the arch and correcting malalignment of teeth. This is done as a team with the plastic surgeon.
(iii) Space Maintainers:
These can be given if baby teeth have to be extracted due to severe infection and permanent teeth are not ready to erupt.
(iv) Fillings:
Cavities should be filled in time to prevent the decay from reaching the nerve tissue resulting in pain and swelling.
Injury: If baby or permanent teeth is broken or fractured due to fall they can be repaired immediately to prevent further damage of nerve tissue or permanent tooth developing below.
(v) Orthodontics:
Various appliances for correction of teeth can be given as early as 5 years to prevent further crowding of teeth.
(vi) Habit breaking appliances:
for correction of thumb sucking, lip sucking and tongue thrusting can be given to prevent proclination of teeth and to prevent open bite.
14. Extractions
- Normal loose teeth extraction, failed root canal treated teeth extraction, surgical wisdom tooth extractions.
15. Accident & Trauma Dentistry
- if there is direct injury on front teeth and any tooth comes outcompletely. keep it in the patients saliva and visit the dentist in 4 hours and the same tooth can be re-implanted.broken injured teeth can be fixed by laser build up (20 min)or by ceramic crown in 24 hours.
16. Dental Fillings -
Tooth coloured invisible aesthetic fillings can be done in the same way in both front and back teeth.
18. Easy to use software -
Easy to understand patient education software about specific and routine dental problems to give the patient an insight into his/her problem.
19. WEDDING -
DENTAL ADVICE FOR BRIDES & GROOMS TO BE:
On the most important day of your life everything has to be perfect - the Dress, the Make-up, Décor, etc. But how about one thing you'll be using the most on that day? Your Smile ! Go in for:---
DENTAL CLEANING:
For healthy gums and to prevent bad breath. LASER WHITENING OR BLEACHING- To flash your sparkling teeth to go with your perfect make-up.
SMILE MAKEOVER:
If you are considering a smile makeover, visit our Surgery at least few weeks in advance as treat.
Closing spaces between front teeth.
Replace ugly, stained silver mercury fillings with tooth colored fillings.
Gum sculpting.
Reshaping of teeth or Porcelain veneers.
Crowns, Bridges & Inplants