Hessonite (Gomode) - Represents Rahu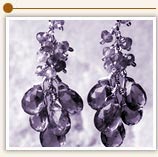 The orange version of grossular garnet hessonite is also sometimes known as cinnamon stone because of its distinctive brownish-orange colour. Like other grossular garnets,hessonite is usually found in metamorphically impure limestones, Hessonite derives its orange colour from iron and manganese content.
Hesoonite has been apopular stone for thousands of years. The ancient greeks and romans used the stones in jewellery, faceting it and setting it in siler or gold or using it in cameos and intaglio work it gets its name from the ancient greek work for inferior esson, because it is noticeable less hard and less dense than other varieties of garnet.
Hessonite is also an important stone in vedic astrology. Known in Hindu as gomedha,it is believed to have been formed from the fingernails of the great demon, vala which were scattered among the lakes of the East. When it is set in gold, it is believed to be a powefultalisman, increasing happiness and lifespan.
Most hessonite is rich in inclusions,which give it a swirly, treacle-like appearance. The Clearest stones ar the most prized major soruces of hessonite include Asbestor, Quebex, canand: st Barbora Adit, Bohemia, Czech Republic; Bavaria, Germany; Valla d;Aosta, northwest itly; Chelyabink Oblast, Urals, Central Russia; Zermatt in the Alpine Canton of avails, southern Switzerland; and okkampitiya, Southeast sri lank. Hessonite deposits in the united states include redding, Fairfield country, Connecticut and middesex County, Massachusetts.

| | | | |
| --- | --- | --- | --- |
| | | Star International | |
Manufacturer and exporter of designer beaded handcrafted jewelry like necklace, bracelets, earrings, broach pin, pendants, suede/ metal belts, and many other handcrafted items.

Address:

56, Kanchanchanga Apartments, Plot 90, I. P. Extension, Patparganj , Delhi - 110 092 , Delhi , India
Phone(s) :
+ 42184494/23266072/22517594
Fax(s) :
+ 22230494
| | | | |
| --- | --- | --- | --- |
| | | New Shatabdi Fashion | |
Leading manufacturer and exporter of garment fashion accessories like beaded fashion jewelry, glass beaded jewelry, handmade glass beads, handicrafts and gift items in india.

Address:

2921, Kinari Bazar , Delhi - 110 006 , Delhi , India
Phone(s) :
+ 23252340/23252341
Fax(s) :
+
| | | | |
| --- | --- | --- | --- |
| | | S. K. Jewellers | |
Manufacturer and exporter of precious & semi-precious cut stones and beads, cabochons and fancy shapes with speciality in silver jewelry and silver accessories.

Address:

House No. 24408, Near Nathji Ki Bagiebi Paharganj , Jaipur - 302 003 , Rajasthan , India
Phone(s) :
+ 2603508
Fax(s) :
+ 5172165
| | | | |
| --- | --- | --- | --- |
| | | Lion Arts | |
Manufacturer & exporter of silver, tibatian and nepalian style jewellery like earring, necklace, bracelets, rings, bangles, brooches, etc.

Address:

1087, New Mandir Wali Gali, Main Bazar, Paharganj , Delhi - 110 055 , Delhi , India
Phone(s) :
+ 9871243634
Fax(s) :
+
| | | | |
| --- | --- | --- | --- |
| | | Unique International, Jaipur | |
Unique international, are one of the prominent manufacturers, suppliers and exporters of beads and gemstones such as dyed ruby, dyed ruby heart shape cut, dyed ruby round cut, sapphire pears, dyed emerald beads, dyed emerald, ruby smooth roundel beads, dyed ruby oval, dyed sapphire oval, dyed blue sapphire round cut, dyed emerald faceted beads, dyed emerald oval cut, ruby faceted beads, ruby round cut, dyed sapphire oval cut, dyed blue sapphire round and dyed emerald cut stone.

Address:

No. 1226, Achar Walon Ki Gali, Gopal Ji Ka Rasta, Johari Bazar , Jaipur - , Rajasthan , India
Phone(s) :
+ +(91)-(141)-4010009
Fax(s) :
+ +(91)-(141)-4010009
| | | | |
| --- | --- | --- | --- |
| | | Bhaskar C Gems | |
Manufacturers & exporters of semi-precious gem stones & designs.

Address:

742, Janki Vallabh Ki Gali, Gopal Ji Ka Rasta , Jaipur - 302 003 , Rajasthan , India
Phone(s) :
+ 9828113875
Fax(s) :
+
| | | | |
| --- | --- | --- | --- |
| | | Jwell Mart India | |
Jwell Mart India is a premier Indian exporter and manufacturer of fashion jewelry such as necklace, earing, bracelets, bangles, cufflings, wooden products, etc.

Address:

2 B- First Floor, Rani Garden, Shastri Nagar , Delhi - 110 031 , Delhi , India
Phone(s) :
+ 22059711
Fax(s) :
+ 22059711
| | | | |
| --- | --- | --- | --- |
| | | Bramah Impex-fashion Jewellery | |
Bramah Impex-Fashion Jewellery offers sumptuous collection of costume jewelry necklaces carved out using best possible material such as costume beaded necklace, bone necklace, glass beaded necklace, metal bracelets, etc.

Address:

E-165, Greater Kailash, Part 1, IInd Floor , Delhi - 110 048 , Delhi , India
Phone(s) :
+ 91-11-41735232
Fax(s) :
+ 91-11-41734655
| | | | |
| --- | --- | --- | --- |
| | | Silvershine | |
Exporting, manufacturing and supplying of semi precious jewelry, key chains, precious & semi precious stones, beaded jewelry, estate jewelery and antique reproductions & designs, etc.

Address:

1177, NATANIYON KA RASTA, CHAURA RASTA, JAIPUR - 302003 , Jaipur - , Rajasthan , India
Phone(s) :
+ 91-141-2316731/2396476
Fax(s) :
+
| | | | |
| --- | --- | --- | --- |
| | | R. R. Gems | |
Deals in exporting and manufacturing of beaded designer bracelet, beaded earrings, beaded necklace, semi precious stone jewelry, handcrafted products that includes precious stones, handmade silver jewelery, handmade modern purses, etc.

Address:

94, GOPAL JI KA RASTA, JOHARI BAZAR, JAIPUR - 302003 , Jaipur - , Rajasthan , India
Phone(s) :
+ 91-141-2573262/2601538
Fax(s) :
+
| | | | |
| --- | --- | --- | --- |
| | | Nilay Gems | |
Retailers and exporters of gemstones beads, precious gemstones, semi precious gemstones, handcrafted products that includes precious stones, handmade silver jewelery, etc.

Address:

149, ZAVERI BAZAR, BHERIMAL HOUSE, 4TH FLOOR, KALBADEVI ROAD, MUMBAI - 400002 , Mumbai - , Maharashtra , India
Phone(s) :
+ 91-22-23401869
Fax(s) :
+
| | | | |
| --- | --- | --- | --- |
| | | Jhaveri & Company | |
Suppliers and exporters of gold studded jewelery with precious & semi-precious stones and diamonds. loose precious and semi-precious stones, beads, precious semi precious stone and diamond jewelry, etc.

Address:

BHANSHALI BLDG., 1ST FLOOR, OPP.MAJESTIC SHOPPING CENTRE, GIRGAUM, MUMBAI - 400004 , Mumbai - , Maharashtra , India
Phone(s) :
+ 91-22-23869091
Fax(s) :
+
| | | | |
| --- | --- | --- | --- |
| | | Vividh Gems | |
Suppliers and exporters of gold studded jewelery with precious & semi-precious stones and diamonds. loose precious and semi-precious stones, beads, precious semi precious stone and diamond jewelry, etc.

Address:

206, PRAMUKH DARSHAN APARTMENT, OPP. PATIDAR BHAVAN, RAMPURA, GANDEVI - 395003 , Navsari - , Gujarat , India
Phone(s) :
+
Fax(s) :
+
| | | | |
| --- | --- | --- | --- |
| | | Excellent Gems | |
Retailers and exporters of semi precious stone, precious stones, diamonds, studded silver jewelery, silver earrings, beads, precious & semi-precious stones, gems jewelery, gold jewelry and silver jewelry, etc.

Address:

K-1B-6, GULAB MENSION, KESHAV PATH, NEAR AHINSA CIRCLE, ASHOK MARG, C-SCHME, JAIPUR - 302001 , Jaipur - , Rajasthan , India
Phone(s) :
+ 919414386584
Fax(s) :
+
| | | | |
| --- | --- | --- | --- |
| | | Saira Bano Gems And Jwellery | |
Engaged in manufacturing, exporting and supplying of semi precious stone beads, stone strings, agate strings, agate bead string, chip stone beads, semi precious stones, loose diamonds, loose solitaire, costume jewelry, precious stones, etc.

Address:

21, AZAD NAGAR COLONY, NAI KI THADI, RAMGARH ROAD, JAIPUR - 303013 , Jaipur - , Rajasthan , India
Phone(s) :
+ 91-141-6592032
Fax(s) :
+
| | | | |
| --- | --- | --- | --- |
| | | Rudrakash Ncr | |
Supplying, manufacturing and exporting of beaded designer bracelet, beaded earrings, beaded necklace, handcrafted products that includes precious stones, handmade silver jewelery, handmade modern purses and semi precious stone jewelry, etc.

Address:

842, SEC-23, FARIDABAD - 121005 , Faridabad - , Haryana , India
Phone(s) :
+ 91-129-2238260
Fax(s) :
+
| | | | |
| --- | --- | --- | --- |
| | | Vama Exports | |
Manufacturing, exporting and supplying of loose precious and semi-precious stones, gold studded jewelery with precious & semi-precious stones and diamonds, beads, precious semi precious stone and diamond jewelry, etc.

Address:

277, SOMANI TOWERS, KISHANPOLE BAZAR, JAIPUR - 302002 , Jaipur - , Rajasthan , India
Phone(s) :
+ 91-141-2325608/2702616
Fax(s) :
+
| | | | |
| --- | --- | --- | --- |
| | | Divya Gems & Jewellers | |
Engaged in manufacturing, exporting and supplying of beaded silver jewelry, beaded silver pendants, beaded jewelry, costume fashion jewelry, semi precious beads, precious beads and silver jewelry, etc.

Address:

1688, TAKSALI BUILDING, JADIYON KA RASTA, CHAURA RASTA, JAIPUR - 302003 , Jaipur - , Rajasthan , India
Phone(s) :
+ 91-141-2344572
Fax(s) :
+
| | | | |
| --- | --- | --- | --- |
| | | Paradise Exports | |
Suppliers and exporters of ruby, sapphire, tourmaline, beads, diamond jewelry, gemstones and gemstone beads that includes emerald, semi-precious stone and precious stone, etc.

Address:

53, Muthu Nagar, Sengunthapuram P.O , Karur - 639 002 , Tamil Nadu , India
Phone(s) :
+ 230774
Fax(s) :
+
| | | | |
| --- | --- | --- | --- |
| | | Dayson International | |
Involved in manufacturing and exporting of all types of gem stone, jewelery, semi precious stone, precious stone, pearls, precious gem stone and various types of diamond and precious stones, etc.

Address:

1/2 Kalkaji Extension , Delhi - , Delhi , India
Phone(s) :
+ 11-91-6225993
Fax(s) :
+ 11-91-6435013
| | | | |
| --- | --- | --- | --- |
| | | Suresh Gems | |
Involved in manufacturing and exporting of semi precious stone, studded silver jewelery, precious stones, diamonds, silver earrings, beads, precious & semi-precious stones, gems jewelery, gold jewelry and silver jewelry, etc.

Address:

HOUSE NO. 1279, 3RD FLOOR, CHAMPAWAT JI KA MANDIR, MAHADEV JOHARI KI GALI, KHON WALON KA CHOWK, GOPAL JI KA RASTA, JAIPUR - 302003 , Jaipur - , Rajasthan , India
Phone(s) :
+ 91-141-2573199/2571870
Fax(s) :
+
| | | | |
| --- | --- | --- | --- |
| | | S. P. Jewellers | |
Suppliers and exporters of key chains, precious & semi precious stones, beaded jewelry, semi precious jewelry, estate jewelery and antique reproductions & designs, etc.

Address:

219, RAJA PARK, GALI NO.-1, JAIPUR - 302004 , Jaipur - , Rajasthan , India
Phone(s) :
+ 91-141-2603101
Fax(s) :
+
| | | | |
| --- | --- | --- | --- |
| | | Suma Traders | |
Deals in exporting and manufacturing of precious stones, diamonds, semi precious stone, studded silver jewelery, silver earrings, beads, precious & semi-precious stones, gems jewelery, gold jewelry and silver jewelry, etc.

Address:

# 73, 27TH CROSS, 11TH MAIN, BSK SECOND STAGE, BANGALORE - 560070 , Banglore - , Karnataka , India
Phone(s) :
+ 91-80-26718656
Fax(s) :
+
| | | | |
| --- | --- | --- | --- |
| | | Diagold | |
Exporting, manufacturing and supplying of various types of diamond and precious stones, all types of gem stone, jewelery, semi precious stone, precious stone, pearls, precious gem stone, etc.

Address:

2238, HALDIYON KA RASTA, MALIRAM PURNAMAL BUILDINGS, IIIRD FLOOR, JOHARI BAZAR, JAIPUR - 302003 , Jaipur - , Rajasthan , India
Phone(s) :
+ 91-141-2575384
Fax(s) :
+
| | | | |
| --- | --- | --- | --- |
| | | Sristi Trends Creator | |
Engaged in manufacturing, exporting and supplying of precious & semi precious stones, beaded jewelry, semi precious jewelry, key chains, estate jewelery and antique reproductions & designs, etc.

Address:

SHOP NO.7, SHANTI APARTMENT, MANTRI LANE, JUNCTION OF KISHAN ROAD & AMARSHI ROAD, MALAD (WEST), MUMBAI - 400064 , Mumbai - , Maharashtra , India
Phone(s) :
+ 91-22-32905674/28898475
Fax(s) :
+
| | | | |
| --- | --- | --- | --- |
| | | New Star Gems | |
Manufacturers and exporters of precious & semi precious stones in quantity.

Address:

Shop No 89, Kansara Chawl, Kalbadevi Road , Mumbai - 400 002 , Maharashtra , India
Phone(s) :
+ 32019556
Fax(s) :
+
| | | | |
| --- | --- | --- | --- |
| | | Om Sea Gems | |
Engaged in manufacturing, exporting and supplying of sapphire, tourmaline, gemstones and gemstone beads that includes emerald, ruby, semi-precious stone, precious stone, beads, diamond jewelry, etc.

Address:

538, GOKUL MISHRA KA DARWAZA, HANUMAN KA RASTA, GOPALJI KA RASTA, JAIPUR - 302003 , Jaipur - , Rajasthan , India
Phone(s) :
+ 91-141-2576148/6521064/5521064
Fax(s) :
+
| | | | |
| --- | --- | --- | --- |
| | | Khush Impex | |
Dealers, suppliers and manufacturers of precious beads, silver jewelry, beaded jewelry, costume fashion jewelry, semi precious beads, beaded silver jewelry and beaded silver pendants, etc.

Address:

2450, MARU KI KA CHOWK, GHEE WALON KA RASTA, JOHARI BAZAR, JAIPUR - 302003 , Jaipur - , Rajasthan , India
Phone(s) :
+ 91-141-2574438
Fax(s) :
+
| | | | |
| --- | --- | --- | --- |
| | | Navin Enterprises | |
Engaged in manufacturing, exporting and supplying of gemstones beads, all types of precious gemstones, semi precious gemstones, handcrafted products that includes precious stones, handmade silver jewelery, etc.

Address:

B-21, Vinayak Complex, Station Road , Jaipur - 302006 , Rajasthan , India
Phone(s) :
+ 91-141-362256
Fax(s) :
+ 91-141-214963
| | | | |
| --- | --- | --- | --- |
| | | Singhall Handicrafts | |
Involved in manufacturing and exporting of estate jewelery, antique reproductions & designs, beaded jewelry, semi precious jewelry, key chains, precious & semi precious stones, etc.

Address:

1/3894, BHAGWAN PUR KHERA, LONI ROAD, SHAHDARA (NEAR DURGA PURI CHOWK), DELHI - 110032 , Delhi - , Delhi , India
Phone(s) :
+ 91-11-65261153/22131227
Fax(s) :
+
| | | | |
| --- | --- | --- | --- |
| | | Color Gems Export | |
Suppliers and exporters of jewelery, semi precious stone, all types of gem stone, precious stone, pearls, precious gem stone and various types of diamond and precious stones, etc.

Address:

878, CHOORA BUILDING, GHAT GATE ROAD, JAIPUR - 302003 , Jaipur - , Rajasthan , India
Phone(s) :
+ 91-141-2602464
Fax(s) :
+
| | | | |
| --- | --- | --- | --- |
| | | Ashiyana Enterprises | |
Dealers, suppliers and manufacturers of antique jewelery, precious and semi precious stones, yellow gold, white gold, beads, all kinds of precious and semi-precious stones, gold and silver jewelery, etc.

Address:

B-155, JANTA COLONY, JAIPUR - 302004 , Jaipur - , Rajasthan , India
Phone(s) :
+ 91-141-2606915/2602865
Fax(s) :
+
| | | | |
| --- | --- | --- | --- |
| | | Arun Impex | |
Wholesale suppliers, exporters and manufacturers of precious and semi precious stones, antique jewelery, yellow gold, white gold, beads, all kinds of precious and semi-precious stones, gold and silver jewelery, etc.

Address:

607, RAM BHAVAN, 4TH FLOOR, VIDHYADHAR KA RASTA, GOPAL JI KA RASTA, JAIPUR - 302003 , Jaipur - , Rajasthan , India
Phone(s) :
+ 91-141-3296611/2604107
Fax(s) :
+
| | | | |
| --- | --- | --- | --- |
| | | Jaipur Associates | |
Suppliers and exporters of gold studded jewelery with precious & semi-precious stones and diamonds. loose precious and semi-precious stones, beads, precious semi precious stone and diamond jewelry, etc.

Address:

SHOP-6, OPP.HEAD POST OFFICE, PANI KI TANKI, SHASTRI NAGAR, JAIPUR - 302016 , Jaipur - , Rajasthan , India
Phone(s) :
+ 919829057198
Fax(s) :
+
| | | | |
| --- | --- | --- | --- |
| | | Dhadda Export | |
Dhadda Exporters Distributors of gems stones like emeralds, tanranite, amethyst, readymade garments precious & semi precious stones, etc.

Address:

1387, Ganesh Bhawan, Partaniyon Ka Rasta , Jaipur - 302002 , Rajasthan , India
Phone(s) :
+ 91-141-560540/563163
Fax(s) :
+ 91-141-565764
| | | | |
| --- | --- | --- | --- |
| | | G. P. Gems | |
Suppliers and exporters of precious and semi precious stones, yellow gold, white gold, beads, antique jewelery, all kinds of precious and semi-precious stones, gold and silver jewelery, etc.

Address:

S.NO.- 9, EVERGREEN GUEST HOUSE, CHAMELIWALA MARKET, M.I. ROAD, JAIPUR - 302001 , Jaipur - , Rajasthan , India
Phone(s) :
+ 91-141-2368713
Fax(s) :
+
| | | | |
| --- | --- | --- | --- |
| | | Nandkishore Meghraj Jewellers Pvt. Ltd. | |
Wholesale suppliers, exporters and manufacturers of handcrafted products that includes precious stones, all types of precious gemstones, handmade silver jewelery, semi precious gemstones and gemstones beads, etc.

Address:

2981, M.I. ROAD, JAIPUR - 302001 , Jaipur - , Rajasthan , India
Phone(s) :
+ 91-141-2373498/2370024/5108499
Fax(s) :
+
| | | | |
| --- | --- | --- | --- |
| | | Vidhan Gems & Jewellery | |
Manufacturer & exporter of semi precious stones.

Address:

B-16, Inderpresth Colony, Model Town - A, Jagatpura Road , Jaipur - 302 017 , Rajasthan , India
Phone(s) :
+ 2570300
Fax(s) :
+ 2572707
| | | | |
| --- | --- | --- | --- |
| | | Faizan Beg Export Company | |
Manufacturing, exporting and supplying of beaded silver jewelry, beaded silver pendants, beaded jewelry, costume fashion jewelry, semi precious beads, precious beads, silver jewelry, etc.

Address:

25318, MITHI KOTHI KA RASTA, NEAR MOHAMMADI HOSPITAL, SURAJPOLE, JAIPUR - 302003 , Jaipur - , Rajasthan , India
Phone(s) :
+
Fax(s) :
+
| | | | |
| --- | --- | --- | --- |
| | | Chirag Exports | |
Involved in manufacturing and exporting of all types of gem stone, jewelery, semi precious stone, precious stone, pearls, precious gem stone and various types of diamond and precious stones, etc.

Address:

D-204, Defence Colony , Delhi - 110 024 , Delhi , India
Phone(s) :
+ 29242905/29238812-13/24622590/24632590
Fax(s) :
+
| | | | |
| --- | --- | --- | --- |
| | | Shree Gems & Jewels | |
Suppliers and exporters of key chains, precious & semi precious stones, beaded jewelry, semi precious jewelry, estate jewelery and antique reproductions & designs, etc.

Address:

R-489, NEW RAJINDER NAGAR, NEW DELHI - 110060 , Delhi - , Delhi , India
Phone(s) :
+ 91-11-28742870/42542560/61/62/28745356
Fax(s) :
+
| | | | |
| --- | --- | --- | --- |
| | | Art Fair | |
Manufacturing, exporting and supplying of gold, silver jewelery, antique jewelery, precious and semi precious stones, yellow gold, white gold, beads, all kinds of precious and semi-precious stones, etc.

Address:

U-2, CHAMELIWALA MARKET, OPP. GPO M. I. ROAD, JAIPUR - 302001 , Jaipur - , Rajasthan , India
Phone(s) :
+ 91-141-2362915/2210716(R)
Fax(s) :
+
| | | | |
| --- | --- | --- | --- |
| | | New Gem Well | |
Dealers, suppliers and manufacturers of precious gemstones, semi precious gemstones, gemstones beads, handcrafted products that includes precious stones, handmade silver jewelery, etc.

Address:

A-5, MULLA COTTAGE, CHAMELIWALA MARKET, M.I. ROAD, , Jaipur - , Rajasthan , India
Phone(s) :
+ 91-141-3265414/2601198
Fax(s) :
+
| | | | |
| --- | --- | --- | --- |
| | | Royal Gems Impex | |
Wholesale suppliers, exporters and manufacturers of beaded designer bracelet, beaded earrings, beaded necklace, semi precious stone jewelry, handmade silver jewelery, handmade modern purses and handcrafted products that includes precious stones, etc.

Address:

2414, TEMPLE OF SITARAMJI, KANWATIYON KA KHURRA, RAMGANJ BAZAR, JAIPUR - 302002 , Jaipur - , Rajasthan , India
Phone(s) :
+ 91-141-2606022
Fax(s) :
+
| | | | |
| --- | --- | --- | --- |
| | | Unique Pioneer Gems & Jewels | |
Suppliers and exporters of gold studded jewelery with precious & semi-precious stones and diamonds. loose precious and semi-precious stones, beads, precious semi precious stone and diamond jewelry, etc.

Address:

OFFICE NO. 201, 2ND FLOOR, ZOHARI BAZAR, KGB KA RAASTA, 1ST CROSSING, KASTURI PALACE, JAIPUR - 302003 , Jaipur - , Rajasthan , India
Phone(s) :
+ 91-141-3232915/2574713/66147929/32968894
Fax(s) :
+
| | | | |
| --- | --- | --- | --- |
| | | Alpna Gems Inc. | |
Engaged in manufacturing, exporting and supplying of antique jewelery, precious and semi precious stones, yellow gold, white gold, beads, all kinds of precious and semi-precious stones, gold and silver jewelery, etc.

Address:

3933, DHANDIA HOUSE, K.G.B., KA RASTA, JOHARI BAZAR, JAIPUR - 302003 , Jaipur - , Rajasthan , India
Phone(s) :
+ 91-141-2578278/2575019
Fax(s) :
+
| | | | |
| --- | --- | --- | --- |
| | | Sparkling Wish | |
Involved in manufacturing and exporting of estate jewelery, antique reproductions & designs, beaded jewelry, semi precious jewelry, key chains, precious & semi precious stones, etc.

Address:

19, THAKT E SHAHI ROAD, MOTI DUNGRI, JAIPUR - 302004 , Jaipur - , Rajasthan , India
Phone(s) :
+ 91-141-2561606
Fax(s) :
+
| | | | |
| --- | --- | --- | --- |
| | | Jai Jinendra Jewels | |
Manufacturers and exporters of Precious, Semi Precious, Faceted Stones

Address:

3rd Floor 1179, Partaniyon Ka Rasta, Johri Bazar , Jaipur - 302 004 , Rajasthan , India
Phone(s) :
+ 2654283/2574576
Fax(s) :
+ 2574576
| | | | |
| --- | --- | --- | --- |
| | | Mohak Jewels | |
Dealers, suppliers and manufacturers of precious beads, silver jewelry, beaded jewelry, costume fashion jewelry, semi precious beads, beaded silver jewelry and beaded silver pendants, etc.

Address:

16-a Takhte Shahi Road,Kanota Bagh, jaipur, Rajasthan India , Jaipur - , Rajasthan , India
Phone(s) :
+ 91-98290-61565
Fax(s) :
+
| | | | |
| --- | --- | --- | --- |
| | | Haq Jewellers | |
Dealers, suppliers and manufacturers of beaded jewelry, semi precious jewelry, key chains, precious & semi precious stones, estate jewelery and antique reproductions & designs, etc.

Address:

EVERGREEN GUEST HOUSE, SHOP NO. 11, CHAMELIWALA MARKET, M.I. ROAD , Jaipur - , Rajasthan , India
Phone(s) :
+ 91-141-2371476
Fax(s) :
+
Featured Products
Bhaskar C Gems

Gemstone
View all products

Featured Catagories

Browse by Catagory

Featured Catalogs

Featured Tradeshows

Popular B2B Market Places

Popular Industries

| | | |
| --- | --- | --- |
| | Still not able to find what you are looking for ? | |