Emerald (Panna)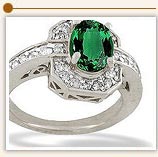 Emerald belongs to the beryl mineral family. Traces of chromium give emerald its green color-the same ele­ment that gives ruby its fiery redness. Other beryl miner­als include pale blue aquamarine, pink morganite, golden helidor and pale green beryl. Renowed for its incomparable colur, the emerald has been prized for millennia.
The color of a! true emerald has been described as the rich, translucent green of new grass glistening after a rain. The gem is also prized in the Vedas, the sacred texts of Hinduism and was worn as a sacred talisman. The vivid green of the emerald symbolizers spring and rebirth in many traditions. It also has strong ties to love-the ancient Romans dedicated the colour green to Venus, the goddess of love. In the Middle Ages, emerald was used to foresee the future, and also to protect against evil spirits .
The world center for emerald cutting, both in the past an'a today, is the Indian city of Jaipur.. Emeralds are considered one of the most difficult gemstones to cut. While they are extremely hard-harder than steel-they are also brittle and can easily crack or chip if not handled properly. The~ are also riddled with inclusions or microscopic impurities. It takes an expert eye to determine how the rough emerald should be oriented to maximize the beauty of its final appearance. They are most often fashioned in a rectangular step-cut, which suits the natural shape of the emerald crystal. This style is now known as the "emerald cut." Rather than bring out the sparkle of a stone, as in the case of the round "brilliant cut," the emerald cut focuses on the depth of the crystal, allowing you to appreciate the gem's color.
Practically all emeralds possess inclusions, giving them a soft, mossy internal appearance, which is known as their jardin ( from the French for garden).
Typically , emeralds ar fashioned in a step -cut-this is so common that the rectangular step cut is familiarly known as the 'emerald cut'. The may fussures and inclusions in the stone mean that it is quite tricky to cut, making cut stones of more than two carates very expensive. There are specialist emerald cutters in both Jaipur, India and Tel Aviv , Israel, who devote theirlives'work to master the stone..
Today , synthetic emeralds are produced that imitate the colour of the best gems but without the inclusions that 'fog' the stone,yet most collectors maintain that artificial stones lack the depth and complexity that contribute to the natural beauty of a real emerald gem.
| | | | |
| --- | --- | --- | --- |
| | | Lion Arts | |
Manufacturer & exporter of silver, tibatian and nepalian style jewellery like earring, necklace, bracelets, rings, bangles, brooches, etc.

Address:

1087, New Mandir Wali Gali, Main Bazar, Paharganj , Delhi - 110 055 , Delhi , India
Phone(s) :
+ 9871243634
Fax(s) :
+
| | | | |
| --- | --- | --- | --- |
| | | S. K. Jewellers | |
Manufacturer and exporter of precious & semi-precious cut stones and beads, cabochons and fancy shapes with speciality in silver jewelry and silver accessories.

Address:

House No. 24408, Near Nathji Ki Bagiebi Paharganj , Jaipur - 302 003 , Rajasthan , India
Phone(s) :
+ 2603508
Fax(s) :
+ 5172165
| | | | |
| --- | --- | --- | --- |
| | | New Shatabdi Fashion | |
Leading manufacturer and exporter of garment fashion accessories like beaded fashion jewelry, glass beaded jewelry, handmade glass beads, handicrafts and gift items in india.

Address:

2921, Kinari Bazar , Delhi - 110 006 , Delhi , India
Phone(s) :
+ 23252340/23252341
Fax(s) :
+
| | | | |
| --- | --- | --- | --- |
| | | Unique International, Jaipur | |
Unique international, are one of the prominent manufacturers, suppliers and exporters of beads and gemstones such as dyed ruby, dyed ruby heart shape cut, dyed ruby round cut, sapphire pears, dyed emerald beads, dyed emerald, ruby smooth roundel beads, dyed ruby oval, dyed sapphire oval, dyed blue sapphire round cut, dyed emerald faceted beads, dyed emerald oval cut, ruby faceted beads, ruby round cut, dyed sapphire oval cut, dyed blue sapphire round and dyed emerald cut stone.

Address:

No. 1226, Achar Walon Ki Gali, Gopal Ji Ka Rasta, Johari Bazar , Jaipur - , Rajasthan , India
Phone(s) :
+ +(91)-(141)-4010009
Fax(s) :
+ +(91)-(141)-4010009
| | | | |
| --- | --- | --- | --- |
| | | Jwell Mart India | |
Jwell Mart India is a premier Indian exporter and manufacturer of fashion jewelry such as necklace, earing, bracelets, bangles, cufflings, wooden products, etc.

Address:

2 B- First Floor, Rani Garden, Shastri Nagar , Delhi - 110 031 , Delhi , India
Phone(s) :
+ 22059711
Fax(s) :
+ 22059711
| | | | |
| --- | --- | --- | --- |
| | | Star International | |
Manufacturer and exporter of designer beaded handcrafted jewelry like necklace, bracelets, earrings, broach pin, pendants, suede/ metal belts, and many other handcrafted items.

Address:

56, Kanchanchanga Apartments, Plot 90, I. P. Extension, Patparganj , Delhi - 110 092 , Delhi , India
Phone(s) :
+ 42184494/23266072/22517594
Fax(s) :
+ 22230494
| | | | |
| --- | --- | --- | --- |
| | | Bhaskar C Gems | |
Manufacturers & exporters of semi-precious gem stones & designs.

Address:

742, Janki Vallabh Ki Gali, Gopal Ji Ka Rasta , Jaipur - 302 003 , Rajasthan , India
Phone(s) :
+ 9828113875
Fax(s) :
+
| | | | |
| --- | --- | --- | --- |
| | | Bramah Impex-fashion Jewellery | |
Bramah Impex-Fashion Jewellery offers sumptuous collection of costume jewelry necklaces carved out using best possible material such as costume beaded necklace, bone necklace, glass beaded necklace, metal bracelets, etc.

Address:

E-165, Greater Kailash, Part 1, IInd Floor , Delhi - 110 048 , Delhi , India
Phone(s) :
+ 91-11-41735232
Fax(s) :
+ 91-11-41734655
| | | | |
| --- | --- | --- | --- |
| | | Sejal Creations Pvt. Ltd | |
Manufacturing, exporting and supplying of precious stones, gems jewelery, diamonds, semi precious stone, studded silver jewelery, silver earrings, beads, precious & semi-precious stones, gold jewelry and silver jewelry, etc.

Address:

B-1, PRATIBHA TOWERS, PUNE-MUMBAI ROAD, WAKDEWADI, PUNE - 411003 , Pune - , Maharashtra , India
Phone(s) :
+ 91-20-25810860
Fax(s) :
+
| | | | |
| --- | --- | --- | --- |
| | | Rudrakash Gems & Jewels | |
Dealers, suppliers and manufacturers of beaded designer bracelet, semi precious stone jewelry, handcrafted products that includes precious stones, handmade silver jewelery, handmade modern purses, beaded earrings and beaded necklace, etc.

Address:

632, JAI LAL MUNSHI KA RASTA, CHANDPOLE BAZAR , Jaipur - , Rajasthan , India
Phone(s) :
+ 91-141-2313249
Fax(s) :
+
| | | | |
| --- | --- | --- | --- |
| | | Sumangal Gems | |
Wholesale suppliers, exporters and manufacturers of studded silver jewelery, silver earrings, precious stones, diamonds, semi precious stone, beads, precious & semi-precious stones, gems jewelery, gold jewelry and silver jewelry, etc.

Address:

1839, BARAH GANGOUR KA RASTA, JOHRI BAZAR, JAIPUR - 302003 , Jaipur - , Rajasthan , India
Phone(s) :
+ 91-141-4030305/2578209/2576418/2313143/2313144
Fax(s) :
+
| | | | |
| --- | --- | --- | --- |
| | | Maheshwari Jewellers | |
Retailers and exporters of sapphire gemstones, precious and semi precious stone handicrafts like elephant artifacts, semi precious stones, parrot artifacts and ruby gemstones, etc.

Address:

885, G-2, INDRAPRASTH COMPLEX, GANGA MATA STREET, JAIPUR - 302003 , Jaipur - , Rajasthan , India
Phone(s) :
+ 91-141-4011022
Fax(s) :
+
| | | | |
| --- | --- | --- | --- |
| | | Senorita Overseas | |
Deals in exporting and manufacturing of precious stones, diamonds, semi precious stone, studded silver jewelery, silver earrings, beads, precious & semi-precious stones, gems jewelery, gold jewelry and silver jewelry, etc.

Address:

H-2329, SECTOR-7-A, FARIDABAD - 121006 , Faridabad - , Haryana , India
Phone(s) :
+ 91-129-2250864/3259474
Fax(s) :
+
| | | | |
| --- | --- | --- | --- |
| | | Radix Jewels & Crafts | |
Suppliers and exporters of precious stones, diamonds, semi precious stone, studded silver jewelery, silver earrings, beads, precious & semi-precious stones, gems jewelery, gold jewelry and silver jewelry, etc.

Address:

248, NEAR LUCKY CAR DECOR, OPP. JANGID BHAWAN, M.I. ROAD, JAIPUR - 302001 , Jaipur - , Rajasthan , India
Phone(s) :
+ 91-141-2378937
Fax(s) :
+
| | | | |
| --- | --- | --- | --- |
| | | Gem Ocean | |
Manufacturer and exporter of gem stones, precious stones.

Address:

123, Gokul Vakita, Near Jawahar Circle , Jaipur - 302 018 , Rajasthan , India
Phone(s) :
+ 2570558
Fax(s) :
+ 2569308
| | | | |
| --- | --- | --- | --- |
| | | Krunal S. S. | |
Manufacturers & exporters of semi precious stone, etc.

Address:

Cuffe Castle, 7th Flr., G-3, 159, Cuffe Parade Road Opp, President Hotel , Mumbai - 400005 , Maharashtra , India
Phone(s) :
+ 91-22-22834339
Fax(s) :
+ 91-22-22183512
| | | | |
| --- | --- | --- | --- |
| | | Indus 7 Seas Export Pvt. Ltd. | |
Deals in exporting and manufacturing of precious stones, diamonds, semi precious stone, studded silver jewelery, silver earrings, beads, precious & semi-precious stones, gems jewelery, gold jewelry and silver jewelry, etc.

Address:

74, MP NAGAR, ZONE-2, BHOPAL - 462011 , Bhopal - , Madhya Pradesh , India
Phone(s) :
+ 91-755-4222000
Fax(s) :
+
| | | | |
| --- | --- | --- | --- |
| | | Rare Gems & Jewellery Co. Pvt. Ltd. | |
Supplying, manufacturing and exporting of beaded designer bracelet, beaded earrings, beaded necklace, handcrafted products that includes precious stones, handmade silver jewelery, handmade modern purses and semi precious stone jewelry, etc.

Address:

1/F, 101, GURUKRIPA COMPLEX, TELIPARA, CHAURA RASTA, JAIPUR - 302003 , Jaipur - , Rajasthan , India
Phone(s) :
+ 91-141-2571998/2574654
Fax(s) :
+
| | | | |
| --- | --- | --- | --- |
| | | Janani Enterprise | |
Engaged in exporting and supplying of gold studded jewelery with precious & semi-precious stones and diamonds. loose precious and semi-precious stones, beads, precious semi precious stone and diamond jewelry, etc.

Address:

210, CITY ARCADE, NEAR DSP BUNGLOW, JAMNAGAR - 361008 , Jamnagar - , Gujarat , India
Phone(s) :
+ 91-288-2662650/2554299
Fax(s) :
+
| | | | |
| --- | --- | --- | --- |
| | | Karuka | |
Dealers, suppliers and manufacturers of precious beads, silver jewelry, beaded jewelry, costume fashion jewelry, semi precious beads, beaded silver jewelry and beaded silver pendants, etc.

Address:

A-1/1(C.A), APPAYAN GEST HOUSE, KALYANI - 741235 , Kalyani - , , India
Phone(s) :
+ 91-33-25825974
Fax(s) :
+
| | | | |
| --- | --- | --- | --- |
| | | Shree Govind Gems | |
Engaged in manufacturing, exporting and supplying of precious & semi precious stones, beaded jewelry, semi precious jewelry, key chains, estate jewelery and antique reproductions & designs, etc.

Address:

SHOP NO. G-7, GEMS JUNCTION COMPLEX, 1476, (BUMB SADAN), 12, GANGAUR KA RASTA, JOHARI BAZAR, JAIPUR - 302003 , Jaipur - , Rajasthan , India
Phone(s) :
+ 91-141-3249606/2569546/2302076
Fax(s) :
+
| | | | |
| --- | --- | --- | --- |
| | | Natural Stone Beads Co. | |
Suppliers and exporters of all types of precious gemstones, semi precious gemstones, gemstones beads, handcrafted products that includes precious stones, handmade silver jewelery, etc.

Address:

SHOP NO.10, NEAR EVER GREEN, GUEST HOUSE, CHAMELI WALA MARKET, BAIRATHI COMPLEX, M.I.ROAD, JAIPUR - 302003 , Jaipur - , Rajasthan , India
Phone(s) :
+ 91-141-2606812
Fax(s) :
+
| | | | |
| --- | --- | --- | --- |
| | | Kunj Koshal Narnoli Jewellers | |
Dealers, suppliers and manufacturers of precious beads, silver jewelry, beaded jewelry, costume fashion jewelry, semi precious beads, beaded silver jewelry and beaded silver pendants, etc.

Address:

401, NARNOLI MANSION, SANGANERI GATE, JAIPUR - 302003 , Jaipur - , Rajasthan , India
Phone(s) :
+ 91-141-2609282/2607874/2608038
Fax(s) :
+
| | | | |
| --- | --- | --- | --- |
| | | Pradeep & Company | |
Engaged in manufacturing, exporting and supplying of diamonds, semi precious stone, precious stones, studded silver jewelery, silver earrings, beads, precious & semi-precious stones, gems jewelery, gold jewelry and silver jewelry, etc.

Address:

164 165 Shivaji Market , Agra - , Uttar Pradesh , India
Phone(s) :
+ 2366191/2365621
Fax(s) :
+
| | | | |
| --- | --- | --- | --- |
| | | Jain Exports | |
Dealers, suppliers and manufacturers of gold studded jewelery with precious & semi-precious stones and diamonds. loose precious and semi-precious stones, beads, precious semi precious stone and diamond jewelry, etc.

Address:

16, 1st Floor, Alishan Complex, Dani Limada , Ahmedabad - 380 028 , Gujarat , India
Phone(s) :
+ 25320576/25351139/25353630
Fax(s) :
+
| | | | |
| --- | --- | --- | --- |
| | | Midas Creation Inc. | |
Suppliers and exporters of precious and semi precious stone handicrafts like elephant artifacts, parrot artifacts, ruby gemstones, sapphire gemstones, semi precious stones, etc.

Address:

2439, Shanti Niketan, 102, First Floor, Patwon ka Rasta , Jaipur - 302001 , Rajasthan , India
Phone(s) :
+ 91-141-3117778
Fax(s) :
+ 91-141-4017765
| | | | |
| --- | --- | --- | --- |
| | | Sasi Kumar & Co. | |
Exporting, manufacturing and supplying of semi precious stone beads, chip stone beads, costume jewelry, stone strings, agate strings, agate bead string, precious stones, semi precious stones, loose diamonds and loose solitaire, etc.

Address:

1224, MALLIBARA, CHANDNI CHOWK, DELHI - 110006 , Delhi - , Delhi , India
Phone(s) :
+ 91-11-23265979
Fax(s) :
+
| | | | |
| --- | --- | --- | --- |
| | | Mugal Art & Gems | |
Exporting, manufacturing and supplying of precious gemstones, semi precious gemstones, gemstones beads, handcrafted products that includes precious stones, handmade silver jewelery, etc.

Address:

789, CHAUKRI GANGA POLE, MOHALLA NALBANDAN, JAIPUR - 302002, , Jaipur - , Rajasthan , India
Phone(s) :
+ 91-141-3242209
Fax(s) :
+
| | | | |
| --- | --- | --- | --- |
| | | Suruchi Jewellers | |
Retailers and exporters of semi precious stone, precious stones, diamonds, studded silver jewelery, silver earrings, beads, precious & semi-precious stones, gems jewelery, gold jewelry and silver jewelry, etc.

Address:

4409, PURANI KOTWALI KA RASTA, ANAZ MANDI, JOHARI BAZAR, JAIPUR - 302003 , Jaipur - , Rajasthan , India
Phone(s) :
+ 91-141-4019063/2561034
Fax(s) :
+
| | | | |
| --- | --- | --- | --- |
| | | Manubhai Bhagwandas Jewellers Pvt. Ltd. | |
Involved in manufacturing and exporting of precious and semi precious stone handicrafts like elephant artifacts, parrot artifacts, ruby gemstones, sapphire gemstones, semi precious stones, etc.

Address:

4&5, GROUND FLOOR, NEPTUNE TOWER, OPP. NEHRU BRIDGE, ASHRAM ROAD, AHMEDABAD - 380009 , Ahmedabad - , Gujarat , India
Phone(s) :
+ 91-79-26588966/26588573
Fax(s) :
+
| | | | |
| --- | --- | --- | --- |
| | | V Rajendra Exports | |
Manufacturers and exporters of precious and semi-precious stones precious stones beads, precious stone jewellery.

Address:

3946, Sancheti House, Ist crossing, M.S.B Ka Rasta, Johri Bazar , Jaipur - 302 001 , Rajasthan , India
Phone(s) :
+ 2573331
Fax(s) :
+ 2577850
| | | | |
| --- | --- | --- | --- |
| | | Preeti Exports | |
Retailers and exporters of semi precious stone, precious stones, diamonds, studded silver jewelery, silver earrings, beads, precious & semi-precious stones, gems jewelery, gold jewelry and silver jewelry, etc.

Address:

: W-22, Second Floor , Rajouri Garden - - 110 027 , Delhi , India
Phone(s) :
+ 25556052
Fax(s) :
+ 25150098
| | | | |
| --- | --- | --- | --- |
| | | Raihan Siliver King | |
Retailers and exporters of semi precious stone, precious stones, diamonds, studded silver jewelery, silver earrings, beads, precious & semi-precious stones, gems jewelery, gold jewelry and silver jewelry, etc.

Address:

SHOP NO. B-1, NOOR PLAZA, CHAMELI WALA MARKET, M.I. ROAD, JAIPUR - 302001 , Jaipur - , Rajasthan , India
Phone(s) :
+ 91-141-2371950/2566902/2572356/3242315
Fax(s) :
+
| | | | |
| --- | --- | --- | --- |
| | | Devansh Gem & Jewellery | |
Manufacturing, exporting and supplying of semi precious stone, precious stone, all types of gem stone, jewelery, pearls, precious gem stone and various types of diamond and precious stones, etc.

Address:

26, DR.P K BANERJEE ROAD, HOWRAH - 700001 , Howrah - , , India
Phone(s) :
+ 91-33-22130330
Fax(s) :
+
| | | | |
| --- | --- | --- | --- |
| | | Jay Shree Krishna | |
Involved in manufacturing and exporting of beads, precious semi precious stone, diamond jewelry, gold studded jewelery with precious & semi-precious stones and diamonds, loose precious and semi-precious stones, etc.

Address:

255, JOHARI BAZAR, JAIPUR - 302003 , Jaipur - , Rajasthan , India
Phone(s) :
+ 91-141-2571083
Fax(s) :
+
| | | | |
| --- | --- | --- | --- |
| | | Kedia Assorters & Brokerage | |
Engaged in manufacturing, exporting and supplying of beaded silver jewelry, beaded silver pendants, beaded jewelry, costume fashion jewelry, semi precious beads, precious beads and silver jewelry, etc.

Address:

1307, KEDIA BHAWAN, GOPAL JI KA RASTA, JOHRI BAZAR, JAIPUR - 302006 , Jaipur - , Rajasthan , India
Phone(s) :
+ 919829452836
Fax(s) :
+
| | | | |
| --- | --- | --- | --- |
| | | Rajeev Export | |
Exporting, manufacturing and supplying of silver earrings, beads, precious & semi-precious stones, precious stones, diamonds, semi precious stone, studded silver jewelery, gems jewelery, gold jewelry and silver jewelry, etc.

Address:

72, JANAKPURI, 1ST IMLIWALA PHATAK, JAIPUR - 302020 , Jaipur - , Rajasthan , India
Phone(s) :
+ 91-141-2578520
Fax(s) :
+
| | | | |
| --- | --- | --- | --- |
| | | Lakhi Gems | |
Engaged in exporting and supplying of beaded jewelry, costume fashion jewelry, semi precious beads, precious beads, silver jewelry, beaded silver jewelry and beaded silver pendants, etc.

Address:

901, "NARENDRA PLAZA", NEAR GOSHALA, GANGA MATA STREET, RASTA GOPALJI, JAIPUR - 302003 , Jaipur - , Rajasthan , India
Phone(s) :
+ 91-141-4082222/2575353/2576868/2652204/2652110
Fax(s) :
+
| | | | |
| --- | --- | --- | --- |
| | | Dharnendra Exports | |
Wholesale suppliers, exporters and manufacturers of precious stone, pearls, all types of gem stone, jewelery, semi precious stone, precious gem stone and various types of diamond and precious stones, etc.

Address:

16, Hema Industrial Estate, Sarvodaya Nagar, Jogeshwari East , Mumbai - 400 060 , Maharashtra , India
Phone(s) :
+ 28304377
Fax(s) :
+ 28210010
| | | | |
| --- | --- | --- | --- |
| | | Heritage Fibre | |
Wholesale suppliers, exporters and manufacturers of precious & semi precious stones, key chains, beaded jewelry, semi precious jewelry, estate jewelery and antique reproductions & designs, etc.

Address:

PLOT NO-213/B, MANCHESWAR INDUSTRIAL ESTATE, BHUBANESWAR - 751011 , Bhubaneswar - , Orissa , India
Phone(s) :
+ 91-674-2573776
Fax(s) :
+
| | | | |
| --- | --- | --- | --- |
| | | Mirza International | |
Suppliers and exporters of precious and semi precious stone handicrafts like elephant artifacts, parrot artifacts, ruby gemstones, sapphire gemstones, semi precious stones, etc.

Address:

H.NO.- 3502, MOHALLA PAHARGANJ, SURAJPOLE, JAIPUR - 302003 , Jaipur - , Rajasthan , India
Phone(s) :
+ 91-141-2374643
Fax(s) :
+
| | | | |
| --- | --- | --- | --- |
| | | Jewel Mine | |
Suppliers and exporters of gold studded jewelery with precious & semi-precious stones and diamonds. loose precious and semi-precious stones, beads, precious semi precious stone and diamond jewelry, etc.

Address:

R-17, BB-FATIMA COLONY, KARBALA, OPP. BENIWAL KANTA, RAMGRAH ROAD , Jaipur - , Rajasthan , India
Phone(s) :
+ 91-141-2631973
Fax(s) :
+
| | | | |
| --- | --- | --- | --- |
| | | New Star Gems | |
Manufacturers and exporters of precious & semi precious stones in quantity.

Address:

Shop No 89, Kansara Chawl, Kalbadevi Road , Mumbai - 400 002 , Maharashtra , India
Phone(s) :
+ 32019556
Fax(s) :
+
| | | | |
| --- | --- | --- | --- |
| | | Gem-o-art | |
Involved in manufacturing and exporting of yellow gold, white gold, beads, antique jewelery, precious and semi precious stones, all kinds of precious and semi-precious stones, gold and silver jewelery, etc.

Address:

44/45, Narsing Colony, Jagat Shiromani Road, Amer , Jaipur - , Rajasthan , India
Phone(s) :
+ 91-141-2530004
Fax(s) :
+
| | | | |
| --- | --- | --- | --- |
| | | Sulemania Enterprises | |
Sulemania Enterprises ennaged in lapis tourmaline, aquamarine, moonstone onex, tourquise and silver jewellery and other colour stones precious & semi precious stones, etc.

Address:

3818, Ninder Rao Ka Rasta, Indira Market , Jaipur - 302001 , Rajasthan , India
Phone(s) :
+ 91-141-314358
Fax(s) :
+ 91-141-320458
| | | | |
| --- | --- | --- | --- |
| | | Raju Rajammal Textiles Pvt. Ltd. | |
Wholesale suppliers, exporters and manufacturers of studded silver jewelery, silver earrings, precious stones, diamonds, semi precious stone, beads, precious & semi-precious stones, gems jewelery, gold jewelry and silver jewelry, etc.

Address:

5/56, L.R.G. NAGAR, KARUR - 639002 , Karur - , Tamil Nadu , India
Phone(s) :
+ 91-4324-232687
Fax(s) :
+
| | | | |
| --- | --- | --- | --- |
| | | Ajooba Handicrafts & Artwares Private Limited | |
Involved in manufacturing and exporting of semi precious stone, studded silver jewelery, precious stones, diamonds, silver earrings, beads, precious & semi-precious stones, gems jewelery, gold jewelry and silver jewelry, etc.

Address:

KHASRA NO. 323, BEHIND CHHATTARPUR PARKING, IDDGHA ROAD, CHATTARPUR, NEW DELHI - 110074 , Delhi - , Delhi , India
Phone(s) :
+ 91-11-26804085
Fax(s) :
+
| | | | |
| --- | --- | --- | --- |
| | | Vinay Gems | |
Exporting, manufacturing and supplying of precious beads, silver jewelry, beaded jewelry, costume fashion jewelry, semi precious beads, beaded silver jewelry and beaded silver pendants, etc.

Address:

2051, 2ND CROSSING, DEENANATH JI KA RASTA, CHANDPOLE BAZAR, JAIPUR - 302001 , Jaipur - , Rajasthan , India
Phone(s) :
+ 91-141-2325046
Fax(s) :
+
| | | | |
| --- | --- | --- | --- |
| | | B. Arvindkumar & Company | |
Wholesale suppliers, exporters and manufacturers of beads, precious semi precious stone, diamond jewelry, gold studded jewelery with precious & semi-precious stones and diamonds, loose precious and semi-precious stones, etc.

Address:

107/E, PANCHRATNA, 1ST FLOOR, OPERA HOUSE, MUMBAI - 400004 , Mumbai - , Maharashtra , India
Phone(s) :
+ 91-22-23674579
Fax(s) :
+
| | | | |
| --- | --- | --- | --- |
| | | Pooja Global Inc. | |
Manufacturing, exporting and supplying of precious stones, gems jewelery, diamonds, semi precious stone, studded silver jewelery, silver earrings, beads, precious & semi-precious stones, gold jewelry and silver jewelry, etc.

Address:

H-51-B, JHAKERESHWAR MARG, MADHO SINGH CIRCLE, BANI PARK, JAIPUR - 302016 , Jaipur - , Rajasthan , India
Phone(s) :
+ 91-141-2280584
Fax(s) :
+
Featured Products
Designer Jewellery India

Finger Ring
View all products

Featured Catagories

Browse by Catagory

Featured Catalogs

Featured Tradeshows

Popular B2B Market Places

Popular Industries

| | | |
| --- | --- | --- |
| | Still not able to find what you are looking for ? | |