Diamond (Heera) - Represents Venus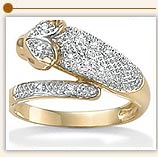 Diamond is the hardest naturl substance and the mostvalued gemstone. The name comes from the Greek word adamas meaning 'invincible ' and this alludes to the hardness and durability of diamond. The stones are m ore intensively mines and strictly graded than any other gemstone. Diamond is composed of pure carbon,like graphite,but its extreme hardness is a result of its atoms being compacted and bnonded by high pressures and high temperatures in the Earth's upper mantle.
It has been associated with purity and fearlessness since ancient times and, more recently, with lov:) India was an important source of diamondS for centuries. Until the 1700s, the mines of northern India were especially prolific.
Diamond have aperfect crystal form and high symmetry. Uncut crystals may look greasy and somewhat rounded, but when broken to cut, the faces show brilliant adamantine ( diamond-like)luster and dispersion. This give the stone a fiery brilliance that is probably best displayed by brilliant cuts, which are the most popular today.
Diamonds are popular for all types of jewellery, such as earrings, brooches, rings, and bracelets. The stones are traditionally set in gold and platinum.
| | | | |
| --- | --- | --- | --- |
| | | New Shatabdi Fashion | |
Leading manufacturer and exporter of garment fashion accessories like beaded fashion jewelry, glass beaded jewelry, handmade glass beads, handicrafts and gift items in india.

Address:

2921, Kinari Bazar , Delhi - 110 006 , Delhi , India
Phone(s) :
+ 23252340/23252341
Fax(s) :
+
| | | | |
| --- | --- | --- | --- |
| | | Star International | |
Manufacturer and exporter of designer beaded handcrafted jewelry like necklace, bracelets, earrings, broach pin, pendants, suede/ metal belts, and many other handcrafted items.

Address:

56, Kanchanchanga Apartments, Plot 90, I. P. Extension, Patparganj , Delhi - 110 092 , Delhi , India
Phone(s) :
+ 42184494/23266072/22517594
Fax(s) :
+ 22230494
| | | | |
| --- | --- | --- | --- |
| | | Unique International, Jaipur | |
Unique international, are one of the prominent manufacturers, suppliers and exporters of beads and gemstones such as dyed ruby, dyed ruby heart shape cut, dyed ruby round cut, sapphire pears, dyed emerald beads, dyed emerald, ruby smooth roundel beads, dyed ruby oval, dyed sapphire oval, dyed blue sapphire round cut, dyed emerald faceted beads, dyed emerald oval cut, ruby faceted beads, ruby round cut, dyed sapphire oval cut, dyed blue sapphire round and dyed emerald cut stone.

Address:

No. 1226, Achar Walon Ki Gali, Gopal Ji Ka Rasta, Johari Bazar , Jaipur - , Rajasthan , India
Phone(s) :
+ +(91)-(141)-4010009
Fax(s) :
+ +(91)-(141)-4010009
| | | | |
| --- | --- | --- | --- |
| | | Bramah Impex-fashion Jewellery | |
Bramah Impex-Fashion Jewellery offers sumptuous collection of costume jewelry necklaces carved out using best possible material such as costume beaded necklace, bone necklace, glass beaded necklace, metal bracelets, etc.

Address:

E-165, Greater Kailash, Part 1, IInd Floor , Delhi - 110 048 , Delhi , India
Phone(s) :
+ 91-11-41735232
Fax(s) :
+ 91-11-41734655
| | | | |
| --- | --- | --- | --- |
| | | S. K. Jewellers | |
Manufacturer and exporter of precious & semi-precious cut stones and beads, cabochons and fancy shapes with speciality in silver jewelry and silver accessories.

Address:

House No. 24408, Near Nathji Ki Bagiebi Paharganj , Jaipur - 302 003 , Rajasthan , India
Phone(s) :
+ 2603508
Fax(s) :
+ 5172165
| | | | |
| --- | --- | --- | --- |
| | | Bhaskar C Gems | |
Manufacturers & exporters of semi-precious gem stones & designs.

Address:

742, Janki Vallabh Ki Gali, Gopal Ji Ka Rasta , Jaipur - 302 003 , Rajasthan , India
Phone(s) :
+ 9828113875
Fax(s) :
+
| | | | |
| --- | --- | --- | --- |
| | | Lion Arts | |
Manufacturer & exporter of silver, tibatian and nepalian style jewellery like earring, necklace, bracelets, rings, bangles, brooches, etc.

Address:

1087, New Mandir Wali Gali, Main Bazar, Paharganj , Delhi - 110 055 , Delhi , India
Phone(s) :
+ 9871243634
Fax(s) :
+
| | | | |
| --- | --- | --- | --- |
| | | Jwell Mart India | |
Jwell Mart India is a premier Indian exporter and manufacturer of fashion jewelry such as necklace, earing, bracelets, bangles, cufflings, wooden products, etc.

Address:

2 B- First Floor, Rani Garden, Shastri Nagar , Delhi - 110 031 , Delhi , India
Phone(s) :
+ 22059711
Fax(s) :
+ 22059711
| | | | |
| --- | --- | --- | --- |
| | | Chirag International | |
Manufacturing, exporting and supplying of semi precious stone, precious stone, all types of gem stone, jewelery, pearls, precious gem stone and various types of diamond and precious stones, etc.

Address:

203, 1ST FLOOR, NARAYAN PLAZA, PANDIT SHIVDEEN JI KA RASTA, KISHANPOLE BAZAR, JAIPUR - 302003 , Jaipur - , Rajasthan , India
Phone(s) :
+ 91-141-4015206/4015205/2572206
Fax(s) :
+
| | | | |
| --- | --- | --- | --- |
| | | Manglam Gems & Jewellery | |
Dealers, suppliers and manufacturers of semi precious stones, precious and semi precious stone handicrafts like elephant artifacts, parrot artifacts, ruby gemstones and sapphire gemstones, etc.

Address:

F-89, SEZ PHASE II, INDUSTRIAL AREA, SITAPURA, JAIPUR - 302012 , Jaipur - , Rajasthan , India
Phone(s) :
+ 91-141-2742758
Fax(s) :
+
| | | | |
| --- | --- | --- | --- |
| | | Bidhandayal Jewellers | |
Wholesale suppliers, exporters and manufacturers of beads, precious semi precious stone, diamond jewelry, gold studded jewelery with precious & semi-precious stones and diamonds, loose precious and semi-precious stones, etc.

Address:

TURNING POINT, GHOD-DOD ROAD, NEAR L B TALKIES, SURAT - 395007 , Surat - , Gujarat , India
Phone(s) :
+ 91-261-2231225/2235740/3053793/2254733(R)
Fax(s) :
+
| | | | |
| --- | --- | --- | --- |
| | | Gem Spinners India Ltd. | |
Involved in manufacturing and exporting of costume fashion jewelry, semi precious beads, beaded jewelry, precious beads, silver jewelry, beaded silver jewelry and beaded silver pendants, etc.

Address:

78, CATHEDRAL ROAD, CHENNAI - 600086 , Chennai - , Tamil Nadu , India
Phone(s) :
+ 91-44-28110366/28117338/28112333/28115772/28116107
Fax(s) :
+
| | | | |
| --- | --- | --- | --- |
| | | Mayur Crafts | |
Engaged in manufacturing, exporting and supplying of parrot artifacts, ruby gemstones, precious and semi precious stone handicrafts like elephant artifacts, sapphire gemstones, semi precious stones, etc.

Address:

OMKAR",65, HILL VIEW, MES ROAD, POST BOX-28, MADHAPAR, BHUJ - 370001 , Bhuj - , Gujarat , India
Phone(s) :
+ 91-2832-651565
Fax(s) :
+
| | | | |
| --- | --- | --- | --- |
| | | Mystique Exports | |
Manufacturer and exporters of womens apparel, mens apparel, home furnishings, handicraft items.

Address:

181 Tagore Park , Delhi - 110 009 , Delhi , India
Phone(s) :
+ 55661703/55661704
Fax(s) :
+ 27252314
| | | | |
| --- | --- | --- | --- |
| | | Shree Jee Enterprises | |
Involved in manufacturing and exporting of estate jewelery, antique reproductions & designs, beaded jewelry, semi precious jewelry, key chains, precious & semi precious stones, etc.

Address:

BAI JI KA MANDIR, BADI CHOPPAR, JAIPUR - 302003 , Jaipur - , Rajasthan , India
Phone(s) :
+ 91-141-2574428/2635052(R)/2591073
Fax(s) :
+
| | | | |
| --- | --- | --- | --- |
| | | Harish Exports | |
Exporting, manufacturing and supplying of semi precious jewelry, key chains, precious & semi precious stones, beaded jewelry, estate jewelery and antique reproductions & designs, etc.

Address:

52/2, CHITTRANJAN PARK, NEW DELHI - 110019 , Delhi - , Delhi , India
Phone(s) :
+ 91-11-26278007
Fax(s) :
+
| | | | |
| --- | --- | --- | --- |
| | | Fine Agate Export | |
Retailers and exporters of semi precious stone, precious stones, diamonds, studded silver jewelery, silver earrings, beads, precious & semi-precious stones, gems jewelery, gold jewelry and silver jewelry, etc.

Address:

PITH BAZAR, NEAR TADCHA HOTEL, OPP. MANSURI ZUMATKHANA, LAL DARWAJA ROAD, KHAMBHAT - 388620 , Khambhat - , Gujarat , India
Phone(s) :
+ 91-2698-225067
Fax(s) :
+
| | | | |
| --- | --- | --- | --- |
| | | Jhanjhar Jewellers | |
Engaged in exporting and supplying of gold studded jewelery with precious & semi-precious stones and diamonds. loose precious and semi-precious stones, beads, precious semi precious stone and diamond jewelry, etc.

Address:

GM-13, GALI GANGA MATA, GOPAL JI KARASTA, JAIPUR - 302003 , Jaipur - , Rajasthan , India
Phone(s) :
+ 91-141-2572929/3234031/4013777/2550142
Fax(s) :
+
| | | | |
| --- | --- | --- | --- |
| | | Rashu Gems | |
Manufacturing, exporting and supplying of semi precious stone jewelry, beaded designer bracelet, beaded earrings, beaded necklace, handcrafted products that includes precious stones, handmade modern purses, handmade silver jewelery, etc.

Address:

Old Bank Building, Ghat Gate Bazar , Jaipur - 302 003 , Rajasthan , India
Phone(s) :
+ 2604075
Fax(s) :
+ 2607725
| | | | |
| --- | --- | --- | --- |
| | | Leisha Astro Services | |
Wholesale suppliers, exporters and manufacturers of handicrafts like elephant artifacts, parrot artifacts, precious and semi precious stone ruby gemstones, sapphire gemstones, semi precious stones, etc.

Address:

F-101, Lajpat Nagar - I , Delhi - 110024 , Delhi , India
Phone(s) :
+ 91-11-9810490378
Fax(s) :
+ --
| | | | |
| --- | --- | --- | --- |
| | | Pawan & Co. | |
Retailers and exporters of precious stone, gemstones and gemstone beads that includes emerald, ruby, sapphire, tourmaline, semi-precious stone, beads, diamond jewelry, etc.

Address:

F-3, INDRPRASTH COMPLEX, 885, IST FLOOR, GANGA MATA KI GALI, GOPAL JI KA RASTA, JAIPUR - 302003 , Jaipur - , Rajasthan , India
Phone(s) :
+ 91-141-2572963/2302119/2573919
Fax(s) :
+
| | | | |
| --- | --- | --- | --- |
| | | Indo Jewels Planet | |
Manufacturers & exporters of jewellery and gemstones, etc.

Address:

C-288, Vaishali Nagar , Jaipur - 302021 , Rajasthan , India
Phone(s) :
+ 91-141-9214968206
Fax(s) :
+ 91-141-
| | | | |
| --- | --- | --- | --- |
| | | Vam Exports | |
Suppliers and exporters of gold studded jewelery with precious & semi-precious stones and diamonds. loose precious and semi-precious stones, beads, precious semi precious stone and diamond jewelry, etc.

Address:

B-6, ANAR BHAWAN MOTILAL, ATAL ROAD, JAIPUR - 302019 , Jaipur - , Rajasthan , India
Phone(s) :
+ 91-141-2365070/2364403
Fax(s) :
+
| | | | |
| --- | --- | --- | --- |
| | | Rajputana Gems & Jewellers | |
Exporting, manufacturing and supplying of silver earrings, beads, precious & semi-precious stones, precious stones, diamonds, semi precious stone, studded silver jewelery, gems jewelery, gold jewelry and silver jewelry, etc.

Address:

SHOP NO. 267, JOHARI BAZAR, JAIPUR - 302003 , Jaipur - , Rajasthan , India
Phone(s) :
+ 91-141-2573429/2563656
Fax(s) :
+
| | | | |
| --- | --- | --- | --- |
| | | Nisha Jewellers | |
Suppliers and exporters of all types of precious gemstones, semi precious gemstones, gemstones beads, handcrafted products that includes precious stones, handmade silver jewelery, etc.

Address:

AMAR MARKET, DARIBA KALAN, CHANDNI CHOWK, DELHI - 11000 , Delhi - , Delhi , India
Phone(s) :
+ 919311136785
Fax(s) :
+
| | | | |
| --- | --- | --- | --- |
| | | Nyalkarangroup Pvt. Ltd. | |
Wholesale suppliers, exporters and manufacturers of tourmaline, semi-precious stone, gemstones and gemstone beads that includes emerald, ruby, sapphire, precious stone, beads, diamond jewelry, etc.

Address:

D 42, GANGESHWAR SOCIETY, HIRA BAUG, VARACHHA ROAD, SURAT - 395006 , Surat - , Gujarat , India
Phone(s) :
+ 919825862225
Fax(s) :
+
| | | | |
| --- | --- | --- | --- |
| | | Ocean Jewellers | |
Involved in manufacturing and exporting of gemstones and gemstone beads that includes emerald, ruby, sapphire, tourmaline, semi-precious stone, precious stone, beads, diamond jewelry, etc.

Address:

D-11 KALIDAS MARG, BRHAMPURI, JAIPUR - 302002 , Jaipur - , Rajasthan , India
Phone(s) :
+ 91-141-2411445
Fax(s) :
+
| | | | |
| --- | --- | --- | --- |
| | | Gem Stones International | |
Exporting, manufacturing and supplying of antique jewelery, precious and semi precious stones, yellow gold, white gold, beads, all kinds of precious and semi-precious stones, gold and silver jewelery, etc.

Address:

C-96, JANPATH, LAL KOTHI SCHEME, JAIPUR - 302015 , Jaipur - , Rajasthan , India
Phone(s) :
+ 91-141-2741476
Fax(s) :
+
| | | | |
| --- | --- | --- | --- |
| | | Gems Worth India | |
Engaged in manufacturing, exporting and supplying of antique jewelery, precious and semi precious stones, yellow gold, white gold, beads, all kinds of precious and semi-precious stones, gold and silver jewelery, etc.

Address:

B-96, SETHI COLONY, JAIPUR - 302004 , Jaipur - , Rajasthan , India
Phone(s) :
+ 91-141-2605112
Fax(s) :
+
| | | | |
| --- | --- | --- | --- |
| | | Indian Gems & Handicrafts | |
Dealers, suppliers and manufacturers of beaded jewelry, semi precious jewelry, key chains, precious & semi precious stones, estate jewelery and antique reproductions & designs, etc.

Address:

95-A, Old Vijay Nagar Colony , Agra - 282 004 , Uttar Pradesh , India
Phone(s) :
+ 2525728/2850200
Fax(s) :
+
| | | | |
| --- | --- | --- | --- |
| | | Shri Jaipur Jewels & Arts | |
Wholesale suppliers, exporters and manufacturers of precious & semi precious stones, key chains, beaded jewelry, semi precious jewelry, estate jewelery and antique reproductions & designs, etc.

Address:

335, CHAURA RASTA, JAIPUR - 302003 , Jaipur - , Rajasthan , India
Phone(s) :
+ 91-141-2565519/2578658/2405519
Fax(s) :
+
| | | | |
| --- | --- | --- | --- |
| | | Jewels Paradise | |
Exporting, manufacturing and supplying of gold studded jewelery with precious & semi-precious stones and diamonds. loose precious and semi-precious stones, beads, precious semi precious stone and diamond jewelry, etc.

Address:

PLOT NO. 21, PATH NO. 7, VIJAYBARI, SIKAR ROAD, JAIPUR - 302023 , Jaipur - , Rajasthan , India
Phone(s) :
+ 91-141-2232792
Fax(s) :
+
| | | | |
| --- | --- | --- | --- |
| | | Venus Arts & Gems | |
Dealers, suppliers and manufacturers of gold studded jewelery with precious & semi-precious stones and diamonds. loose precious and semi-precious stones, beads, precious semi precious stone and diamond jewelry, etc.

Address:

335, Lalaniyo Ka Chowk, Gopalji Ka Rasta, Johari Bazar , Jaipur - 302 003 , Rajasthan , India
Phone(s) :
+ 2318411
Fax(s) :
+ 2569347
| | | | |
| --- | --- | --- | --- |
| | | H.m. Trading | |
Deals in exporting and manufacturing of precious stones, diamonds, semi precious stone, studded silver jewelery, silver earrings, beads, precious & semi-precious stones, gems jewelery, gold jewelry and silver jewelry, etc.

Address:

2590, SHARMA BHAWAN, NAGORIYON KA CHOWK, GHEE WALON KA RASTA, JAIPUR - 302003 , Jaipur - , Rajasthan , India
Phone(s) :
+ 91-141-2565393
Fax(s) :
+
| | | | |
| --- | --- | --- | --- |
| | | Chitra Art Emporium Pvt. Ltd. | |
Engaged in exporting and supplying of gold studded jewelery with precious & semi-precious stones and diamonds. loose precious and semi-precious stones, beads, precious semi precious stone and diamond jewelry, etc.

Address:

THE BRISTOL HOTEL, LOBBY SHOP 108-110, SIKANDARPUR, DLF, GURGAON - 122002 , Gurgaon - , Haryana , India
Phone(s) :
+ 91-124-2356030
Fax(s) :
+
| | | | |
| --- | --- | --- | --- |
| | | Royal Agate | |
Supplying, manufacturing and exporting of beaded designer bracelet, beaded earrings, beaded necklace, handcrafted products that includes precious stones, handmade silver jewelery, handmade modern purses and semi precious stone jewelry, etc.

Address:

PINJAR KOT, NEAR STATE BANK OF INDIA, KHAMBHAT - 388620 , Khambhat - , Gujarat , India
Phone(s) :
+ 91-2698-225465/220681
Fax(s) :
+
| | | | |
| --- | --- | --- | --- |
| | | Preeti Exports | |
Retailers and exporters of semi precious stone, precious stones, diamonds, studded silver jewelery, silver earrings, beads, precious & semi-precious stones, gems jewelery, gold jewelry and silver jewelry, etc.

Address:

: W-22, Second Floor , Rajouri Garden - - 110 027 , Delhi , India
Phone(s) :
+ 25556052
Fax(s) :
+ 25150098
| | | | |
| --- | --- | --- | --- |
| | | S. P. Jewellers | |
Suppliers and exporters of key chains, precious & semi precious stones, beaded jewelry, semi precious jewelry, estate jewelery and antique reproductions & designs, etc.

Address:

219, RAJA PARK, GALI NO.-1, JAIPUR - 302004 , Jaipur - , Rajasthan , India
Phone(s) :
+ 91-141-2603101
Fax(s) :
+
| | | | |
| --- | --- | --- | --- |
| | | Ethnic Art | |
Engaged in manufacturing, exporting and supplying of diamonds, semi precious stone, precious stones, studded silver jewelery, silver earrings, beads, precious & semi-precious stones, gems jewelery, gold jewelry and silver jewelry, etc.

Address:

17-A, SAHELI NAGAR , Udaipur - , Rajasthan , India
Phone(s) :
+ 91-294-2523340
Fax(s) :
+
| | | | |
| --- | --- | --- | --- |
| | | Hare Rama Hare Krishna Corals Pvt. Ltd. | |
Involved in manufacturing and exporting of estate jewelery, antique reproductions & designs, beaded jewelry, semi precious jewelry, key chains, precious & semi precious stones, etc.

Address:

C-101, GROUND FLOOR, RIDHI SIDHI COMPLEX, SUBHASH MARG, AHINSA CIRCLE, C- SCHEME , Jaipur - , Rajasthan , India
Phone(s) :
+ 91-141-2378655/56/2575431
Fax(s) :
+
| | | | |
| --- | --- | --- | --- |
| | | B. S. Enterprises | |
Involved in manufacturing and exporting of beads, precious semi precious stone, diamond jewelry, gold studded jewelery with precious & semi-precious stones and diamonds, loose precious and semi-precious stones, etc.

Address:

201, KOTHARI BHAWAN, HALDIYON KA RASTA , Jaipur - , Rajasthan , India
Phone(s) :
+ 91-141-2564944/2570834
Fax(s) :
+
| | | | |
| --- | --- | --- | --- |
| | | Aadil International | |
Dealers, suppliers and manufacturers of beads, precious & semi-precious stones, precious stones, diamonds, semi precious stone, studded silver jewelery, silver earrings, gems jewelery, gold jewelry and silver jewelry, etc.

Address:

Opposite Mosque Paharganj, Near Surajpole , Jaipur - 302 003 , Rajasthan , India
Phone(s) :
+ 2602786
Fax(s) :
+ 2600153
| | | | |
| --- | --- | --- | --- |
| | | Suhrit Services Pvt. Ltd. | |
Retailers and exporters of semi precious stone, precious stones, diamonds, studded silver jewelery, silver earrings, beads, precious & semi-precious stones, gems jewelery, gold jewelry and silver jewelry, etc.

Address:

C-97, MAYAPURI INDUSTRIAL AREA, PHASE-2, NEW DELHI - 110064 , Delhi - , Delhi , India
Phone(s) :
+ 91-11-41645666/45529900/980
Fax(s) :
+
| | | | |
| --- | --- | --- | --- |
| | | Unique Siam Gemstone Pvt. Ltd. | |
Involved in manufacturing and exporting of beads, precious semi precious stone, diamond jewelry, gold studded jewelery with precious & semi-precious stones and diamonds, loose precious and semi-precious stones, etc.

Address:

512, 513, 5TH FLOOR, MUNNA SONKIA CHAMBERS 1286, MAHADEV JOHRI KI GALI, KHOWALON KA CHOK, GOPAL JI KA RASTA, JOHARI BAZAR, JAIPUR - 302003 , Jaipur - , Rajasthan , India
Phone(s) :
+ 91-141-2571249/4024555
Fax(s) :
+
| | | | |
| --- | --- | --- | --- |
| | | S. R. Gems & Jewellers | |
Deals in exporting and manufacturing of precious stones, diamonds, semi precious stone, studded silver jewelery, silver earrings, beads, precious & semi-precious stones, gems jewelery, gold jewelry and silver jewelry, etc.

Address:

119, SUNNY ARCADE, 1ST FLOOR, RAMLALA JI KA RASTA, 1ST CROSSING, JOHRI BAZAR, JAIPUR - 302003 , Jaipur - , Rajasthan , India
Phone(s) :
+ 91-141-2571187/4014398
Fax(s) :
+
| | | | |
| --- | --- | --- | --- |
| | | Ratnalaya | |
Wholesale suppliers, exporters and manufacturers of beaded designer bracelet, beaded earrings, beaded necklace, semi precious stone jewelry, handmade silver jewelery, handmade modern purses and handcrafted products that includes precious stones, etc.

Address:

B-WING 204, REBELLO ENCLAVE, NEAR FLORAL DECK PLAZA, MIDC, ANDHERI EAST, MUMBAI - 400093 , Mumbai - , Maharashtra , India
Phone(s) :
+ 91-22-28372202/28382202
Fax(s) :
+
| | | | |
| --- | --- | --- | --- |
| | | Cosmos Exports | |
Exporting, manufacturing and supplying of various types of diamond and precious stones, all types of gem stone, jewelery, semi precious stone, precious stone, pearls, precious gem stone, etc.

Address:

19-Rn, Mukherhee Road , Delhi - 700001 , , India
Phone(s) :
+ 91-33-22489522
Fax(s) :
+ 91-33-22489853
| | | | |
| --- | --- | --- | --- |
| | | Hiralal Lekhraj Jewellers | |
Involved in manufacturing and exporting of estate jewelery, antique reproductions & designs, beaded jewelry, semi precious jewelry, key chains, precious & semi precious stones, etc.

Address:

543, HANUMANJI KA RASTA, GOPALJI KA RASTA, JOHARI BAZAR, JAIPUR - 302003 , Jaipur - , Rajasthan , India
Phone(s) :
+ 91-141-2573080/2577834/2575494
Fax(s) :
+
| | | | |
| --- | --- | --- | --- |
| | | Gayatri Gems | |
Involved in manufacturing and exporting of semi precious stone, studded silver jewelery, precious stones, diamonds, silver earrings, beads, precious & semi-precious stones, gems jewelery, gold jewelry and silver jewelry, etc.

Address:

1773, SONTHALI WALON KA RASTA, CHOURA RASTA, JAIPUR - 302003 , Jaipur - , Rajasthan , India
Phone(s) :
+ 91-141-2573841
Fax(s) :
+
| | | | |
| --- | --- | --- | --- |
| | | Fidelis Jewels (p) Ltd. | |
Engaged in exporting and supplying of gold studded jewelery with precious & semi-precious stones and diamonds. loose precious and semi-precious stones, beads, precious semi precious stone and diamond jewelry, etc.

Address:

1936/43, 4TH FLOOR, NAIWALAN, KAROL BAGH, NEW DELHI - 110005 , Delhi - , Delhi , India
Phone(s) :
+ 91-11-41548554/32988554/25739938
Fax(s) :
+
Featured Products
Designer Jewellery India

Finger Ring
View all products

Featured Catagories

Browse by Catagory

Featured Catalogs

Featured Tradeshows

Popular B2B Market Places

Popular Industries

| | | |
| --- | --- | --- |
| | Still not able to find what you are looking for ? | |