About Us

About Opineindia :
Started in Oct.2003 . With a Concept of " Provide Fashion and Quality at the Best Price" . We at Opineindia Started our work to design and produce the Indian hand made Costume Jewelry in Rural Areas of the Country. Our business philosophy concerning the dignity and respect of each person and the appropriate treatment to all.

Specialization :
We are a Team of young , Dynamic and Skilled craftsmen running this design & manufacturing unit of Costume Jewelry in Glass Beads, Loose Beads, Stone, Ceramic, Horn, Bone, Wood, Terracotta , Mother of Pearl Shell , Leather , Brass and Metal , Fabric and Natural Beads . The Finish Option can be Chosen from Gold , Silver , Copper and Black , all these finishes are compromises of Bright , Dull , Antique and Burnish in Nature.

All our Metal Designs irrespective of finish , are nickel free and we ensure adherence to international Quality Requirements .
We offer a Wide Range of Necklace , Bracelet , Earring , Anklet , Finger Ring , Beaded Belts and Beaded Bags .

Infrastructure :
We are having our Unit and Office in to Authorised Industrial Area in Delhi and having Five Collection and Distribution Centres In Rural Areas in NCR ( National Capital Region ) as per the Specified requirements of Craftmanship of Each Style . For Example : A person Who is Doing Weaving can't do the Assembling of Metal with the beads with the best Finish and with in the Given Time. So we had Specified our Collection & Distribution Centers as per the demand .

Code of Conduct Which We Follows :

Child Labor :
It is Strictly prohibited In our Unit and all of our Collection and Distribution centers. We would not employed at an age younger than 20 Year .

Wages And Benefits To Employees :
We pay workers for all work completed and pay at least the minimum wage required by Law or the Prevailing Industry Wage .

Working Hours and Overtime :
Working hours and overtime consistence with applicable local and national law. " Take Home" work , Forced and Compulsory labor strictly prohibited.

Health And Safety :

Our Unit Had all the Following Aspect given below

Adequate Circulation and ventilation.

Working area is Sufficiently Lit , So that manufacturing tasks may be safely performed.

All the Signs are Clearly Marked , unlocked Exits in order to Provide for an Effective evacuation in case of Emergency.

Our Units had Appropriate fire prevention capability and fire extinguishers are properly maintained and inspected annually.
Featured Products
Bala Jewellers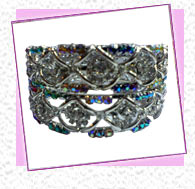 Anklets
View all products

Featured Catagories

Browse by Catagory

Featured Catalogs

Featured Tradeshows

Popular B2B Market Places

Popular Industries

| | | |
| --- | --- | --- |
| | Still not able to find what you are looking for ? | |