Quality
Providing quality is the top most priority at our production unit. The group has a strategy of total focus on the customers, as all items are developed at our quality control departments. Our determination to provide the best quality products at the most competitive prices makes it imperative for us to take strict quality control measures. Our team at Delhi Handicrafts comprises of extremely talented artisans who understand the taste of today's customers and design the products keeping in view the contemporary style and design. These craftsmen work in close coordination with team of designers, who create innovative and ethnic designs to gratify varied tastes.
Product Range
Each Product at Delhi Handicraft is lovingly handmade with a traditional skill handed down from centuries of experience & reliability. The items though carved now but evince antique appearance. The products include show-pieces of historical & ancient figures reproduced to their originality and shape. We offer a wide range of products, a perfect blend of ethnic and contemporary designs. Our product range include :
Infrastructure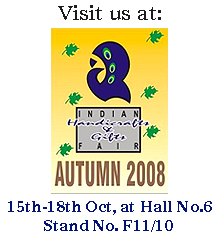 We embrace the latest techniques and use well trained manpower to ensure that our customers get true value for their money. The transparent and professional management system and well delegated power structure enables swift decision making at all levels. Our team of professionals is highly motivated to carry out its job in a perfect manner that leads to the overall progress of the company. We also creates new ideas to match your choice.
Customer Satisfaction
We are committed to customer satisfaction and, hence, have a customer-oriented approach. This attitude envelops the entire organization and influences every function. We emphasize on delivering superior quality products, premium packaging, competitive rates and on-schedule delivery.
Clientele
We export our products to several nations around the world. We have regular clients in various countries that include the competitive markets markets of Japan, Australia, USA, Canada, Europe including U.K. Spain etc.
Mode of Payment
We give the following options for payment:
Full Advance Payment :
For small orders of value less than USD 1000, we accept only full advance payment as it minimizes the bank charges involved in other methods of payment. You may send payment by Telegraphic Transfer (TT) or Wire Transfer to our Bankers under intimation to us. On request we will provide you our bank details.
Part Payment in Advance:
For larger orders, we can take 50% value in advance. Balance payment is payable against delivery of documents through your bank.
Letter of Credit:
For bulk order, we can accept Sight Letter of Credit opened from Prime Bank.
For Orders
"Minimum Order Amount only $500 FOB Delhi".
Sample Policy
.
To keep our overheads low & pass on the cost benefit resulting from this saving to our customers, we follow following sample policy:
.
"We send all samples of regular products which does not involve development free of cost.
.
"We request new buyer to bear cost of courier charges. Once wholesale business starts, we send samples with all cost including courier expenses to us.
.
"In case of inquiries coming from internet, we always ask buyer to bear courier cost.
.
"In case you are a new customer and you need to check our product quality, please give us your INTERNATIONAL COURIER ACCOUNT NUMBER with Fed Ex /DHL/UPS/TNT or similar courier to send samples on freight collect basis. .It would help us indeed if you send us your e- mail address, we can forward our new range of samples by e-mail attachments to you and the ones, which are approved, can be forwarded for your orders.
For More Details Visit http://costume-jewelry.highpointdesigns.com
INDIA OFFICE
Delhi Handicraft Exporters
Contact Person:
Mr. Umesh Verma
Cell:91-98990-70770
Address: Plot No. 245, 1st Floor, F.I.E. Patparganj Industrial Area,
New Delhi - 110 092 (India)
Phone: +(91)-(11)-32946554/32945091/43012145
Telefax: +(91)-(11)-22147951
E-Mail: delhihandicrafts@vsnl.net
delhihandicrafts@hotmail.com

Contact Person:
Mr. Umesh Verma
Cell: 91-98990-70770
U.S.A OFFICE
Delhi Handicraft Exporters
Address: 5805, windsor drive mcdonald
PA-15057(U.S.A)
Phone: +1-412-726-712
E-Mail: delhihandicraft@gmail.com



Contact Person:
1. Mr. Thanmal Verma
Cell: +1-412-726-7127
2. Mrs. Sumitra Verma
Phone : +1-412-221-1233