Company Profile
Company leads to manufacturer Flanges, Hydraulic fittings,Tube Fittings, Needle valves, Thermowells, Manifolds, Gauge cocks, Spare of k.g.khosla compressor, Pipe clamps
Company is leading suppliers to ABB, Kirloskar pneumatic co. Ltd. Hydrabad industries, Indfos industries Ltd. Frick India Ltd. , of valued components.We have in to market over 30 years. We pass our gratitude to our large customer base.We are proud of our customer base and their decision of selecting us as their vendors while we are fervently interested to bring more innovations and consistency and are determined to meet the ever changing requirements of our customers.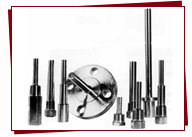 Quality Control
We are supported by well equipped test facilities in which test can we run under simulated field conditions. All products are manufactured from superior quality raw material. Quality control is rigidity and vigorously observed. Conform to all standards & specification.
Industries Served
Power generation
Chemicals
Petroleum
Oil & Gas
Sugar
Pharmaceuticals
Petrochemicals
Automotive
Building automation
Rail & Rapid Transport
Food processing
Breweries
Offshore/Onshore Oil Exploration
Plastics
Meets Requirement codes of:
• ANSI B-16-5, BS-10, ASTM
• ASME, API, BS, DIN
• ANSI B 31.0- for power piping
• ANSI B 31.3- for petroleum refineries
Chemical plants
• ASME Sec. V111- for boilers & pressureVes
sels



Size
Fittings: Tube Sizes 1/16" to 1.00"
(1.5 mm to 25mm)
Standard Thread sizes are 1/8" NPT/BSP to 1" NPT/BSP
Valves: 1/4" to 6"
Flanges: 1/2:" to 24"
Thermo wells: "U" length ½" to 24"


MATERIAL OF CONSTRUCTION:
Straight fittings and thermo wells –
ASTM A 276-316 SS/Brass
Angle fittings _ ASTM -182 F 316/Brass
Nuts & Ferrules – ASTM A276 -316 SS/Brass
Valves: SS 304, 316, investment die casting
Flanges: SS304, 316, carbon steel




TESTING:
All tests carried out in accordance with
BS 4368-part IV. These include:
Pneumatic Pressure Test
Hydraulic Leak Test
Pressure impulse & Vibration Test



Thermowells :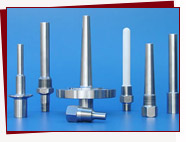 Proper temperature element protection starts with the selection of the thermowell or protection tube. Conditions that influence the selection, include the temperature, pressure, flow velocity, pipe size, insertion length and the process environment and medium. A variety of materials and process connections are available for both thermowells and protection tubes. All metallic wells are constructed in strict compliance with ASTM and ANSI specifications. For higher temperatures ceramic protection tubes are available. Fluid flowing by a thermowell forms a turbulent wake that has a defined frequency. The thermowell must have adequate stiffness so its natural frequency is greater than the wake frequency.Chiffon complete family of bar stock wells and protection tubes can provide safe and reliable protection for any process environment.

Hydraulic Fittings: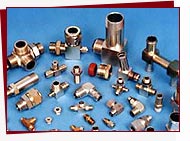 Chiffon Flareless Bite Type Fitting are available from 6mm OD of tube to 42mm OD of tube in low pressure series i.e. 'L' and 6mm OD to tube to 38mm OD of tube in high pressure series i.e. 'S'. These are also available for use with Nominal Bore of tube from 1/8" to 1-1/2" and OD of tube from 3/16" to 2".


Needle Valves :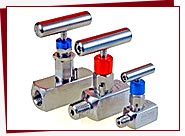 Chiffon manufactures a complete range of instrumentation valves including needle valves, gauge valves, and instrumentation manifolds. We also manufacture specialty valves that provide more advanced solutions for applications increasingly being called for in the field including a complete assortment of monoflanges, single block and double block and bleed gauge root valves, thread-less designed valves, and the most advanced designed stabilizer taps in the industry. We offer custom manufacturing to customer designed specifications and maintain an in-house engineering capability to provide customer assistance as required.

Manifolds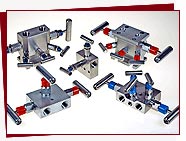 Chiffon instrument manifolds are precisely engineered for both efficiency and ease of use. Careful attention has gone into design assuring smooth operation and easy access to controls. handles are removable, providing security from accidental movement. Our design assures a bubble tight seal in a variety of conditions. Through a variety of special tips, materials and configurations, Chiffon has a manifold which will meet virtually all customer requirements.



Pressure Gauge Cocks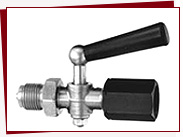 Brass\Stainless Steell in sizes 1/4", 3/8" and 1/2" BSP for pressures up to 50 Bar.

Adjustable Pulsation Dampers
Protects pressure gauges from the harmful effects of pressure pulsation. Brass or Stainless Steel construction. 1/4", 3/8" or 1/2 BSP.
Tube Clamps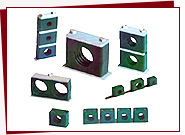 Offering a compete range of tube clamps, which is largely used for installations in different industries. Conforming strictly to the industry standards, our tube clamps are manufactured using sophisticated technology. Resistant to high tensile, wear & cold, these tube clamps are made from polypropylene and can be made from polyamide, aluminum or other materials as per the requirements of our clients.




Replacement Compressor Parts for...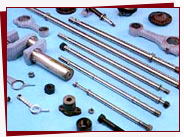 Kirloskar



KG Khosla



C.P.T.



FLANGES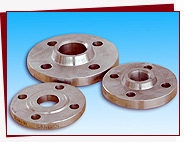 Slip-On Flanges


Lap Joint Flanges


Blind Flanges


Back-Up Flanges


Raised-Face Flanges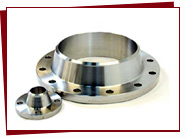 CHIFFON (INDIA)
14th, Mile Stone, Mathura Road
Faridabad, Haryana, India
Tel: 0129-2274070, 4113447-9
Mobile : +91-9891212006 (Mr. Rahul Sharma)
Fax : 0129-4113447
E-mail:
chiffonindia@rediffmail.com