About Us

M/S CHEMAC Equipments Pvt. Ltd.
was established in the year 1990 by a group of Mechanical, Chemical, Process engineers & Chemists having experience in industrial research, design, development and fabrication.
The company is engaged in multiple activities comprising process development, designing equipment, fabrication, installation, and implementation of process technology. It has acquired recognition as the manufacturer of first quality process equipment in the field of chemicals, pharmaceuticals, ayurvedic products, cosmetics, food processing.
The work shop situated at Saphed Pool Sakinaka, Mumbai.( INDIA ) is well equipped with the most modern fabrication equipment to conduct the activity of fabrication at the highest standards as per GMP, cGMP, ASME, TEMA, etc. The people working in the workshop are well trained and are constantly informed of the latest techniques in fabrication of process equipment.
The company also supplies very sophisticated, highly useful R & D Pilot Scale Equipments Specially designed to suit the requirements of Research & Development chemists and engineers. Those who are already using this equipment are extremely happy to work with it since it provides ample data in terms of mass and energy whenever needed. The entire information regarding such equipment is attached herewith.

Products

We are manufacturers and suppliers of Chemical Machineries , Pharmaceutical Machineries , Bulk Drugs, Ayurvedic, Turnkey Projects & Pilot Plants.
Pharmaceutical machineries:
Sifter, Vibro Sifter, Vibro Sifter with Agitator & under Vacuum, Multi Mills, Pneumatic Tipper Units, Ointment Machinery, Drum Melter by Steam, Jet Mill (Micronizer), Tablet Coating Pan, Liquid Filling etc.
Chemical machineries:
Reactors, Autoclaves, Storage Tanks & Vessels, Hydrogenerator, Columns, Condensers, Heat Exchangers, Pressure Vessels and other process Equipments, Nitrous Oxide Plant, High Vacuum Distillation Unit, Multipurpose R &D Pilot Plant, Rotary Valves, Vacuum Evaporators etc.
Mixers & Blenders :
Mass Mixer, Sigma Mixer, Cream Mixer, Planetary Mixer, Toffee Mixer, Tempering Pan, Rapid Mixer Granulator, Fondant Mixer, Screw Mixer, Contra Rotary Mixer, Ribbons Blender with double Choppers, Powder Dozing System (Screw Conveyor), Double Cone Blender, 'V' Cone Blender, Octagonal Blender etc.
Dryers :
Agitated Vacuum Dryer with Mechanical Rake, Double Cone Vacuum Dryer, Vacuum Tray Dryer, Tray Dryer with all cGMP Models, Fluid Bed Dryer with PLC & Fully automatic with Raking Arrangements etc.
Ayurvedic Plant :
Aloe Vera Gel & Powder Unit, Steam Distillation Unit, Multipurpose Solvent Extraction Unit etc.
Liquid Machineries :
Stirrers, Agitators, Emulsifiers, Reactors etc.
Other Plants :
Total Powder Handling System, Complete Chocolate Manufacturing Plant.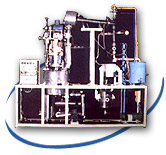 R & D Pilot Reaction / Distillation / Fractional Unit

FUNCTION To facilitate carrying out a wide variety of reactions including condensation, polymerization, esterification, etherification hydrolysis, hydration, reduction, oxidation, hydrogenation etc. at low pressures and at high pressures and at temperatures ranging -200C to +2500C.
CAPACITY 10 to 500 Litres.
SALIENT FEATURES The entire unit is designed to conduct all the operations smoothly and Safely. The stirrer speed can be adjusted from 10 to 400 RPM with a helical / cyclo gear control motor and speed selector. The facility provides for deriving accurate data on material as well as energy balances.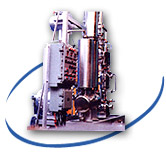 Versatile Fractional Column with Vapourization Under Forced Circulation

FUNCTION To fractionally distil sensitive multi-component mixtures under highly controlled heating conditions whilst maintaining a constant ratio of quality of liquid to area of heating.
CAPACITY 30 lits. to 10000 ltrs.
SALIENT FEATURES Falling film type of heating exchanger provided at the reboiler with a totally leak proof pump with mechanical eal ensures high heat transfer coefficient and facilitates vaporisation of the liquid maintaining minimum temprature differential between the source heat and the boiling point of the liquid at the operating pressure.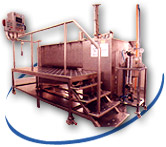 Ribbon Blender with Double Chopper

FUNCTION To mix, crush and blend solid powders efficiently
CAPACITY 20 liters onwards.
SALIENT FEATURES The entire unit is fabricated with engineering precision. Along with the double ribbons which provide to & fro, up & down movement to the powder. 2 nos. chopper blades moving at cutting speed are provided at diagonally opposite sides to break lumps / coarse particles of the mixture.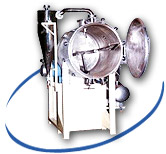 Agitated Vacuum Dryer With Mechanical Rake

FUNCTION To dry heat sensitive and air sensitive material under vacuum thus accomplishing the drying at moderate temperature avoiding contact with air.
CAPACITY 5 litres onwards (Chamber Size).
SALIENT FEATURES The entire drying chamber is well machined to bring about a close encounter with the agitator blade thus ensuring proper shuffling of the material and thus avoiding localised over heating. The leak proof front opening door ensures easy cleaning of the entire chamber.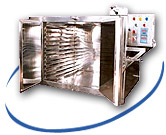 Air Tray Dryers

Temprature uniformity ensured by an effective air distribution, which homogeneously reaches every section of the chamber. Walls internally welded in order to eliminate environmental pollution according to the most stringent standards of cGMP. Theemal insulation according to good engineering practice and current regulation. Easy access for maintenance to the heating, ventilation and cooling groups (cooling installed in sterilizing ovens only). Detached control board featuring maximum installation flexibility. Filtration of both incoming and outgoing air through effective chamber protaction.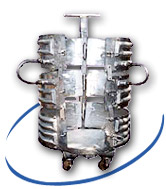 Drum Melter

FUNCTION Heat exchangers dor drum warming.
CAPACITY Suitable for design pressures 5 kg/cm2
Heating conditions : For steam - 1 to 4 Kg/cm2 , Temperature - 70°C
For Oil temperature - 200°C
SALIENT FEATURES The Drum Melter is available with two type of standard and saddle types, vertical and saddle type.
It is the compact model on castor wheels. A common header is provided for inlet and outlet connections. There is a special provision of heating bottom part of the drum so that it can heat or cool the drum so that it can heat or cool the contents from bottom. Mounting of drum is easier.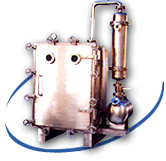 Vacuum Tray Dryers

FUNCTION Used mainly for drying of high grade, temperature and oxygen sensitive products.
CAPACITY Standard models range from 4 trays to 48 trays.
SALIENT FEATURES Bodies may be of cylindrical or rectangular cross section. Both shelves and body are heated ( the body to prevent internal condensation) with controlled circulation of hot water, steam or diathermic fluid. Vacuum is drawn through large diameter ducts to minimize pressure drops and produce minimum working pressures.