Profile
Casting India is one of specialized manufacturer and exporter of various castings including investment casting, sand casting, shell mold casting, gravity die casting, centrifugal casting, pressure die casting. Providing comprehensive production services, we can also complete processing with supplied drawings, materials and samples. With rich experience and advanced technology, we guarantee that all series will be of the highest standard. Doing our utmost to develop our export business, we sincerely welcome customers to contact us for business discussions.

We pride on offering cost effective solutions to the exacting needs of our customers. The in-house foundry and innovative concept gives the company a distinct competitive edge over the rivals. Strict quality checks are carried out at different stages of manufacturing and only that material which passes stringent norms finds its way into the market.
Our Products
Casting India is manufacturers of all types of castings that is designed as per the requirement of Indian and International clientele in machined and unmachined conditions:
• Investment Casting
• Sand Casting
• Shell Mould Casting
• Centrifugal Casting
• Gravity Die Casting
• Pressure Die Casting
• Forging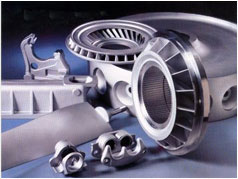 Markets we serve:
• Cast Iron Components
• Alloy Steel Components
• Aluminum & all other Non Ferrous Parts
• Components for Pumps & Valves
• Automotive Components
• Aircraft Components
• Chemical Process Equipment
• Paper Making Equipment
• Earthmoving Equipment
• Mining Equipment
• Agriculture Equipment
• Forestry Equipment
Our Quality
With many years of experience, we've set up advanced processing procedures to ensure accuracy and strength requirements. Samples can be finished promptly and quality can be controlled strictly during production. We have the capability to handle both large and small parts including machining, heat treatment, electroplating and more.In addition to our quality control system, we also dispatch engineers to check goods before shipment and record quality standards for each order. We monitor raw material suppliers to make sure they meet our standards.

all items produced are identified throughout the manufacturing process and can be traced back to the raw material manufacturer:
1. Test bar is drawn every 1 hour
2. Carbon equivalent test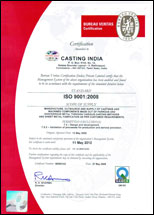 3. Temperature test through ferro lab
4. Temperature measurement instruments
5. Brinell Rockwell hardness

We have set up a quality control system that meets customers' specific requirements, and perform an internal or external audit to guarantee the efficiency of our system:

-
Analyzer( C, CE, SI FERRO Laboratory )
-
BHN Tester
-
Sand Laboratory
-
Rockwell Hardness Tester
-
Wet Analysis Laboratory
-
Digital Height Gauge
-
Digital Tool Pre-setter
-
Jet Cleaning Machine
-
Air Mercer Gauges
-
Digital Surface Tester
-
CMM & Trimos facility
Our Infrastructure
Our company consists of a cohesive group of skilled and dexterous workers who are constantly working hard to meet the clients requirements. The transparent and professional management system and well delegated power structure enables swift decision making at all levels.
Our Facilities: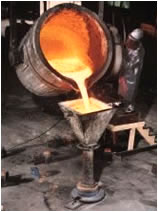 -
Core Foundry infrastructure
-
Induction and cupola furnaces
-
Automatic Sand plant with 20 tones per hour capacity
-
High speed intensive mixers
-
Automatic molding machines
-
Automatic molding machines
-
Horizontal & Vertical CNC machines
-
State-of-the-art Machine Shop
-
Horizontal & Vertical Milling machines
-
Radial Drills
-
Lathe Machines
Our Aim
Our main aim is to maintain high standards of quality for our customers and thereby assuring honesty, transparency and adherence to business ethics in all our transactions.It's our great appreciation if you'd like to develop new project with us. We could make anything special according to your request. We would send quotations to you within 24 hours as long as you sent samples or faxed drawings to us. We believe our quotations would be competitive. Furthermore, we guarantee we would supply proper quality with best service. We do value your interesting and serve your needs. Customer's drawings are welcome.
Our Clients
We have a wide based clientèle all over the globe. Our quality products have clinched us a set of satisfied high profile clients with whom we have a developed a strong bond. Clients satisfaction is our main purpose and we looking for long term customer relationship.
M/s. CASTING INDIA

An ISO 9001:2008 Certified company
PO Box. No. 5123
12, Natesa Gounder Layout - II, Rathinapuri, Coimbatore – 641027-01, Tamil Nadu, INDIA
Phone:
0091-422-4212021, 2527021,Tele Fax: 0091-422-4212021
Mobile:
0091-9363104670, 9360334161
E-Mail:
sales@castingindia.com
/
castingindia@gmail.com
/
info@castingindia.com
Web Site:
www.castingindia.com / www.castingindia.in