About Us
Astrology With Us
Astrology is the study of human behaviour and experience on the back drop of time and space. Astrology is a scientific study and application of the language of the heavenly bodies(planets and stars). These heavenly bodies determined on the basis of astronomy and mathematics are mapped in the form of a horoscope. Their specific position in the horoscope indicates specific happenings in the case of individuals. The main factors affecting the horoscope of any individual are Date of birth, Place of birth and exact time of birth. Whether the sun, the moon, the planets and stars themselves influence the terrestrial phenomena, or they only indicate such phenomena
by their various dispositions, is immaterial. What is important to us is that variation in their disposition determine variations in the events on the earth, the correlation are very strong.
Our Services
Mr RC Sachdeva, better known as Guruji, with an extensive experience of more than three decades offers a whole range of astrological services to bring peace and harmony in your lives:
»
Kundli (horoscope) making by vedic astrology
More Info...
»
Prediction / astrology reports of the whole of your life
More Info...
»
Griha Dosh Nivaran (solutions for the bad influence of stars)
More Info...
»
Business predictions & matching
More Info...
»
Horoscopes : Marriage prediction & life partner matching
More Info...
»
Solution of your any present problems by vedic meditation for you
More Info...
»
Family Prediction
More Info...
»
Prayers & performance of japs/ poojas
More Info...
»
Vedic mantras
More Info...
»
Yantras (talisman)
More Info...
»
Donations More
More Info...
»
Gemmology- wearing stones in rings or lockets
More Info...
»
Remedies from Lal Kitab
More Info...
»
Tantrik methods of propitiation of evil planets etc.
More Info...
Vaastu:
"VAASTU SHASTRA"
is a voluminous and scattered ancient indian literature dealing with knowledge of iconography and art relating to structures and buildings. It comprise of independent works which are classify general heading of vaastu shastra. The word "Vaastu" has been derived from ' VAASTOSHPATI' used in and is meant to provide protection, hapiness and prosperity in this life as well as after death.
Note: Our all services are paid.
Indian Hindu Astrology
Indian hindu astrology foretells about the future of the native, good and bad periods in life, the directions to move, do's and don'ts, ways, means, measures and remedies to ward off the evil effects or at least reduce the intensity of evils.
Hindu Vedic Astrology
Hindu vedic astrology is an age old science, which was introduced by holy sages, rishis and munis, who were blessed with wealth of knowledge from the almighty. The great Sage, Rishi Parashar was the founder of Indian astrology and had such a depth of its dedicated knowledge that all the credit goes to him. We are just followers of their theories and principles. Generally known as future telling, Indian vedic astrology or Hindu vedic astrology is based on making and reading of astrological horoscopes, where the movement and positioning of stars affect human life tremendously.
It is a human tendency of not to think of bad times when we are happy. And because of planetary changes, we wake up only when bad period strikes and declining trend starts. Here emerges the need of an astrologer to give expert advice about the time factor, fortune, misfortune caution and precautions. Thus, it is all the more necessary for a wise person to wake up and let himself know about the dark phase knocking his doors and also the exact means of dealing with this.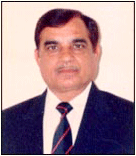 Mr. R.C. Sachdeva
(Guruji)
Contact Us