Introduction

We are also manufacturing
Water cooled cables, Induction coils and all the materials related to Induction Furnace
. Our range of dealings are as follows: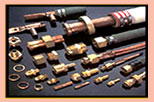 New as well as Repairing job:

1. Water cooled leads

2. Induction Coil



Repairing of Hi-frequency water cooled capacitors


We have well maintained, well equipped plant for repairing of hi-frequency water-cooled capacitors.
Infrastructure


Our infrastructure lends support to every section of our business.Our infrastructure plays an important role in enabling us to meet the requirements and standards of the industry. All our equipments and machines conform to the latest and up to date technologies. We have a highly dedicated and enthusiastic workforce working perpetually in tandem with skilled professionals who endeavor to raise the industry standards by running that extra mile which distinguishes us from others. We also strive to create a very healthy atmosphere where perspicacity is the word used in day to day parlance.
Quality


Our prime objective is to win the trust and confidence of the customers by supplying top quality products.Quality assurance is a part of our company culture, which has been developed by a comprehensive Quality Management System. It requires the dedication, involvement and motivation of our personnel at all levels of operations to ensure customer satisfaction and facilitate the continuous improvement process.
Clients


Thanks to our quality products we have developed a healthy client base both in India and abroad. Our worldwide clientage has influenced us to ply more and outstanding variety of products. We are highly rated by our domestic and international consumers for our excellent quality and timely delivery.
Arihant Enterprises
Contact Person :
Mr. Shailesh Y. Bhavsar
Mr. Pankaj Bhavsar
Mr. Sanjay Bhavsar - Ex- Sr.Service Engineer (Inductotherm (India) Pvt.Ltd)
Office Address :
22/156, Rajendra Nagar, Near Triveni Building, Borivli (E)
Mumbai :
400 066 , Maharashtra (INDIA)
Factory Address:
A-1/35, Hi-tech Industrial Area, Old Satpati Road, Palghar, Maharashtra
Phone :
+(91)-(22)-28703071/28705989
Fax :
+(91)-(22)-28705989
E-mail :
arihantenterprise003@indiatimes.com
arihantenterprise003@yahoo.co.in
arihantenterprise@vsnl.com