» Profile
A.P.N export is a premier company known as leading manufacturers and exporters of high class home furnishing products such as kitchen linens, table linens, bed linen & bath linens products. We manufacture our home furnishings textile products in accordance with customer specification and provide comprehensive pre-and-after-sales services to our clients. We, A.P.N Export, based at Tamilnadu are backed by an experienced and talented workforce of dexterous designers and artisans. Our prime objective is to achieve total customer satisfaction by supplying best home furnishings, cotton textiles products that includes kitchen window curtains, cushion covers & table covers.
We, A.P.N Export, are a professionally managed home furnishings unit looking forward to expand our home furnishings business in the global market. We have stringent quality control system right from raw material procurement to packing and transportation. We strive hard to achieve total customer satisfaction by providing quality home decorative products at right time and right price. Pigment dyes and voile fabrics of exclusive designs are our specialties.
» Out Products & Services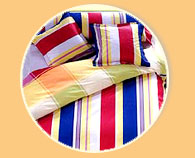 The exclusive range of our cotton home furnishing products like Table linens, Kitchen Linens, Bath Linens, Bed Linens & other made ups, promises everything-fine texture, beauty, form and style. Our home decor accessories showcase has an extraodinary collection that includes:
» Home Furnishing Products
• Table Linens
• Kitchen Linens
• Bed Linens
• Bath Linens
• Made - Ups & other home furnishings products
» Why Us?
• High quality home furnishings product production of
• Customized home furnishing products at economical rates
• On-time deliverance of home furnishing products
• Capacity to execute home furnishing products bulk orders expeditiously
• Excellent home furnishing products post sale services
• High home furnishing products production capacity
• Vast home furnishings product network all over the globe
» Quality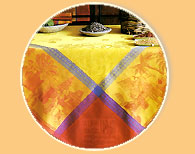 We follow international standards quality for home furnishing products, our home furnishing items such as Bed Linens, Bath Linens, Kitchen Linens, Made Ups, Table Linen is revised at each stage of production to ensure that our home furnishing products yield the best quality. All our finished Bed Linens, Bath Linens, Kitchen Linens, Made Ups, Table Linen products undergo regular supervision and stringent quality checks before they are dispatched to our customers. Our commitment to quality encompasses every aspect of our business and involves the participation of all our staff to identify opportunities for improving it on an ongoing basis.
A.P.N EXPORT
Contact Person :
Mr. Shiv Kumar
55, Vaiyapuri Nagar, 4th Cross street
Karur, Tamil Nadu - 639 002, India
Phone:
+(91)-(4324)-237087
Fax:
+(91)-(4324)-233666
Email:
apnexport@sancharnet.in