Our Corporate Profile
Alto-tec & Infratec Infrarot Strahler GmbH a joint venture was established in 1997. Infratec Infrarot Strahler GmbH has 20 years experience in the field of industrial heating. we are one of the manufactures of Infrared emitter with advanced technology in the world. The company's commitment t``owards quality has always been the driving force behind its success and growth since its inspection and it continues to be its guideline into the future. Innovation, flexibility, performance and versatility are the key areas of focus in the design and development of our new products. Our adherence to these principles have led to a phenomenal growth in sales and a large base of satisfied customers in India and across the world.
Our Products Range
» Electric Infrared Heaters
» Gas Fired Infrared Heaters
» Allied Products
Eletric Infrared Heaters
Important in the design of infrared emitters for industrial, rapid drying is the matching to the absorption of the material of the infrared emission characteristics of the emitter.The infrared absorption characteristics of the material must therefore be known in advance. In practice many materials to be tried or heated have a maximum absorption for infrared between 2.0 and 3.6 micron. For most industrial applications our medium-wave infrared emitters are recommended. The quartz glass envelope transmits the infrared radiation up to a wave length of 4 microns and protects the filaments The actual infrared sources from convective cooling, thus making possible high heating efficiencies.
Advantages
- High power densities (Kw / m2)
- High heating efficiency due to low convection losses
- Low filament mass, hence rapid switching possible
- Twin tubes enable a higher mechanical strength
- Single side or two-side connection possibility
- Pure-gold reverse side refection giving uni-direction radiation
- Available in lengths up to 4000-mm. With max power
- We design our emitters as per your length to suit your requirement
- Highly thermal shock-resistant due to low expansion of quartz glass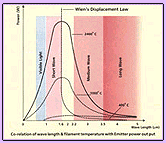 | | | |
| --- | --- | --- |
| Type | Emitter temp. | Wave length range |
| Short wave | 1800 to 2400c | 0.6 to 1.6um |
| Medium wave and quick medium wave IR | 800 to 950c | 1.8 to 3.5um |
| Long wave | 300 to 400c | 3.5 to 6.0um |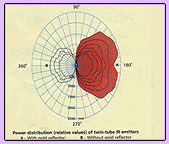 Power distribution (relative values) of twin-tube IR emitters
A With gold reflector
B Without gold reflactor
Application Areas
- Automobile
- Paint touch-up
- Carpet drying
- Drying of paint
- Drying of powder Varnishes, Lacquers.
- Heating of plastic foils and sheet for granulate processing
- Wood industries
- Drying of soldering paste
- Drying of paper board activation of adhesive
- Food industries
- Electronics industries
Our Strengths
Our Quality Standards
We are committed to customer satisfaction, through continuous improvement in Quality of our product, competitive prices and timely delivery of product and services. Our Quality Control department is manned by well experienced engineers. A rigid vigilance is maintained to ensure that only quality products are sent out of the factory.

Our Facilities
- We possess the state-of- the-art machinery and other kinds of hi-tech and sophisticated equipment. We have total faith in our diligent - and disciplined team of professionals who have helped us in manufacturing world class products. Our facilities include:
- Well equipped state-of-art production plant
- Equipped with a comprehensive range of facilities
- Technically qualified professionals having experience in material handling field
- Comprehensive Quality Control System
- Customer Satisfaction
- We always work hard to meet quality expectations and delivery schedule of the customers, as our main motto is customer satisfaction
Altotec:
Contact Person :
Mr. Anil Naik
Address :
S.No. 155/1/3, Punit Angan Apartments, Flat No.4, Aundh
Pune - 411 007, Maharashtra (INDIA)
Telefax : +(91)-(20)-25890524
Email -
twininfratec@vsnl.com
Website :
www.infratecindia.com