About Us
VATIKA RESORTS is newly built and unique of its kind in Shimla Region.It is newly built Village Resorts inspired byTraditional Hill Architecture. It is located in the wide and wooded Shoghi Valley just off Kalka - Shimla Highway .(20 minutes drive from Shimla.) It provides magnificent view of the valley ,woods and villages and is surrounded by nature`s serenity and majesty.
Experience
Vatika Resorts is functional since 2005 and is growing with rapid pace because of its unique facilities and attractive location.(just off Kalka-Shimla Highway) .
Tariff
Tents
EP
Package Map
Which Includes
Machan
Huts
EP
Package Map
Cottage DBR
EP
MAP
Family Cottage
EP
MAP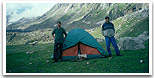 Rs 1000/- (with separate washrooms)
Rs 1500/- (with attach wash rooms) Luxury tax extra as applicable.
Rs 3333/-twin sharing
(separate washrooms) for 2 ntsl 3 days.
Welcome drink! fruit basket! tea / coffee or soft drinks with cookies. Dinner,
morning tea, Breakfast for two pax.
Rs 4444/- twin sharing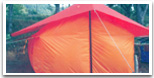 (attached washrooms) for 2 ntsl 3 days. Which includes same as above
Rs 1700/- Taxes extra
Rs 4999/- for 2nts/3Days. Inclusive of all taxes and includes same as above.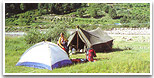 RS 2500/- taxes extra.
Rs 6999/- twin sharing for 2nts/3days inclusive of tax and same as above.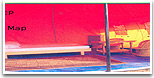 (With Two bed rooms two washrooms and sitting area)
Rs 4000/- taxes extra as applicable.
Rs 11,555/- for 4 pax. For 2 nts/3 days (Child below 5 years our complimentary
guest), extra personal bed 25% of the room rent.
LOCATION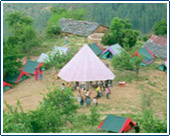 The little settlement of Shoghi lies just short of Shimla on the Kalka Shimla highway. The Vatika Resorts is located on the road that bifurcates from the Shoghi bazaar and is just a ten minute drive away. The wide valley around the Resort has stretches of pine and oak forests and several small villages Kat, Anji and Lagroo are some prominent ones. These have some excellent examples of local architecture and driving or walking to them is an enjoyable experience. The valley also has a temple of Mahunag - the image has been brought from the better known one near Chindi. 'Mahunag' is regarded by many to be a manifestation of Karna, of the epic Mahabharta.
The temple of Tara Devi is a bare 15 kms from the resort. The views are spectacular and down in the valley lies Junga, the seat of the erstwhile state of Keonthal - whose patron deity was Tara Devi. On 'Sunday mornings this is thronged by devotees and there is a lunch 'Bhandara'.
The Hanuman Temple at Sankat Machan is at a distance of 5 kms and has a remarkable image of Hanuman Ji. The temple structure was built by Baba Neem Karori Maharaj using finely dressed stone.
Shimla with its myriad attractions is only 15 kms from the Vatika Green Valley Resort. Here, visit the Mall, the former Viceregal Lodge, the Hanuman Temple at Jakhoo, the State Museum and several other attractions.
Places of interest

Taradevi Temple
Mata Tara Temple is also called Bhagwati temple and was called Shubhsthan since centuries. Believed that before the temple was built, a statue of Devi Mata existed here. Tara Devi temple was built by a Raja, who had vowed that he would built a mandir if his ailing son recovered. The temple is well approachable by road from Shoghi Bazaar and 15 kms from Vatika.

Shri Sankat Mochan Hanuman Temple
Built by Baba Neem Karori Maharaj. Made of stone in natural surroundings one can get weekly "Bhandara" on every Sunday.

Kamna Devi Temple
Also known as Krera Devi Mandir, situated on the summit of Prospect hill. Moon rise and sun set can be seen from here together. Esteep meandering path amidst forest leads to this place.

Indian Institute of Advance Studies
Built in 1898, Observatory hill by Henry Irwin, a renowned Architect during the tenure of Lord Duffrin (1884-1888). Made of Himalayan grey stone and Burmese Teak wood. Formerly known as Vice regal Lodge. Once the residence of Viceroys of Imperial raj.

Himachal State Museum
An old colonial building, ancient historical sculptures, pahari miniature paintings, coins, landscapes, Gandhi Galary etc. reflecting the cultural heritage of Shimla.

Mall Road
Visit heritage properties on and around Mall, i.e Scandal Point, General ~ Post Office, St. Michael Cathedral, Gortan Castle, Gaitey Theatre, Christ Church, Oberio Clarks , Cedar, Oak Wood, Wood Villa, Barnes Court etc.

Chail
Chail Palace, a heritage hotel, once the summer palace of Maharaja Bhupinder Singh and later of his son Maharaja Yadvindra Singh of Patiala, built in 1891.
How to Reach Us
By Air:-
The Shimla airport at Jubbarhatti is at a distance of 20 kms. The drive takes around half an hour. Taxis are available orcan be arranged by us.

By Rail:-
The broad-gauge railhead at Kalka is at a distance of 82 kms. The one at Cha ndigarh is 107 kms away. Taxis are available.

On the charming narrow-gauge Kalka-Shimla line, the Shoghi station is only 5 kms away. On request, we can arrange a taxi.

By Road The Vatika Resorts is just off Shoghi bazaar on a side road. Shoghi lies on National Highway No. 22