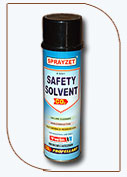 Safety Solvent
(Item Code: 6001)
Our safety solvent has no CFCs, is non-flammable, non-conductive, non-corrosive, with ultra high di-electric strength, high KB value, fast drying "on-line" cleaner & degreaser. Leaves no sticky film, powdery or oily residues behind. It is a combination of least toxic, user & workplace friendly solvents. It is a powerful consistent and cleaning power.
Applications:
It is used in insulators, bus-bars, generators, commutators, cables, slip-rings, motor casings, connections. It prevents short circuiting, leakages, corrosion, fire hazards.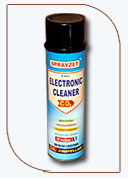 Electronic Cleaner
(Item Code: 6003)
Fully safe on plastics & metals. Fast cleaning, residueless, low odor formulation. Fully di-electric. Mild flux removing action. Excellent "offline" cleaning and flushing action with least possibility of equipment damage.
Applications off dials, gauges, instruments. Di-electric plastic coating of electrical control panels, junction boxes, motor casings, copper and brass fixtures and protects against rust and corrosion.
PCB Coating
(Item Code: 6012)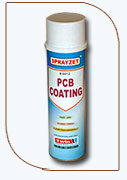 We offer PCB coating, a single component acrylic plastic coating formulation. It is a fast drying; conformal; water clear transparent liquid with good electrical properties. It has high resistance to burning, heat, cold, salts, alkalies, mild acids. It does not peel, crack or dis-color, it can be soldered through and removable if required. It has a lasting protection against wear, handling and oxidation and excellent thermal conductivity.
Applications:
It enhances the working lifespan and reliability of electronic PCB assemblies. It seals-off dials, gauges, instruments. Di-electric plastic coating of electrical control panels, junction boxes, motor casings, copper and brass fixtures and protects against rust and corrosion.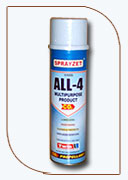 All-4 Multipurpose
(Item Code: 6006)
It is non-toxic, silicone free, ozone friendly rust penetrator cum cleaner. This product is safe for metal, varnishes, rubber, plastic & fabric. It is a low surface tension product and has superior surface "wettability" & coverage. Technically superior, multi-use, it is also useful for displacing moisture, restoring 'IR' valves, anti-corrosion & light lubrication.
Applications:
It is used for rust penetration & cleaning, degreasing, moisture proofing, restoring electrical values & improving electrical conductivity in make-break systems (contactors, relays, switches) windings, coils, transformers, insulators, re-opening rusted/ jammed assemblies, rust cleaning, light lubrication & anti-corrosion.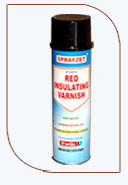 Red Insulating Varnish
(Item Code: 6009)
We bring you red insulating varnish that is a tough, flexible air dry insulation and protection coating. It throughly penetrates into windings & coils and seals out dust and moisture. Designed to be used as a finishing coat over existing impregnating varnishes as well as to provide class H insulation & protection on unprotected motor surfaces (slots, clamps, plates) so as to enhance the life and reliability of the system as a whole. Also available in Green & Clear colors.
Applications:
It is used as a flexible, conformal, finishing, insulation & protection on windings, & coils; providing 'in-situ' insulation on clamps, plates, poles, cage, fast repairing of damaged & weakened insulation, thermostats, high voltage circuits, commutator ends, bus-bars, joints & connections.
We at Twin Tech Trading (I) Pvt. Ltd. are committed to achieve and sustain a reputation as market leader for quality at competitive price by introducing latest tools and techniques in industrial maintenance products and deploying trained personnel along with adequate resources in all respect and Striving for continual improvement.
We are also committed to fulfill the need and expectation of the customers through active participation at all level of employees and fostering a sprit of pride amongst them.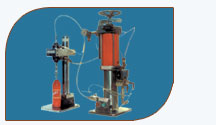 We owe our success to our sound infrastructural set up. Comprising of a fully integrated manufacturing set up and contemporary technology, we have a state-of-the-art production line room to manufacture products. Our highly mechanized manufacturing unit is operated under the guidance of technical expertise and our products are regularly checked in labs before they are dispatched for final packaging. Our technocrats also ensure the pressure of the sprays and that they are leak proof, safe and easy to use.
Being a quality driven company, we also have warehouse and loading facilities. We are one among the few names in this industry empowered with an effective sales team that executes every delivery task in a well planned manner. We also have a team of highly trained engineers and support personnel who continuously strive for better ways and new technical approaches, to meet our clients needs at competitive rates.
We always strive to keep our customers satisfied with our quality products. We endeavor to grow by providing quality,
technically correct, economical and on-time delivery service to our expanding customer base. We realiEze that our progress
depends upon the relation with our customers. Over a span of years, we have been able to carve a niche in the world market.
We not only believe in meeting the customers needs and satisfaction but also exceed their expectations.