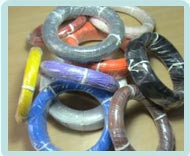 We are manufacturing PTFE Insulated Heating Wires and cables. These heating cables are Flexible, Safe, Efficient, Maintenance free and Long Life. Mainly our heating wires are being used in the following applications to make life comfort in cold.
Under Floor Heating, Under Tile Heating, Under Carpet Heating, Aquarium Pot heating, Flexible car seats heaters, carpet or blanket heating, Floor Heating Mats, Defrosting and deicing over roof, Zone temperature control of distillation columns and heat tracer for pipes, etc….
PTFE INSULATED BARE COPPER SCREENED HEATING WIRES
The above image is not of original product.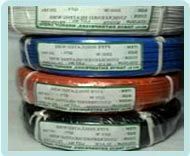 These cables are manufactured by high quality resistance wires and alloy wires with PTFE Tape wrapping and fusion method. Due to PTFE insulation our cables withstand -60°C to +260°C continuously. Better tear resistance and dielectric strength of PTFE Insulation makes our cables thin comparative to extruded cables and finally saving of space during installation. We make PTFE Insulated heating cables with or without screening of Bare Copper wire or Tinned Copper wire or any other material as per customer requirement. Screened cables provide maximum safety, toughness and mechanical strength which make them able to install in places that are prone to moisture like bathrooms, kitchen etc.
We make PTFE Insulated Twin Conductor heating cables also. Twin conductor Heating cables are becoming very popular among Floor Heating Mat manufacturers and Installers of Under Floor Heating cables as these cables have cold tails at only single end which makes it's installation very easy to make connection to junction box. We design cables as per customer requirement in any voltage range as well as Watt/Mtr.
S.No
Watts of Element
Element Length(M)
Watts/ L.M.
OHMS/M
Amps
1
150
12.5
11.99
28.222
0.652
2
250
23
10.86
9.192
1.086
3
275
23
11.94
8.373
1.194
4
380
32
11.94
4.329
1.66
5
500
42
11.86
2.528
2.166
6
750
63
12.00
1.11
3.289
7
1000
83
12.06
0.2820
4.353
8
1250
105
11.90
0.4031
5.434
9
1500
125
12.00
0.2820
6.526
10
1750
147
11.94
0.2051
7.630
11
2000
167
11.95
0.1587
8.676
12
2250
188
11.97
0.125
9.782
13
2500
208
12.01
0.1018
10.858
14
3000
250
12.01
0.0705
13.055
Note: Tolerance in resistance upto +5% or -5% may occur.
The above elements are for voltage 230V AC
O.D. of Copper Screened & PTFE Jacketed cable: Between 2.10mm to 2.70mm (Subject to element)
O.D. of Without Sceening heating cable: 1.10mm to 1.60mm
Constructional details are as under:
1.) Best combination of Heating wires for long life stability at the working temperatures.
2.) PTFE Insulation (Multi-layer tape wrapped and fused) for guaranteed concentric radial thickness.
3.) Copper wire braided screen provided maximum safety, toughness and mechanical strength
4.) Outer PTFE (Multi-layer tape wrapped and fused) colour coded jacket.