If for your anti-vibration requirements, you are seeking rubber bonded to metal parts or sleeved bushes press-fit/interference-fit; be it car or truck part; maybe a silent block bush or a wishbone bush or a track arm bush; a cradle bush or a control arm bush and/or plastic to rubber bonding of high quality; tight tolerance and intricate shapes; be it in small volumes or high volumes; cost effective and quick development, then we at S.M. International could assist you.

About Us
The business partners of M\s S.M. International have been in the business of manufacturing and exporting rubber molded aftermarket auto parts; car and truck parts; since 1988 and manufactures Toyota Car Parts, Datsun Car Parts, Honda Car Parts, Isuzu Car Parts, Mazda Car Parts, Mitsubishi Car Parts, Nissan Car Parts like transmission Mounts, Rubber Bushings, Rubber Bellows, Rubber Grommets, Plastic Bushings and Sheet Metal Components.
We are a self-contained company with all in-house manufacturing facilities that facilitate cheap car parts at the highest quality control possible.
As we have our own mould making shop – custom made to order products are not a problem. We are more than happy to supply samples off pre-production tooling at little or no cost.
Products
We have a vast range of bushes – Suspension Bush – (a) rubber bonds the inner sleeve to the outer sleeve and (b) in which the rubber bonds the Inner sleeve and the outer sleeve is press-fit/interference fit; Oil filled bushes; flanged bushes, Rubber to Brass Bonded Bush and Rubber to Plastic Bonded Bushes etc. to satisfy your requirements.





For a complete auto part list of our product range, or for further inquiries, kindly contact us, for when you check our product list you will find many products that may meet your requirements.
Thank you for your interest in our company.
TECHNICAL TEST REPORTS OF SOME OF OUR RUBER TO METAL BONDED BUSHES :
In this type of bush the Rubber chemically bonds with both the inner and the outer tube.
Part No.

Outer Pipe O/D

Outer tube length
Inner tube I/D

Inner tube length
02535 - 01340
25.00 mm

35.00 mm

10.00 mm

40.00 mm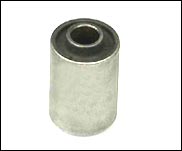 Test Condition

Observation
» Axial Stiffness (N/mm)
@ 1500 N Load
» Radial Stiffness (N/mm)
@3800 N load
» Dynamic Stiffness (KN/mm) (Axial, 10HZ, 0.1 mm amp) mean load – 1500 N
» Loss angle (o)
» Damping Factor


468

4175

1.13



6.90 – 7.15
0.11 – 0.124

In this type of bush the rubber is bonded to the inner tube and the outer tube is press fit/interference fit to the molded inner tube.
Part No.

Outer Pipe O/D

Outer tube length
Inner tube I/D

Inner tube length
70112 - 40115
70 mm

112.00 mm

40.00 mm

115.00 mm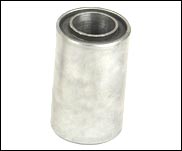 Test Condition

Observation
» Deflection (mm)
@ radial loadof 2000 kg

1.0281
Contact Us or Send Online Query

S. M. International
22/3 Pandit Motilal Nehru Road
Agra - 282 004
Uttar Pradesh (India)
Call Us at :
+(91)-(562)-2852188
Contact Person :
Mr. Rajeev Khandelwal - Partner :
Mobile :
9412415038
Mr. Neeraj Khandelwal - Partner :
Mobile :
9897023451
E-Mail Us at :
grexpo@ndb.vsnl.net.in
,
khandelwalneeraj66@gmail.com
japaneseautoparts@eindiabusiness.com
, silentblockbush@eindiabusiness.com
For More Details :
http://www.eindiabusiness.com/japaneseautoparts/