Company Profile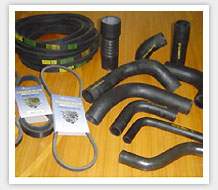 Over the years, ShreeGee Impex Pvt. Ltd., ISO-9002 Certified Company, has developed the reputatuion of being a world - Class manufacturers and Expoters of
"DARWIN PLUS" Brand V-Belts, Transmission Belts, Conveyor Belts, Industrial Hoses and Radiator Hoses.
With one of the most advanced manufacturing plant.
It's Consistently high standards of qualityhave resulted in acceptance of product with wide range of customers both in Indian as well as in International markets. We export regularly to more than 30 countries worldwide. We have received speical Export Award from Commerce Ministry and have been honored Export Award for excellence in Quality and Product.
Our Products are regularly being supplied to
Indian Railways, Defence and State Transport Vehicles.
With Our Stress on R&D and Continous refinement of production methods, the "DARWIN PLUS" Brand is now anoymous with quality.
Our Products comply with BIS, JIS, RMA and DIN standards.
ShreeGee Impex Pvt. Ltd. is dedicated to develop and manufacture high quality
Rubber & synthetic conveyor Belts, V-Belts in Wrapped, Raw Edge and Raw Edge Cogged Construction and Ribbed (Poly) Belts for Auto, Industrial and Agricultural applications.

Products
We have defined the dynamics of this industry by revolutionizing it with our diverse and exhaustive product range. We have laid special emphasis on R&D and we are on the threshold of manufacturing Industrial belts, conveyor belts and rubber hose. Our range includes:

Manufactures & Exporters Segment :
V-Belts
Conveyor Belts
Industrial Transmission Belts
Agriculture Belts
Industrial Belts
Industrial Hoses
High and Low Pressure Hoses
Refueling Hoses
Chemical Hoses
Special-Purpose Hoses
Radiator Hoses
| | |
| --- | --- |
| | Cover Fabric : Wear Resistant bias cut Neoprene Rubberized Fabric. |
| | Tensile Member : Treated polyester cable cord with high tenacity, low stretch for higher power carrying capacity of belt. |
| | Cushion Member : Heat resistant cord embedding cushion rubber compound for static and dynamic adhesion to the cord and gives higher flex life. |
| | Compression Rubber : Specially compounded high modulus compression rubber for support to the cord and better wedging action to the belt. |
Our V-Belts have been approved and are in use with various manufacturers in our country, Actual users like Ministry of Defence of India, Oil and Natural Gas Corporation Ltd., Coal India Limited, Bharat Aluminum Limited, Public State Transport Organizations, Electric supply Companies, Textiles, Cement and Steel Industries, Paper Industry, Petroleum Industry along with Railways patronize our V-Belts and Conveyor Belts as replacement parts.
After undergoing different tests, DARWIN PLUS V-Belts have shown their high quality service and are capable of working under tropical, cold and severe climatic conditions.

Automotive Belts (Darwin Plus)


CLASSICAL SECTION V-BELTS:
- Z (10x6); A (13x8); B (17x11);
- C (22x14); D (32x19); E (38x23);
WEDGE SECTION V-BELTS
- SPZ; SPA; SPB; SPC;
V-BELTS of Profiles as per Standared DIN 9.5, 12.5, and 13; 17 MM;
Poly V-Belts ( Ribbed) 6PK; 8PK;
Variable Speed V-Belts for Agricultural Industries
HEXAGONAL Belts of sections AA; BB; CC;
V-Belts as per American Standard System, RMA 3V; 5V; 8V;

BANDED BELTS With high modules tie bands over Classical, wedge and Narrow
Section Belts (from2 to 6 belts in a band);
Raw Edge Cogged V-Belts in 9.5, 12.5, AVX 13,Z/10, A/13, B/17, C/22 SPZ,
SPA andSPB Profiles.




Conveyor BELTS
Jointless conveyor belts, Chevron Belts, Fish Top/Rough Top Belt, Reel Conveyor Belts, Belts with Center Cleats, Belts with Side Walls and Steep Angle Conveyor Belts with Sidewall and Cleats. Upto 2000 mm wide and with different grades such as M24 HR-120 degrees, SHR-150 degrees, UHr-220 degrees, FR, OR, CMR,and Hygenic.
ALL DARWIN PLUS Brand Conveyor Belts are conforming to IS, BS, JIS, DIN and Canadian Standards.

HOSES
From general industrial hose needs to the most specific requirements of the specialty markets, our hose products reflect the high quality and service you.
DARWIN PLUS
RADIATOR HOSE :

Are built to withstand increased temperatures and pressures of today's and tomorrow's high performance engines.
Types : (1) Flexible Hose (2) Performed Shaped Curved Hose (3) Straight Hose

DARWIN PLUS
RUBBER FUEL HOSE :

Type B- CARBURETOR HOSE
CONSTRUCTION
Tube : Smooth, seamless, high resistance to fuel and heat, synthetic rubber.
Reinforcement : High tensile synthetic fibers.
Cover : Black, smooth, high resistance to weather, heat and fuel.




English to German :
V-Gürtel, Förderbänder, industrielle Transmissionsriemen, Landwirtschaft Riemen, industrielle Riemen, industrielle Schlauch-, hoher und Niederdruck-Schläuche, Betankungsschläuche, chemische Schläuche, für einen speziellen Zweck Schläuche, Heizkörper-Schläuche.

English to French :
V-Belts, bandes de conveyeur, ceintures de transmission industrielles, ceintures d'agriculture, ceintures industrielles, tuyaux industriels de pression de tuyaux, élevée et basse, tuyaux de réapprovisionnement en combustible, tuyaux chimiques, tuyaux pour un but particulier, tuyaux de radiateur.

Application :
Our Rubber products cater to the critical requirments of power transmission in the steel, coal, cement, power, quarrying and
mining Industries and Automobiles.

Specification :
we are the Manufacturers, Exporters and suppliers of V-Belts , Conveyor Belts , Industrial Transmission Belts, Agriculture Belts , Industrial Belts, Industrial Hoses, High and Low Pressure Hoses , Refueling Hoses , Chemical Hoses, Special-Purpose Hoses , Radiator Hoses.

Quality Policy :
We stand committed to manufacture & Supply Product of consistant quality and timely delivery as per customrer's requirements to their entire satisfaction.
We aim for continual improvement through performance of product to required parameters and effective implementation of Quality management System in line with ISO 9001:2000 and optimum use of resources.

Contact Us or Send Online Query :

Mr. Praveen Tyagi
Mobile : +91-9837001739
B/4-5, Bhagwati Complex, Gandhi Nagar, Garh Road.
Meerut-250 001. Uttar Pradesh (India)
Tel : +(91)-(121)-2664391
Fax : +(91)-(121)-2664392
Email : shreegee@mail.ru, info@shreegeeimpex.com