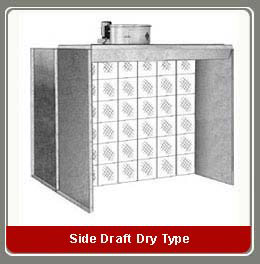 Side Draft Dry Type Back booth is recommended where the paint overspray volumes are low. This booth consists of a sheet metal enclosure divided into two sections by a divider wall which houses the paint arrestor filters.
The front section forms the working chamber while the rear section houses the exhaust blowers which ensures the proper air velocity in the working chamber as also the exhaust of the inflammable solvent vapors. The heavier paint particles are deposited on the filter. The deposited paint sludge is to be removed periodically.









Down Draft Dry Type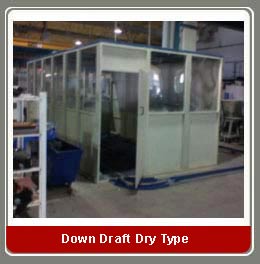 Down Draft Paint Booths are especially designed for Large and heavy components. In this type of booth the air is sucked from the top of the spray chamber is pushed down. The Filters mounted at the bottom removes the dust and over spray paint particles from the exhausted air before venting the air into the atmosphere.













Down Draft Water Wash Type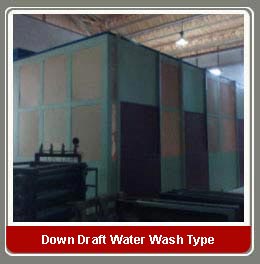 Down Draft Paint Booths are especially designed for Large and heavy components. In this type of booth the air is sucked from the top of the spray chamber is pushed down to the water tank at the bottom. The water removes the dust and over spray paint particles from the exhausted air before venting the air into the atmosphere