COMPANY PROFILE
We offer engineering services for control systems for clients. We have 20 years of experience in the fields of electrical control, automation and process engineering.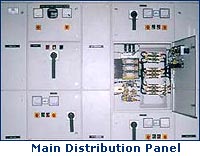 This includes bespoke control panels, design and project management as well as manufacture, electrical installation and services, with the emphasis on providing quality solutions to all areas of industry.
From motor control centres to panel wiring and control system commissioning, RP Controls have the expertise to provide our clients with a reliable and comprehensive service. Our engineers are highly trained and professional, which is why we are control system market leaders. We are 100% dedicated to customer satisfaction, and aim to deliver solutions to meet all your automation and control panel requirements on time and on budget, from commissioning and design to completion and installation. We have manufactured number of Panels in last 20 years of various size and designs and inspection under various consultants.
We trust this brief introduction of ours would conclude your search for Panels Manufactures you have been looking for and we request you to enlist our name in your approved vendors list and favor us with your valued enquiries from time to time.
QUALITY
Our quality standards have been emulated by the industry and have become the segment's benchmarks. To maintain our quality standards exhaustive performance, maintenance and production checks have been placed and rigorously followed.
PRODUCT
The Company Has grown a market leader with its ever growing product range including :
» L.T. Panel
» H.T. Panel
» MCC Panel
» APFC Panel
» Distribution Panel
» AMF Panel
» Bus Bar Duets
» Tube Light Duets
» RACE Ways
» PLC Panel
» Drives Panel
» Automation panel
» D.G. Set Cotrol Panel
» Chilling Plant Control Panel
» Heat Tracer Panel
» Feeder Control Panel
» Cable Trays
» L.T. Breaker Panel
» Change Over Panel
» Remote Control Panel
» Bus Coupler Panel
» Servo By Pass Panel
» Feeder Pillor Panel
We Are Also specialist in panel errection Commissioning. We use Branded Switchgearsof reputated companies like L&T, Seimens, Schneider, Control and Switchgear, Havells etc. Or Whatever Party Demands.
INFRASTRUCTURE
We have a state-of-the-art manufacturing unit where latest machinery and technology is used to deliver the high level of efficiency, facilitating the maintenance of excellent work culture. RP Controls has a highly committed workforce headed by skilled professionals who continuously raise the industry standards by running that extra mile, which distinguishes us from others.
CLIENTS
- M/s Flex International Ltd.
- M/s Flex industry Ltd.
- Snoetechnic International Corporation Ltd.
- Riba Textile Ltd.
- D.S. Group
- RajPriya Instrument & Controls
- Oswal Mills
- PSLR Engg. Pvt. Ltd.
- Pgt Component Ltd.
- Hawkings Cookers Group
- Polar Fan Ltd.
- Thomson Press Ltd.
- HCL
- Haldiram
R.P.CONTROLS
MR. SUNIL KUMAR
Manufacture of :
L.T.,H.T., Control Panel, Motor Control Center
A.P.F.C.Panel,Distribution Panel, MCB Boards, D.C. Motor Control etc.
Panel Erection & Commissioning Specialist
Address :
C-149, Sector - 10, Noida-201301, (U.P)
Phone No. :
95120 - 2440380, 4338116, 4347275
Mobile No. :
9810669625, 9811480636
Email :
rpc_controls@yahoo.co.in
,
rpc_controls@rediffmail.com,
rpcontrols@eindiabusiness.com