OUR PRODUCTS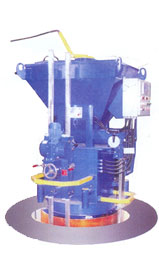 Bottom Vibrator Unit
Vibrates the entire bottom of the furnace in one operation from the furnace deck in 12
InstaCentr (Form Centering Tools)
Furnace form spacing tools are designed to quickly and accurately center the fo-rmar within the furnace in a matter of minutes.
Refractory Installation machine
Distributes dry refractory consistently and evenly while simultaneously forking the material to produce a denser lining. Denser sidewall linings promote longer refractory life and higher productivity. Reduces labor hours and airborne dust compared to conventional reline methods.
Formar Sides Vibration System
Each leg is equipped with a vibrator pressed against the internal form to deliver equal distribution of force impact. Vibration is concentrated in the tapered section. Entire sidewall compaction is completed in 1216 minutes.
OUR STRENGTH

Quality
We are committed to quality, to supply you the leading edge, competitively priced products and services. We ensure that all the components pass through stringent quality tests before being approved for production/assembly. Also, quality checks are done at various stages of production, to make sure that an absolutely troublefree equipment is supplied to our valued customers.
Continuous improvement
At stead fast engineers continuous improvement is the culture. Through training and practical exposure the employees are motivated to think of better ways of doing things each time all the time.
Excellent after sale service
A team of dedicated and experienced engineers is available round the clock to attend to the concerns (if any)of our esteemed clients.
Firm delivery as per commitment
Infrastructure
• A3000 sq yd. facility with complete infrastructure comprising of
• Mechanical fabrication shop
• Machine shop
• Electronic panel design and assembly division
• Well Equipped Lab
• Two huge storage facilities for mechanical, electrical and electronics components and spares.
• Administrative block