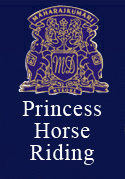 Princes Horse Back Adventure Tour provides an opportunity to the tourists to come closer to The local people and peep into their culture, customs, Way of life and other rituals which is not possible for the normal tourist. Princess horse back adventure tour has got a team of such experts who can cast a pell on the minds Of tourists and that will be an everlasting experience. You can choose between one of the finest string of thoroughbred and half-bred horses, Kathiawari horses. The thorough bred, which are retired from racing are excellent horses to ride, so are the Kathiawari horses. Average distance covered daily is 20-30 kms.
Accommodation is in deluxe tents with separate baths and toilets. The saddlery is English. Clients are requested to bring their hard Hats and Boots. A light sweater and Jacket are required for the evenings, and don't forget a pair of binoculars.
Clients are requested to advice us of their height, weight and riding experience to enable us to match Horse to Rider.
We operate horse riding adventure between October and January when Mysore is at its best. If you choose to ride any other time we will gladly custom design an itinerary for you.The grooms accompany the ride traveling in Jeeps to meet us every 10-15 km to take charge of the mounts while the riders refresh themselves from the complimentary Ice Box. The Grooms take care of the horses feeding, brushing, saddling, unsaddling etc.
The riders before the start of the safari should sign a indemnity bond & undertaking.
1.The distance covered daily Ranges from 25 to 35 kms.
2. On safaris please see that you travel as light as possible.
3. The itineraries and routes offered are subject to change by the management without prior notice.
4. Food offered on the safari is non vegetarian and vegetarian.
5. The food served is Western and Indian (bland).
6. Package includes:
* Stay in Deluxe tents on twin sharing basis.

* All applicable meals, including picnic lunch on certain long rides.

* Jeep with refreshments and First Aid to meet at regular intervals along the ride.

* With uniformed grooms and Full saddlery. Truck for luggage transport.

* The Safari starting, and concluding points respectively. English speaking Riding Escort and guide.

* Extra horses for larger groups. With entertainment by local folk artistes, bullock carts ride, and mineral water.
7. The package does not include:
* Transfers to and from Safari.

* Bar/beverage bills at night halts.

* Soft drinks, Laundry, telephone calls, Tips & any items of personal use.

* Massages offered during safari.

* Medical bills.


Princess Horse back Route:
Day 01
Mysore [1] to Nandigunda

Day 02
Nandigunda to Bukalkera hill enroute we visit the famous temple of Somnathapura.

Day 03
Bukalkere hill to Talkadu
Day 04
Talkadu to T Narasipura
Day 05 and Day 6
T Narasipura to Suttur
Day 07
Suttur to Najungudu
Day 08
Najungudu to Hadinaru

Day 09
Hadinaru to Mysore

We also offer 2 days ride in Ooty.
Day 1 ride is the old fox hunt route till evening.
Day 2 is also the different route
The cost per person per day is Rupees 17500.
Routine of the Day
Breakfast Time 7am to 7.30am
The start of the safari (between) 8am to 8.30am sharp Morning ride for 2hours
Tea Break 10.30 am 11 am
Mid Lunch ride for 2 Hours
Lunch 1 PM to 3.45 PM
Evening Ride 3.45 PM to 5 PM
Evening riding will be for 1 Hour 15 minutes.
Start with Folk Entertainment and dinner, 7 PM onwards.