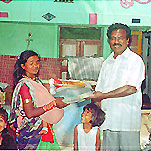 OUR PEOPLE'S FORUM SCIENTIFIC RESEARCH,EDUCATION AND CHARITABLE TRUST is an Indian Non-Government Organization(NGO)that render the service for restoring the basic rights to survival as privileged Indian Aged male and female, youth of male and female and children inclusive of street beggars, bonded in labor, commercial sex, physically and mentally affected and who deserves in ill-health and Leprosy. Agriculture development and cultivation, providing employment opportunity and Training, Medical care ,Welfare and Education are to be undertaken for the people to lift themselves out of poverty and hunger in Rural and Urban areas. This Charitable Trust takes sincere efforts to the Poor and needy for bringing them into the main stream It means every one is to be happy atleast certain extend.
This Trust is rendering the service since the year of 1975. The Registration is made under the Trust Act. The Permanent Account number in Income tax is AAATO 1258A. Income tax Department has granted the exemption certificate under section 80G for collecting the Donation to this Charitable Trust. We request the Donors to donate by Cash, things, Agricultural lands for cultivation and researching, Land and buildings for the construction of aged centre, ORPHAN centre for children, and Buildings for the Education . Capital Fund also accepted.
The necessary receipt along with the Income Tax exemption certificate will be submitted to the Donors. The willing Donors are whole heartedly welcome to co-ordinate for rendering the service in rural and urban areas. The free medical services rendering doctors are invited to the free services for slum peoples and isolated villages in rural areas. The Nursery and Primary School is running. Every year about 400 slum Children of male and female are getting benefit in this school.
THIS IS NON-PROFITABLE CHARITABLE TRUST TO POOR AND NEEDY WITHOUT REGARDS ANY DISTINCTION.