Toys & Sports is a well established, widely prominent, popular and one of the leading manufacturers, suppliers, and exporters of Toys and Sports equipments & accessories of India. We have been catering to an extensive range of diverse requirements of the sports products & equipments since 1976. Our mellow expertise and long enriching experience is in the manufacturing of ingenious, comfortable, reliable and durable sports products, equipments, and accessories that have earned for widespread goodwill, prominence and renown in India and abroad. Our very comprehensive and exclusive range of sport products & equipments comprises of the Foose Balls, Foose Ball Tables, Billiard Tables, School Furniture, Basket Balls, See-Saw, Kids Kingdom, Powerhouse Play, Soft Play Systems, Round Trampoline, etc. Our company is well-equipped for serving all sports requisites of sports products. We always kept scrupulous care of fun, health, comfort, fashion trends and right physical & mental developments of specially children, through our ISI Quality-marked sports equipments & accessories.



Our wide range of ingenious, elegant, and reliable Sports and other Products serve a variety of diverse industries ranging from the schools, corporations, and clubs to the restaurants and resorts. A few of our clientele are listed below:
Corporations
Bangalore City Corporation
Mysore City Corporation
Trichy Municipal Corporation
Belgaum City Corporation
Clubs
Century Club, Bangalore, Hyderabad
The Club, Bangalore
Winsor Manor Club, Salem
Chiraan Fort Club, Hyderabad
Resorts
Kamath Yatrinivas, Bangalore
Welcomease Silver Sand, Mahabalipur
Pilikula Nisarga Dhama, Mangalore
Janmat Hotel Resorts, Cochin

Schools & Colleges
Vidya Kendra, Calicut
Kunil Education Trust
CamBridge School
St. Mery's High School
Mounth Carmel college, Bangalore

Others
IIMB, Bangalore
Department of Space, Bangalore
Jawaharlal Balbhavan, Bangalore
Vishwa Vihar Residents, Mysore

Software Companies
Micro Soft India (R&D Pvt. Ltd)
Google India Ltd.
Accentures
Transworks Information Services Pvt, Ltd.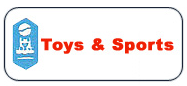 Toys And Sports
# 6,Tavarekere Main Road, D.R. Collage Post
Bangalore 560029
Karnataka- INDIA
TEL.NO. :
+91-80-25536384, +91-80-25535820
FAX No. :
+91-80-4117915
MOBILE :
9844261389, 9945155755
EMAIL :
info@toysandsports.com