STEEL SMITH
was established in the year of 1980 using extract gained by its promoter
Sh. PRITHI RAJ SHARMA
during his dedicated services given to his family business of same nature for 15 years.
Sh. PRITHVI RAJ JI
did their diploma in mechanical Eng. in 1960 from ARMY College Roorkee .It is an organization with strong roots in an eventful past and with and clear vision of future. The industry is located on national highway NH-24 in the state of (U.P) at and distance of 20 kms from Delhi. And 5Km from NOIDA.
The professional Management of company is committed to achieve excellence in all sphere of our activities namely in house R&DELE, Manufacturing, machining and quality assurance,
STEEL SMITH
is always keen to understand of the needs of the customers to serve them better.
STEEL SMITH
becomes the lead manufacturer of forged flanges in the year 1992. We already supplying to Defense, Railways, Sugarmills , Petroleum's, Automobile Industries. So, What will the future brings?
STEEL SMITH
sums it up in Two words, More
Challenges and the company looks forward to welcome next century and to play In global market with confidence born of hard-won experience, which used continuously to improve and maintain quality of our products.
STEEL SMITH
Believes in:-
• Supplying value added quality products to customers at competitive prices with prompt delivery.
• Having and trained and motivated team.
• Having an international identity.
• Achieving Total quality Management.
Flanges Forging
We are leading manufacturer exporter and supplier of
Forged Flanges, Orifice Flanges, Crane Tyres, Solid Wheels, Round Shafts, Rectangular Bars, Crank Shafts, Connecting rods, Gear Planks and other forging products in conformity with National & International Standards under strict quality control. Random Material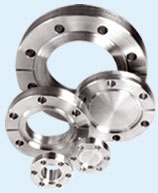 sampling and 100% inspection for dimensions and finish ensure that each flange that leaves the work is as per xustomers requirement.
» Click Here For Your Query
• Flanges are available in Slip on Welding Neck, Blind, Socket Weld, Lap Joint, Tongue & Groove & Ring Joint types. Flanges are offered in carbon steel to ASTM A 105, Alloy Steel to ASTM A 182, Carbon & Low-Alloy-Steel to ASTM A 350, and Stainless Steel.
• Flanges are available in a pressure rating class of 150, 300, 600, 900, 1500 & 2500.
• Flanges are manufactured to ANSI B16.5, B 16.47, MSS SP 44, API, BS, AWWA, DIN standards.
• Flanges are manufactured from 1/2"NB to 64"NB sizes.
• All Flanges are punch marked and identified with MSS SP-25
• Quality check include : Chemical composition analysis , Mechanical Testing as per ASTMA 370., Heat Treatment, Dimension Check, Workmanship, Finish & Appearance.
Orifice Flanges
Our Steel Orifice Flanges comply with all USAS, ASTM, and ASME specifications. Available in wide range of standard sizes and pressure ratings.
» Click Here For Your Query
| | |
| --- | --- |
| - N. Rly. Baroda house, New delhi. | - Diesel Component Works (DCW) Patiala. |
| - Diesel Locomotive Works (DLW) Varanasi. | - Prototype Training & Development Center (NSIC) New Delhi. |
| - Bharat Heavy Electrical Ltd. (BHEL) Varanasi. | - Kay International Limited. (AN-ISO-9001 Co.) Sonepat. |
| - Uttam Industrial Engineering Limited. Ghaziabad. | - Uttam Sucrotech Limited. Ghaziabad. |
| - Laxmi Udyog, Jodhpur. | - Uma Shankar Khandelwal & Co. New Delhi. |
| - The Dhampur Sugar Mills Ltd. Dhampur. | - Bajaj Hindustan Ltd. Gola. |
| - Sasash Musa Sugar Co. Ltd. Sasash Musa Bihar. | - Bharat Sugar Mills Ltd, Sidhwalia Bihar. |
Our Quality Proof :

Strict quality assurence system is being followed in all our departments and Total Quality Management is applied to streamline and all the procedures and practices are in operation to achieve high standards of efficiency. Continuous efforts are being made for improvement of materials, technology and equipments to give best quality product at most affordable prices.
ASSURANCE PLAN
: The Quality Assurance Department oversees all important quality functions and perform the following activities.
MATERIAL CONTROL
: This system controls the quality of all the incomming material as per the raw material test certificate of the material. Randomely checking in each size for chemical & physical properties at Government approved laboratery.
PROCESS CONTROL:
During forming, pressing, forging and heat treatment, process control system outlines inprocess checks and controls to be followed during heat treatment and testing.
WELDING OF WELDED FITTINGS :
Proper fitups are ensured before welding as per approved WPS-PQR, NDT like D.P. after root run and final run (also after back chipping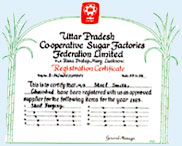 D.P. on each size is carried out if back chipping is required) after heat treatment of the fittings, final check is done as per customers requirements.
MEACHINING AND DIMENSIONAL CONTROL :
Suitables fixtures and templates are used to maintain dimensional accuracy-necessary gauges and callipers are caliberated periodically to maintain their accuracy.
FINISHING PAINTING AND MARKING :
Our Stainless steel products are picked and passivated and product making is done as per code requirement by etching or hard punching. For Carbon Steel and Alloy Steel products shot blasting is done as per requested code requirement by hard punching, Rust preventive oil is put on the products.