| | | |
| --- | --- | --- |
| | | |
Quality Assurance




In the sector of 'quality' Everest Engineering Co. Products is truly having an edge. The product standardization at our end is dynamic and keeps pace with the changes in concepts, paradigms shifts,

Plant Facilities

We are maintaining high quality under the supervision of qualified technical staff at every step. We have stringent quality control system to control the quality from raw material to end products.

Contact Us

Everest Engineering
About Us
We take pride introducing ourselves as one of the leading manufacturers of a wide range of E.O.T. Cranes, Lifts, Electric Hoists, Jib Cranes, Chain Pulley Blocks etc. designed by highly trained engineers under the brand name of "EVEREST" The name trusted all over the India since 1984. This trust is built over the year through shear dedication, hardwork and commitment to quality and customer satisfaction. Our efforts have been rewarded with repeat orders from Private and public Sector, Big Industries, big MNC's.
It has successfully serviced the industry by providing its products all over the country in various segments viz. Cement Industry , Steel Industry, Processing Plants, Engineering Workshops etc. Every product undergoes strict & intense quality test, to ensure to meet all customer requirements.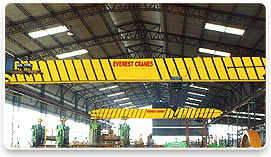 As such, would make every possible effort to render best of the services to our clients and shall see that they are satisfied in all respects. Although, we are already
An ISO-9001:2000 Certified Company
maintaining all the required quality standards and equipped to produce new products as per needs of our buyers, we believe in the fact, "There is no end to perfection ". Therefore, we are endeavoring and aheading towards our goal for certification as
An ISO-9001:2000 Company too.
Quality
In the sector of
'quality' Everest Engineering Co.
Products is truly having an edge. The product standardization at our end is dynamic and keeps pace with the changes in concepts, paradigms shifts, processes of manufacture and technology, availability and quality of raw-materials and last, yet the most important, consumer demands and expectations. Our quality management believes in the ethos
" SUCH A MAN WAS WANTED AND SUCH A MAN HAS BORN ".
Similarly to meet the rising inflation and cut throat competition in prices, we are endeavoring hard and not letting lose the various cost factors. Our top management keeps constant vigil on :
I)
COST REDUCTION AND PRODUCTIVITY.
II)
THE STRATEGY FOR BETTER CAPACITY UTILIZATION.
III)
COST CUTTING PLANS.
We are the manufactures oil engine parts & air/cool fan cover, automiser sleeve & push rod pipe set, gear cover disel tanki etc. and assure absolutely good quality on very responsible margin of profit :
We trust :
"Absolute good quality with low profit is a speed boat for maximum sales turn-over".
Since we believe in
DOLLAR FOR DOLLAR
return in terms of good quality, timely deliveries, and excellent packing, surely you too will find in us one of the most reliable and sincere business friends proud to be shaken hand-with, like many others who have already tested us and posed confidence in our brands.

Copyright @
Everest Engineering
All rights reserved
Website Designed & Promoted by
Advent Infosoft Pvt. Ltd
.