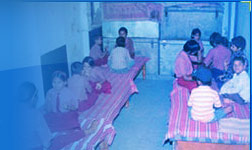 Schooling
Hostel For Handicapped
Training centre
Physiotheraphy Unit
Accupressure Unit
Placement & Rehabilitation
Festival Celebration
Educational and Training
Extra Curricullar Activites
Our Services :
---
We endeavor to accomplish the goal of providing education and to ensure proper rehabilitation of the physically and mentally challenged persons and economically downtrodden. We are presently engaged in the following activities:
Schooling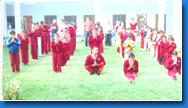 We, at EVAD, are running school and hostel facilities for mentally and physically challenged ones. The total strength of this school is around 100. Classes are held regularly from nursery to fifth. We provide free educational material to them. The timings of the school is between 8.30 am to 2.30 pm. We also have boarding and lodging facilities for the needy students. Our hostel provides them with reading and writing material, entertainment and medical aids, etc.
Facilities Admissible to Both the Students Living in Hostel and Day Scholars:
-
• Special Educators:
With the knowledge of language of sign he not only understand the problems but helps to solve them with good explanation to the student.
• Speech Therapy:
Just to develop the speaking capability of a deaf and a mentally retarded student, we have engaged a Speech Therapist.
• Audiometery:
The audiometery is essential before opting for a hearing aid. This enables an Audiologist to issue a certificate that helps to choose a hearing aid according to the requirements.
• Group Hearing Aids:
Three Group Hearing Aids have been installed in the school. These aids assist the children to speak fluently and understand the questions asked by the teachers.
• Speech Trainer:
With the help of this equipments, a deaf student imitates the letters of the alphabets and the words in the same way as the teacher directs.
• Aids for Mentally Retarded:
With the help of the Special Educators this organisation has been effectively dealing with such children.
• Transport Facility:
This organisation Is also providing transport facilities to the disabled students to continue their studies from outside.
Hostel For Handicapped
The school has paid more attention to those children who are poor and can not afford education easilY· They live in remote part of the villages. Reaching the school in time every day poses problems because of distance and scarcity of transport E.V.A.D. has been giving hostel facility to such children. The number of the stu(lents staying In the hostel is 25. The following facilities have been provided to continue smooth education:-
. Boarding and Lodging:
This. association provides boarding and lodging to 25 poor disabled students who study In the school and stay in hostel.
. Aaya:
We have appointed two Aayas to IQok after the children living in the hostel. They help these children to dress up well and maintain cleanliness all the time.
. Reading, Writing Material:

This organisation provides reading writing materials such as-- Text books, note books, pencils, rubbers, sharpeners etc
. School Uniform:
The organisation has made provision of certain dresses for the students. We have fixed dress code also for the students staying in hostel and for those who come to the school from outside.
. Medical Aid:
Under this facility a weekly checkup of students is conducted.In this connection benign help from the noted Doctors is highly appreciated.
• Entertainment:
For purpose, television and music system have provided to the students .
Training centre
We are conducting training programs for the disabled and poor people which enables them to earn their livelihood in a dignified and independent manner. We are conducting vocational course for:
• Tailoring
• Candle Making
• Chalk Making
• Agarbattis Making
• Dhoop Making
Trainees are given stipend of Rs 300/- per month. Duration of each training course is one year .
Community Based Promotion of Health Care System in Rural Areas
To ensure better health conditions and to empower rural women and backward people we h ve st- rted community based health care program in 20 villages of Ballabhgarh Block.
People with the knowledge of traditional natural and herbal health care systems which are scientifically proved are given requisite training to update their knowledge and help others treat and cure minor diseases. Health camps are organized in the villages to examine the patients. We provide them the prescribed medicines.
To empower the women and backward people their economical upgradation is of utmost interest.
We have formed Self Help Groups which provides useful guidance to
it members about self employment
through regular meetings and personal interactions. Some women folks have started their own business to earn money. They can also avail loans from the banks when they need .