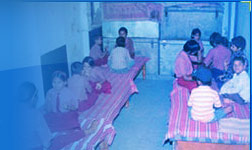 Schooling
Hostel For Handicapped
Training centre
Physiotheraphy Unit
Accupressure Unit
Placement & Rehabilitation
Festival Celebration
Educational and Training
Extra Curricullar Activites
Our Services :
---
Physiotheraphy Unit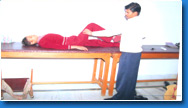 We have a fully equipped Physiotherapy centre where skilled physiotherapists are engaged for the physically challenged people. Under this unit physically handicapped who have problems in their limb movements are prescribed certain exercise to pick up the movements. With our care these people have recovered the movement in upper and lower limbs, while other few have been able to walk, touch and grip.
Accupressure Unit
Acupressure nature care system -an ancient Indian method of treatment, has recently gained popularity in the country. The system is simple to understand and easy to practice which can serve as a curative and preventive system for many a aliments.
With the rapid growth in the population, there has been manifold increase in the diseases. Though much headway has been made in allopathic system of medicines yet the ancient system of treatment needs to be encouraged which, too has its own merits.
We have introduced this Acupressure therapy here considering durable preventable and curative efforts. This therapy Is cheaper and easier than any other techniques of treating the disease successfully. This therapy has no side effect. The following a few ailment can be successfully treated :-
Diseases of the eyes, Ears, Chronic Head Colds, Acute sinusitis, Epistaxis, Hay fever, Headaches, Toothaches, Backaches, Spinal ailments etc.
Placement & Rehabilitation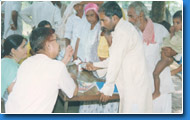 We have a separate unit to look after the placement of disabled and poor people in worthy jobs or own small scale business. Representatives of our associations visit the industries, business establishments and other offices to locate jobs for these persons. They work in consultation with the competent authorities and disabled people are absorbed in gainful jobs. We also provide financial assistance to the needy to start their own .work.
Festival Celebration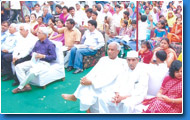 Challenged people find it hard to celebrate the festivals as "normal" people. We organize functions on the occaction for the "World day of disable people", independence day, Hali, Diwali, Eid, Christmas and New Year celebrations in our centres.
Handicapped students are provided with an ambience where they mix up with other people. Our commitment to bring smile on their face is giving us rich dividend and success to achieve our objective to create a world of harmony and equality for the disabled,
Educational and Training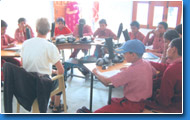 The disabled population of the country is a sight of pity and penitence for others. Showing compassion and empathy do not generate any fruitful and effective results for their betterment. We understand that more than sympathy, challenged people need dignified and respect from the society. This is possible through proper education and economical self-reliance, Our Educational and Training modules are designed to bring back their confidence and empower them educationally and financially.
Extra Curricullar Activites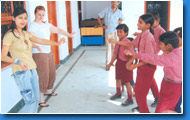 Sports and Games:
In addition to imparting education to the handicapped people, this organisation also encourages the students and trainees to take part in sports.
Knowledge of Computer:
The EVAD has provided facility of learning computer to its children also. This aims at developing an elementary knowledge of computer education.
Picnic a. Outings:
We read about our cultural heritage and monuments in books and develop curiosity to see them with our own eyes to collect the first hand information. With the aim of fulfilling this desire the students are given an opportunity every year to visit a place of historical and religious importance.
Financial Help:
organisation also fini=lncial assistance people in need.
Library:
To encourage the students for self study I this association has provided faGility of a small library in its pr~mises. The library consists of 3000 books.