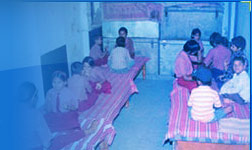 Schooling
Hostel For Handicapped
Training centre
Physiotheraphy Unit
Accupressure Unit
Placement & Rehabilitation
Festival Celebration
Educational and Training
Extra Curricullar Activites
About Us :
---
On 6th August 1995, the year when the Government of India passed "Persons With Disability Act", we started our mission to enrich the life of disabled people. We, at Educational Cum Vocational Association For The Disabled, are working with a common cause of providing the underprivileged with an opportunity to live with equality and dignity. We came up with a unique idea of bringing together & uniting all the categories of the handicapped and downtrodden under one shed.
We began our work by starting a school for the handicapped in district Faridabad. We steadily extended our work horizon by launching projects relating to the rehabilitation of the disabled &. downtrodden. We further engaged ourselves in the field of upgrading the standard of living of the impaired ones as well as the rural women stricken with poverty.We have established different institutions & training centers & are organizing various activities for the proper rehabilitation of these disadvantaged groups.
We, at EVAD, aim to embrace all Categories of handicapped( Hearing, Visual, Orthopedic and Mentill) and poverty stricken rural people. Our services are open to all without any discrimination in name of religion, caste, creed or sex. We are marching ahead with the prominent aim of education and rehabilitation of the Challenged people and ensure all round versatile development of their personality. The agenda of our mission statement is:
• To look after the welfare of the disabled and to educate them.
• To take necessary steps for the prevention & cure of the preventable and curable blindness, physical and hearing ailments.
• To establish or help in establishing associations, workshops and central for the education, rehabilitation, training, employment, aftercare and welfare of the challenged ones.
• To organize conferences, exhibition, seminars and lectures for furthering the cause of challenged people.
• To mobilize public opinion regarding the condition and welfare of the challenged people.
• To advance the cause of protection of disabled by all possible means. Helping the challenged ones in their socio-economic adjustment In the society.
• To ensure social integration of the disabled. Imparting mobility and orientation training to the visually handicapped.
• To make realize the disabled women in rural areas, about their potentials by illustrations, personal contacts, field visits and demonstrations, etc.
• To provide the challenged ones with opportunities to ameliorate their disabilities in order to transform them into a contributing member of the society.
creating awareness in the society about the limitations and problems of the challenged people. Organizing symposium and presentation on the problems faced by the challenged people and the solutions for it. Assisting in matrimonial alliances and seeking suitable matches. Introducing small scale industries in rural areas such as candle making, chalk making, rope making, agarbatti manufacturing, papad & pickles making, etc., to make them economically self dependent. Arranging health camps and provision of opportunities for check by the specialist doctors.
Our Infrastructure
The activities we are engaged in require quite a large Infrastructure. We are proud to say that we have all the required faculty and man power to successfully take up this challenging task. We are working In a large area comprising the parts of Haryana state south of Delhi (India). We have setup a school, hostel and training central with full facility for the challenged persons. Our placement and rehabilitation center has contacts with state and central agencies and renowned N Go's and corporate which facilitate the rehabilitation programs. Our physiotherapy unit Is equipped with all medical facilities and we provide aids and appliances for the challenged persons.
Our Team of Workers and Volunteers
We have a dedicated and caring team of workers and volunteers, who share our Ideology of social uplift of the challenged and downtrodden people living In our society. As members they understand their responsibility for the amuse and have devoted their efforts to bring smile on the faces of needy people and for betterment of their living standards. Our volunteers visit remote areas and create general awareness about the issue. They are champions of our cause and are beacons of the team.
Special Counselors and Trainers
We have a team of skilled and experienced physiotherapist, special trainers and counselors to look after the challenged people with utmost care and affection. They have been successful In Introducing a ray of hope and dynamism in the lives of challenged ones. These constructive people have dedicated themselves to the well being of the challenged, uncared, distressed and downtrodden.
Humbale Appeal to Rush More and More Contribution
"The task of milking handicapped section of society self-reliant has been exercising the minds of the affluent people and Consequently It is indulging their utmost attention. Serving disabled Is like worship of God. It is Permanent duty of everyone in society to extend their best help to the hllndicapped to enllble to sustain smooth life. Your contribution to this noble cause never goes unrewarded.
A plot of IInd measuring 1.334 Sq. yards. has been purchased and we are confident that this organization Will have Its own building, with your kind assistance to house ,,11 the activities with additions and explosion when needed, Please come forward and contribute to your best for the handicapped section •• '
Education-Cum- Vocational Association for the disabled is registered under the Registration Act of 1860 wide Letter No. JOB Dated April 19(1996 & Under Article 51 of Persons With disability Act. 1995.
To,
Mr. P.C. Sapaia (Founder Director )
Education Cum Vocational Association For the Disabled (EVAD)
Near, Bohra Public School, Chawala Colony, Ballabgarh, Faridabad-121004, Haryana (India)
Phone
: + (91)-(129)-2249863
E-mail
:
associationfordisabled@yahoo.co.in
,
idevad1996@yahoo.co.in