The Centre is headed by
Dr Pushpinder Singh Bajaj
( MS[ORTH], DNB[ORTH], FIAS[UK], MSc ORTH[UK], AO Fellowship[Germany], Diploma Sports Medicine[UK], Arthroscopy & Joint Replacement Fellowship[Australia] ) who is an established expert in the management of Sports Injuries , Arthroscopic Surgery (KEY HOLE SURGERY) of Knee and Shoulder and Joint Replacement Surgery and has been invited faculty for various national and international conferences.

Our Expertise

ACL Reconstruction


Arthroscopic Surgery

Joint Replacement


Sports Injuries

Knee Replacement
This Centre is a one stop place for management of all types of Sports injuries & their rehabilitation along with a comprehensive Joint Replacement Management Programme . It is a specialized centre offering minimally invasive treatment ( Arthroscopic Surgery ) of all joint problems.
WE HAVE :
Competetive packages are available for Arthroscopic surgery & Joint replacement surgery of all the joints . in house Facilities include Radiology , splinting , braces and all modern techniques of Physiotherapy with a Fully equipped Sports Physiotherapy Centre for Management of Sports Injuries and their Rehabilitation along with a Comprehensive Post Joint Replacement Rehabilitation Programme.
Facilities :
ARTHROSCOPY & SPORTS MEDICINE CLINIC :
State of the art equipment for arthroscopy of all joints including Knee, Shoulder, Ankle, Hip, Elbow, Wrist and even 1st MTP joint of foot.
Advanced arthroscopic procedures including
1. ACL reconstruction
2. PCL reconstruction
3. Meniscal repair
4. Mosaicplasty for cartilage defects
5. Bankartís repair for recurent dis location for Shoulder
6. Rotator cuff repair
7.Knee Replacement
8.Is total knee replacement permanent?
JOINT REPLACEMENT CLINIC :
Most Modern Operative Suite equipped with state of the art infrastructure with 2 dedicated ultramodern Operation Theatres complete with MGI designed interiors, Laminar Flow, Centralised environment control, Hepa Filters, Pneumatic Instrumentation and Patien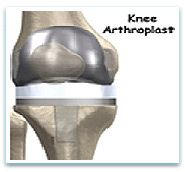 t monitoring System conforming to the best in the world.

Focus on providing a close to zero infection rate backed up by a dedicated microbiology department.

Excellent postoperative pain management programme.

Unique concept of Extended home care physiotherapy services.

Emphasis on early mobility and recovery of patients & reduced hospital stay.

Highly competitive packages available for hip, knee and shoulder joint replacements including

Hip Resurfacing

Hi Flex Knee Prosthesis

Shoulder Replacements
KNEE REPLACEMENT:
If your knee is severely damaged by arthritis or injury, it may be hard for you to perform simple activities such as walking or climbing stairs. You may even begin to feel pain while you are sitting or lying down. If medications, changing your activity level, and using walking supports are not longer helpful, it is time to consider total knee replacement. By resurfacing your knee's damaged and worn surfaces, total knee replacement can relieve your pain, correct your leg deformity, and help you resume your normal activities.
Is total knee replacement permanent :
Most older persons can expect their total knee replacement to last 15 years or more. It will give years of pain-free living that would not have been possible otherwise. Younger knee replacement patients may need a second total knee replacement. Materials and surgical techniques are improving through the efforts of orthopaedists working with engineers and other scientists. The future is bright for those who choose to have a total knee replacement to achieve an improved quality of life through greater independence and healthier pain-free activity.
ORTHOPAEDIC & TRAUMA CLINIC :
The only centre in Delhi offering 100% WATERPROOF ( SWIMPROOF ) PLASTERS with all emergency management facilities under one roof.
SPORTS PHYSIOTHERAPY & REHABILITATION CLINIC :
First of its kind in Delhi. Fully equipped with Cardio/Strength Equipment (PRECOR USA), Stretchtrainer(PRECOR USA ), Swiss Balls, Therabands, Cryotherapy (AIRCAST USA ), Trampoline, Wobbleboard & other imported Sports Rehabilitation Equipment.

Management of Sports Injuries & Rehabilitation,

General Physical conditioning,

Fitness Assessment and

Sports Performance Enhancement Programmes especially Golf,Swimming, Field & Track events, Tennis and other Raquet sports.
PROMINENT VISITORS :
VIRENDER SEHWAG
AAKASH CHOPRA
MOHAMMAD AZHARUDDIN
GAUTAM GAMBHIR

PIYUSH CHAWLA
MURALI KARTIK
MAHESH BHUPATI
TARA IYER
S.SREESANTH
MUNAF PATEL
JOGINDER SHARMA
MITHUN MANHAS
HIGH COMMISSIONERS of U.K, U.S.a, JAPAN, MEXICO, AUSTRALIA & BRAZIL.
PANELS :
Bajaj Specialist Clinics is Associated with Leading Organisations Including Various PSU'S, High Commissions & UN Bodies. a Partial list is given below :
Embassies :
American Embassy, Australian High Commission, British High Commission, Canadian High Commission.
Insurance Companies :
International Sos, Tricare, World Access, International Medical Group (IMG), Prestige International.
Schools :
American Embassy School, British School.
Others :
Berry Interoceanics, Bhel, British Council, Delhi Lawn Tennis Stadium (DLTA), DFID, Indian Airlines WHO, World Bank.
Dr. Pushpinder S. Bajaj
Bajaj Specialist Clinics
Add :
B-7/5, G.F., SafdarJung Enclave, New Delhi-110029.
Ph :
+91-11-41057555, 41057556, 41057557
Mob :
+91- 9811056525
Fax :
+91-11-41057558
E-mail :
psbajaj@hotmail.com
Website :
www.sportsarthroscopyindia.com